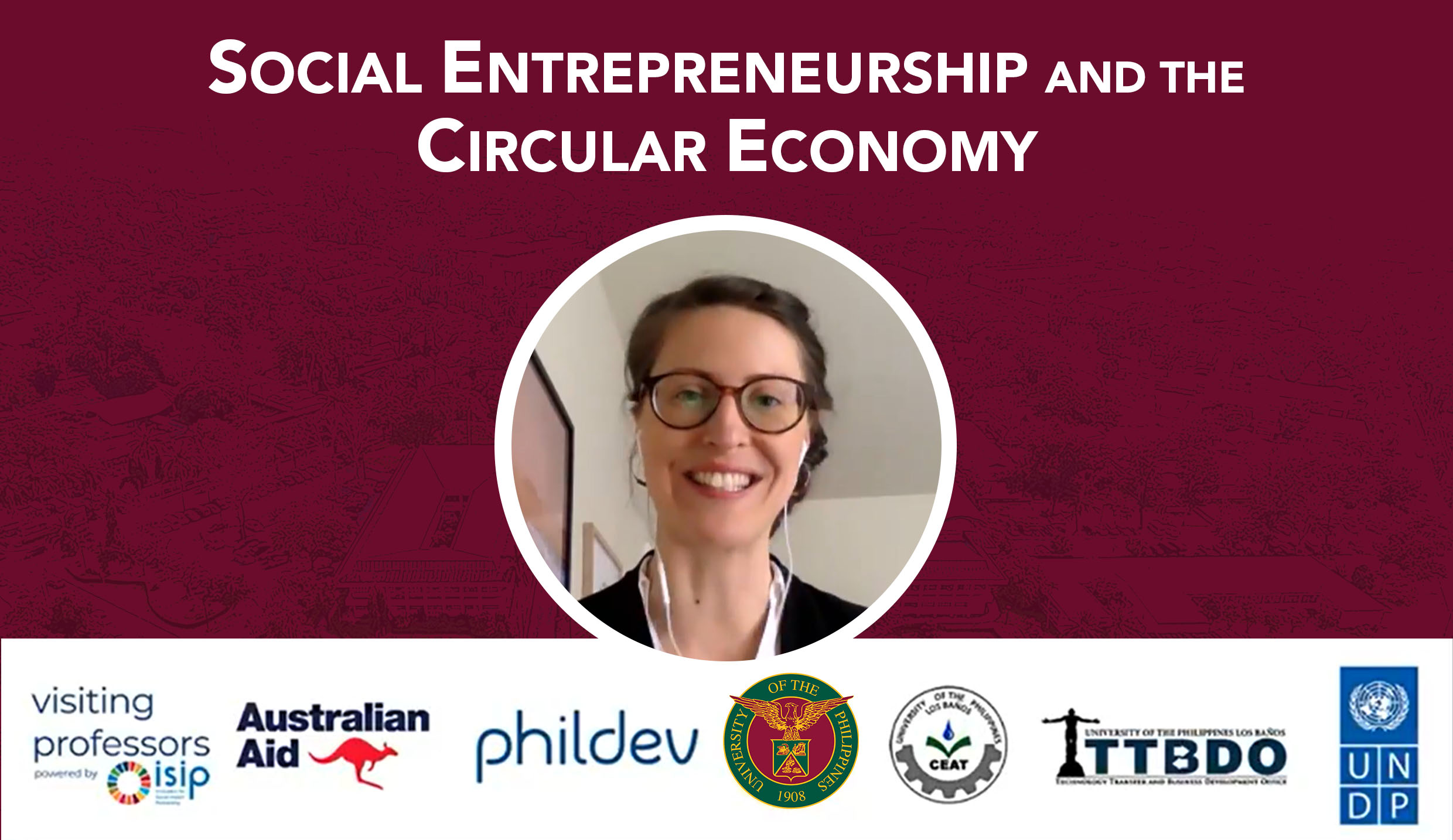 Environment-friendly economies tackled at TTBDO-CEAT webinar
Creating a more sustainable economic landscape became the primary focus of a workshop and webinar hosted by the UPLB Technology Transfer and Business Development Office (TTBDO) and the College of Engineering and Agro-Industrial Technology (CEAT).
The first part of the discussion was released in a video recording on May 13 and was followed by a live workshop on May 14.
The online event was part of CEAT and TTBDO's Social Entrepreneurship and the Circular Economy webinar and workshop series held from May 3 to 19.
Dr. Meike Siegner, a social scientist and researcher at the University of British Columbia, led the discussions in which she explained the on-going trends in the industry toward shifting to bioeconomy and circular economy.
Dr. Siegner said that these movements among large and small-scale businesses veer away from linear economy, wherein natural resources are extracted to make products which are later disposed of in landfills or end up as pollutants.
She explained that circular economy and bioeconomy operate with an awareness about the impact of human activities on the earth's natural resources and consider the effects or possible uses of waste and by-products.
Circular economy emphasizes closing the production loop wherein waste products are recycled and repurposed. Bioeconomy on the other hand, is focused on using renewable biological resources to create value-added products.
Among the examples she mentioned were Philipps and Hewlett-Packard (HP), industry giants in the electronics and printing industry, that began initiatives to collect and repurpose their products and offer leasing services instead of just selling their products individually. This lets them ensure that their products will have long durability and will contain the maximum amount of closed-loop materials.
Dr. Siegner also emphasized that to create a more inclusive circular bioeconomy, there is a need to provide opportunities for the marginalized sectors and small and local businesses to participate and connect them to the changes and policies being conducted at the larger scale.
She discussed the PlasticBank initiative which was put up from Vancouver and has expanded to partner countries as an example. This initiative engages small coastal communities which become their partners in collecting plastic waste and materials which would otherwise end up in the ocean as pollutants. Their partners are rewarded through token-based incentives that help them address basic needs such as groceries and tuition fees.
The plastic waste is collected and recycled then shipped to large industry partners in Europe where it can be reused and repurposed for consumer goods, such as for product packaging.
Dr. Siegner said that community and neighborhood-based initiatives can also contribute to creating a circular bioeconomy by considering what products and waste they are producing and can be reused. This can also open up possible employment opportunities for the community, such as through creating work integration social enterprises wherein a business can employ socio-economic groups at risk, such as the long-term unemployed, the homeless, or persons with disability.
Social enterprises can also make it a core in their business model to manage natural resources and engage with the local community, making them partners in controlling how the resources are used and developing business opportunities that benefit them as well.
Dr. Siegner also recognized the role of academic and research institutions in the transition to a circular bioeconomy, as they provide a link between the private economy and the public sector. Private companies usually consult with researchers and academe to explore new knowledge. On the other hand, creating relevant policies that can address needs in society require solid support in the form of research-based evidence.
As production shifts to becoming more circular and bioeconomy-based, academia can provide support for baseline technology and groundbreaking research, and analyze policy processes and company strategies, and business model developments, she added.
She urged attending researchers to share their insights and findings by creating projects with like-minded colleagues from various disciplines and applying for grants, saying that many institutions are now offering funding and grants to support the shift to circular bioeconomy.
Dr. Siegner also discussed the initiatives from various higher education institutions to engage students about circular economy by creating technopreneurship curriculums, and having more focus on sustainable business management and environment sustainability.
To further promote this movement, she encouraged those who want to venture into creating a circular bioeconomy-based business to share their stories and experiences to the public and highlight the stories of the people that they have or will help through their business to gauge their social impact. (Jessa Jael S. Arana)