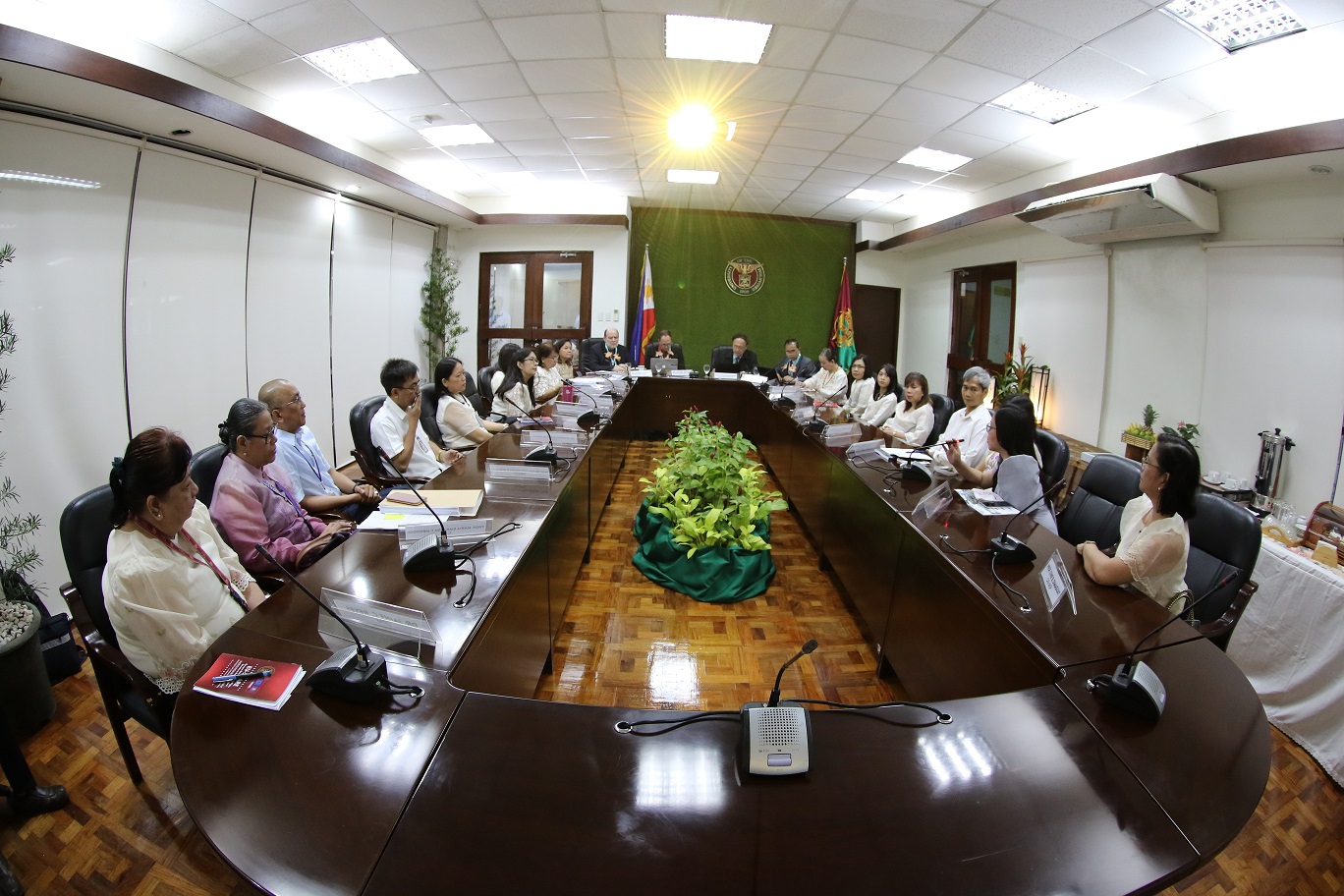 EU SHARE says UPLB is well aligned to AQAF
An assessment panel formed under the European Union Support to Higher Education in the ASEAN Region (EU SHARE) project has evaluated UPLB's internal quality assurance standards to be globally well aligned with the ASEAN Quality Assurance Framework (AQAF) principles.
This was contained in a report issued by the EU SHARE after a panel of assessors conducted a pilot external institutional assessment of UPLB on Feb. 5-6, 2018.
The EU SHARE assessment is an initiative under the administration of Chancellor Fernando C. Sanchez, Jr., who said that it could help UPLB reform its strategies toward its goals on building a regional higher education space in the ASEAN region.
Dr. Sanchez is serving his second term as UPLB chancellor and works on the mission-vision of making UPLB a globally competitive graduate and research university contributing to national development.
The assessment results, according to Dr. Portia G. Lapitan, vice chancellor for academic affairs, "is telling of the kind of university we are for the world to know, some kind of a stamp of quality standard, if not, excellence in higher education."
Dr. Lapitan, who also chaired the UPLB EU SHARE steering committee, described it as a big boost to UPLB's internationalization program, both with its programs and graduates. "I am positive this will increase the level of confidence partners and students will have in UPLB," she added.
Among the observations made was UPLB's readiness for and commitment to the QA implementation project that enabled it to make a lot of progress within a short period of time.
UPLB was also found to have a primary responsibility for quality as evidenced by its vision-mission and ability to strike a balance between institutional autonomy and accountability through laws and regulations that govern it.
The main stakeholders were observed to be involved in implementing processes in a collective and cooperative manner. Moreover, the assessment panel pointed out that UPLB has some elements of an internal quality assurance system [although fragmented]. "A QA System is expected to develop with a QA office already put in place for sustainability," the panel further said.
The EU SHARE panel also observed that UPLB's conceptions of quality is heavily driven by external influences and that it would be more beneficial if it draws up its own approaches, goals and methodologies; and involves the stakeholders in it.
Dr. Lapitan enjoined the University to level up the pursuit for QA by seriously taking into consideration the recommendations. "We will strive to make the QA program that UPLB has started a program that also institutionalizes and formalizes the direct participation of stakeholders outside of UPLB in crafting and implementing regular QA activities," she further said, pointing out that this will make stakeholders "own and treasure" the QA program.
The assessment panel was chaired by Chavalit Wongse-ek, ASEAN University Network QA expert and advisor to the rector of Mahidol University in Thailand. The members were Jacques Lanares, vice rector emeritus of Switzerland; Agus Setiabudi of the Universitas Pendidikan Indonesia and executive board-National Accreditation Agency for Higher Education of Indonesia; and Oliver Vettori, dean for Accreditations and Management, WU Vienna, Austria.
UPLB is the only public university and the first in the country, along with the Angeles University Foundation, to submit to the EU SHARE quality assessment. EU SHARE is a four-year initiative by the EU and ASEAN. It aims to support ASEAN in harmonizing regional higher education by sharing their expertise in strengthening regional cooperation, enhancing quality competitiveness and internationalization of higher education for institutions and students, thereby contributing to a closer ASEAN Community. (JM Bo)