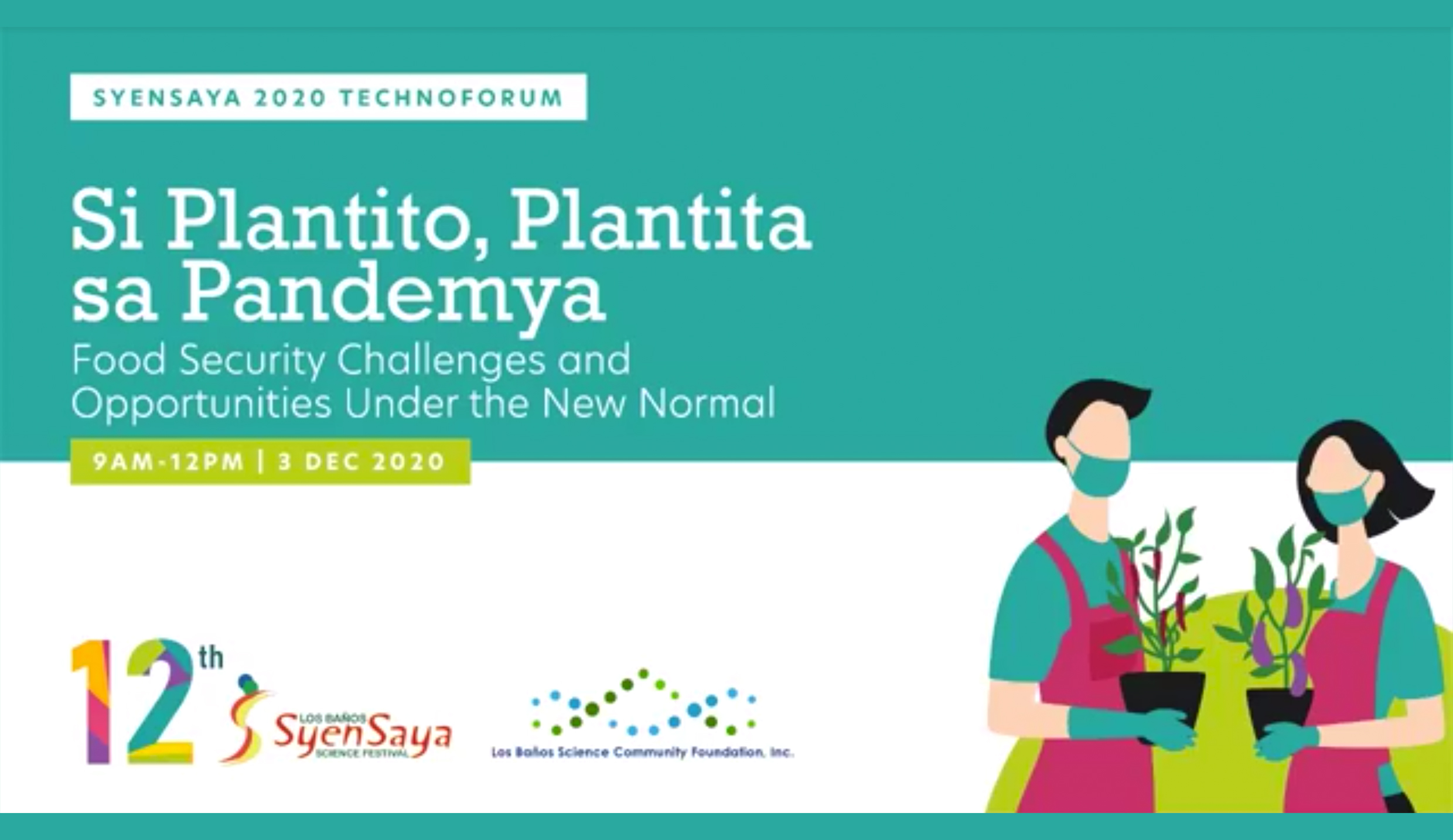 Food security takes the spotlight at SyenSaya's techno forum
The food system challenges have been amplified by the pandemic for being unjust, unsustainable, and unhealthy.
This is how Dr. Eufemio V. Rasco, Jr., chair of the Agricultural Sciences Division of the National Academy of Science and Technology, described the food system situation under the new normal in the country today.
Dr. Rasco said this in the speech he delivered as guest speaker at the technology forum of the Los Baños Science Community Foundation Incorporated (LBSCFI) that was held online on Dec. 3.
The techno forum, themed "Si Plantito, Plantita sa Pandemya: Food security challenges under the new normal," was one of the events held in celebration of Syensaya, the science and technology week in Los Baños.
"To address these challenges, there is a need for diversification in the dining table, diversification in farming, and a need to use digital technology," Dr. Rasco also suggested.
According to him, this is important especially during this new normal, which he said is the expectation of more disasters no longer as a prediction, but as a reality; and of more concerns for health and wellness.
He enjoined experts from the Department of Science and Technology (DOST), Department of Education, and academe to step up to their role of helping food producers and consumers see and deal with the opportunities and challenges that this situation presents.
Held online as part of the LBSCFI 12th anniversary celebration, the techno forum was streamed live on LBSCFI's Facebook page featuring speakers from various sectors.
In her opening remarks, Dr. Melinda dP. Bandalaria, LBSCFI president and UP Open University chancellor, said that although held online, the LBSCFI techno forum was still designed to achieve the same set of objectives as the in-person version.
Chancellor Bandalaria said that the techno forum aimed to provide information, model good practices and application of science-based products and services, and stimulate discourse.
Dr. Alexander Madrigal, regional director of the DOST-CALABARZON, expressed his pride in the Los Baños (LB) science community being the most active in the country, persisting with its celebration even with the on-going pandemic.
Ms. Cheryll Laviña-Gonzales, LB municipal agriculturist, discussed the local government unit's (LGU) initiatives to address the food security and livelihood challenges it encountered during this pandemic.
She shared to the participants how LB relied on the use of information, education, and communication to address the challenges faced by the LGU.
According to her, the LGU worked non-stop in providing extension services by delivering food, vegetable seeds, and fertilizers; and that it also realigned its budget in order to provide food to those who needed it.
Ms. Filomena Cinco, barangay chairperson of Sampaloc, Manila shared her experiences about household and community response to food security challenges in their barangay through "Pamayanan ng Gulayan" that was introduced to them as a community urban gardening project by DOST and the Philippine Council for Agriculture, Aquatic, and Natural Resources Research and Development (PCAARRD).
Because of the project, they were assured of food resources and safety of their food, as well.
Sharing perspectives from the micro, small and medium enterprises were representatives from local businesses such as the Carbonn Farms and the social enterprise, Sierreza.
Dr. Madonna Casimero of Carbonn Farms and Solita's Diner restaurant, talked about how they found opportunities amidst the food security challenges during the pandemic while encouraging the public to continue to support small local businesses.
Chris Pulan, Jobert Peñarada, and Graham Tapia, representatives of Sierreza, shared how it began as a social enterprise by buying ingredients for the Sierreza restaurant from farmers.
According to them, Sierreza took inspiration from Pasig City Mayor Vico Sotto's mobile market and transitioned Sierreza into a mobile market, eventually letting go of their physical store.
The Sierreza representatives also said that they aimed to promote community- supported agriculture.
Attended online by participants from as far as Davao and Camarines Sur, the techno forum is part of the annual LBSCFI science festival, SyenSaya, as a venue for tackling pressing issues with science and technology implications.
It garnered almost 3000 views on the LBSCFI's Facebook Page. The LBSCFI SyenSaya Techno Forum serves as a venue for regularly tackling pressing issues with Science and Technology implications. (KEAraguas)