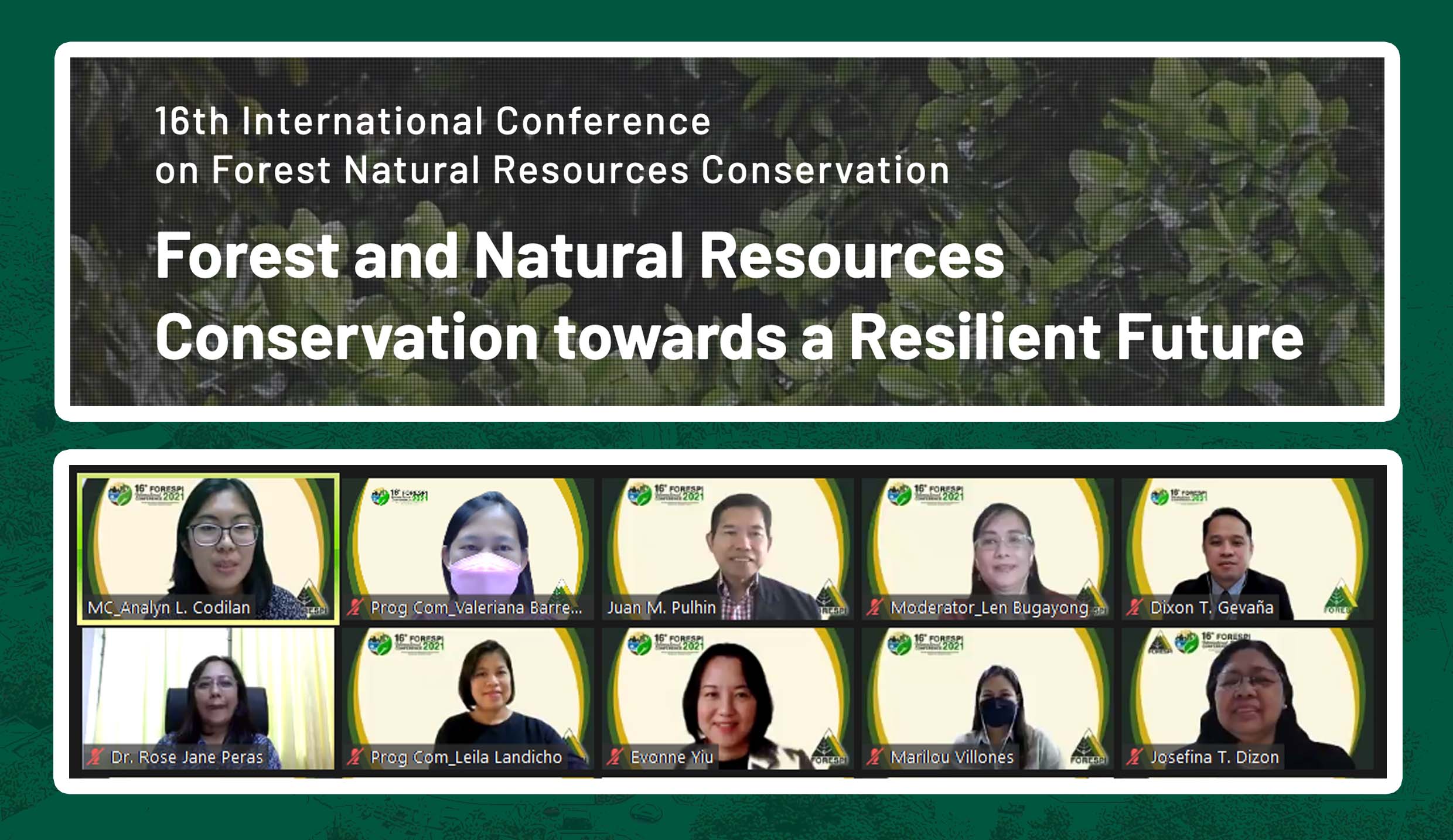 FORESPI holds 16th international conference
The Forest and Natural Resources Research Society of the Philippines (FORESPI) held the 16th FORESPI International Conference with the theme "Forest and Natural Resources Conservation Towards a Resilient Future" via video conferencing.
In attendance were 267 researchers, faculty, staff, and academics from various state colleges and universities, government, and non-government institutions here and abroad.
Ten plenary paper presentations, 35 oral presentations, and 12 poster presentations classified under five themes were featured in the FORESPI conference.
The five themes are the following: 1. Innovations in Forests and Natural Resources Management; 2. Nature Conservation Towards Climate Change Mitigation and Disaster Risk Resilience; 3. Collective Actions and Effective Forest Natural Resource Governance Enhancing Local Resilience; 4. Sustainable Forest Production and Utilization Towards Resilient Industries and Community Based Livelihoods; and 5. Biodiversity Conservation Promoting Ecological Resilience.
In his welcome message, the president of FORESPI, Dr. Dixon T. Gevaña, said that the conference is a venue of sharing knowledge and experiences in conserving forests and natural resources to cope and build back better.
Academician and UP Scientist Juan M. Pulhin gave the keynote speech wherein he said that despite multiple stressors (plus the pandemic), there is an opportunity space where we can alter the pathways by which we will be pursuing the future.
"Building future resilience is a collective choice and INREM has a role to play," Dr. Pulhin added.
FORESPI is a non-stock, non-profit professional organization of researchers in forestry and related fields in academe, industry, research, and government.
Founded on Aug. 6, 2003, FORESPI aims to: 1. promote the sustainable development, in particular the conservation and management of forests and other related natural resources; 2.encourage active participation in research and development on forests and related natural resources; 3. develop and recognize technical competence in research and development endeavors including policy formulation and advocacy; 4. disseminate technical information and concerns on forests and related natural resources; and 5. stimulate discussions on research programs and proposals; and hold or participate in conferences, symposia, and scientific meetings on forest, forest products, social forestry, and related topics.
Four institutions jointly created FORESPI, namely: Forest Products Research and Development Institute- DOST, Philippine Council for Agriculture, Aquatic and Natural Resources Research and Development- DOST, Ecosystem Research, and Development Bureau-DENR, and the UPLB College of Forestry and Natural Resources. (FLMalabayabas/CFNR CIMRC)