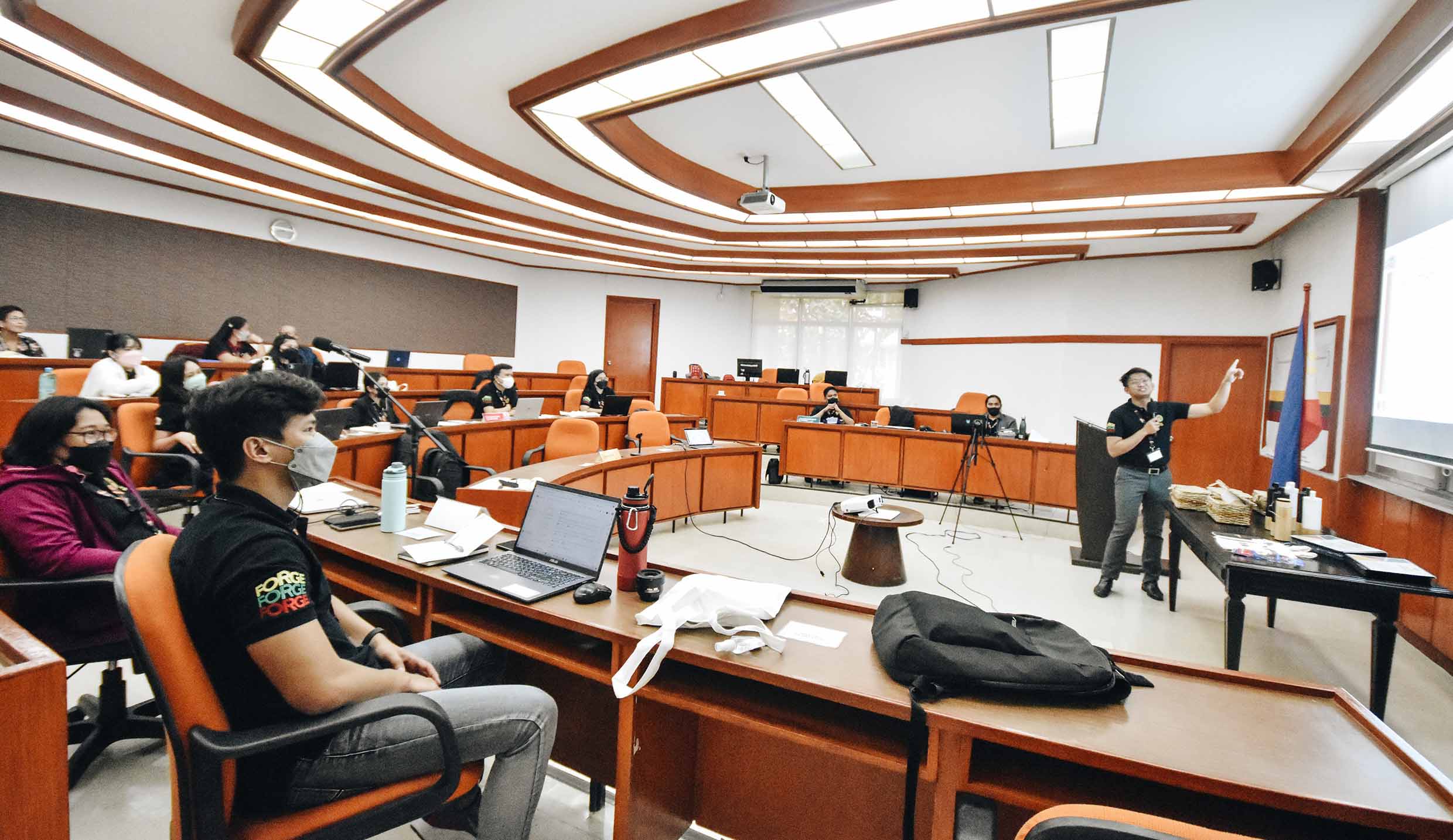 FORGE 2022 conference preps for future-ready scholarships and grants
The UPLB Office of Scholarships and Grants (OSG) under the Office of the Vice Chancellor for Student Affairs (OVCSA) held its three-day Annual Program Assessment and First Strategic Planning Workshop on June 2-4 at the Development Academy of the Philippine's Conference Center and Hotel in Tagaytay City, Cavite.
With the theme: "FORGE:Future-Ready Opportunities and Responsibilities for Growth and Empowered Scholarships and Grants in UPLB,"the conference aimed to craft the vision, mission, goals and objectives of OSG and analyze its current programs and services. It also sought to plan future-proofed and sustainable projects that are responsive to the ongoing challenges and disruptions brought about by the COVID-19 pandemic and the Fourth-Industrial Revolution, and find ways to manage through volatile, uncertain, complex, and ambiguous (VUCA) conditions.
The conference began with the setting of expectations and holding a team-building activity.
The second day of the conference hosted the office's first webinar entitled "Just Wanna Have Funds: The future of scholarships and grants in higher education institutions in the now normal." The event was made available to the public through live broadcasting on Facebook.
The webinar featured three key experts on student financial assistance.
The speakers were Germany-based Achim Meyer auf-der-Heyde, president of the International Association of Student Affairs and Services (IASAS), Kristy Mannette-Smith, manager of the Financial Advisory Services Department of the University of West Indies in Jamaica, and Richard Philip A. Gonzalo, assistant vice president (AVP) for student affairs and director of the Office of Student Development Services of the University of the Philippines .
President auf-der-Heyde's presentation was entitled "The Future of Scholarships and Grants in Higher Education Institutions."
"If we want to widen access and social inclusion of students, it's very necessary to establish national financial support systems which focus especially on those representing families with low-income and lower educational background, especially first-generation students," he said.
He added that grants or scholarships based on legal claims will be the future of the financial support system for students.
Meanwhile, Mannette-Smith talked about the importance of providing scholarships and financial aid to students. She said that financial aid goes beyond disbursing funds or assessing needs and offices involved in this service must be oriented to help students faced with challenges.
"You must have that deep-rooted sense of empathy, you must have a connectivity beyond the classroom, beyond the finances, to really hear what our students are saying without them saying it. You don't sleep on student financial aid," she emphasized.
Lastly, AVP Gonzalo underlined in his talk the role of both a responsive and empowering VUCA-adapted student financial assistance system. To be more responsive, he emphasized the importance of student assessment tools, the student benefit structure, organizational structure, and organizational culture.
He also highlighted the need to provide client services and advising to empower students and the financial assistance system in a "VUCA world." AVP Gonzalo's presentation focused on the humanistic aspect of student financial service, specifically human rights, human life, and human dignity.
"Despite the chaos, we need to ensure that every student can live a life of dignity and a life that is worthy of a human being," AVP Gonzalo concluded in his presentation.
The third and final day of FORGE 2022 concluded with the crafting of the vision, mission, goals, and objectives (VMGOs) of the OSG and aligning its programs and plans with UPLB and UP. They also discussed the ways forward for the different financial assistance programs under OSG, considering their strengths, weaknesses, opportunities, and challenges to ensure that they are future-proofed, responsive, adaptive, resilient, and agile amidst disruptions. (Angel Junice P. Lumba, Mark Kevin L. Movillon, and Isabella Nadine L. Jimenez)