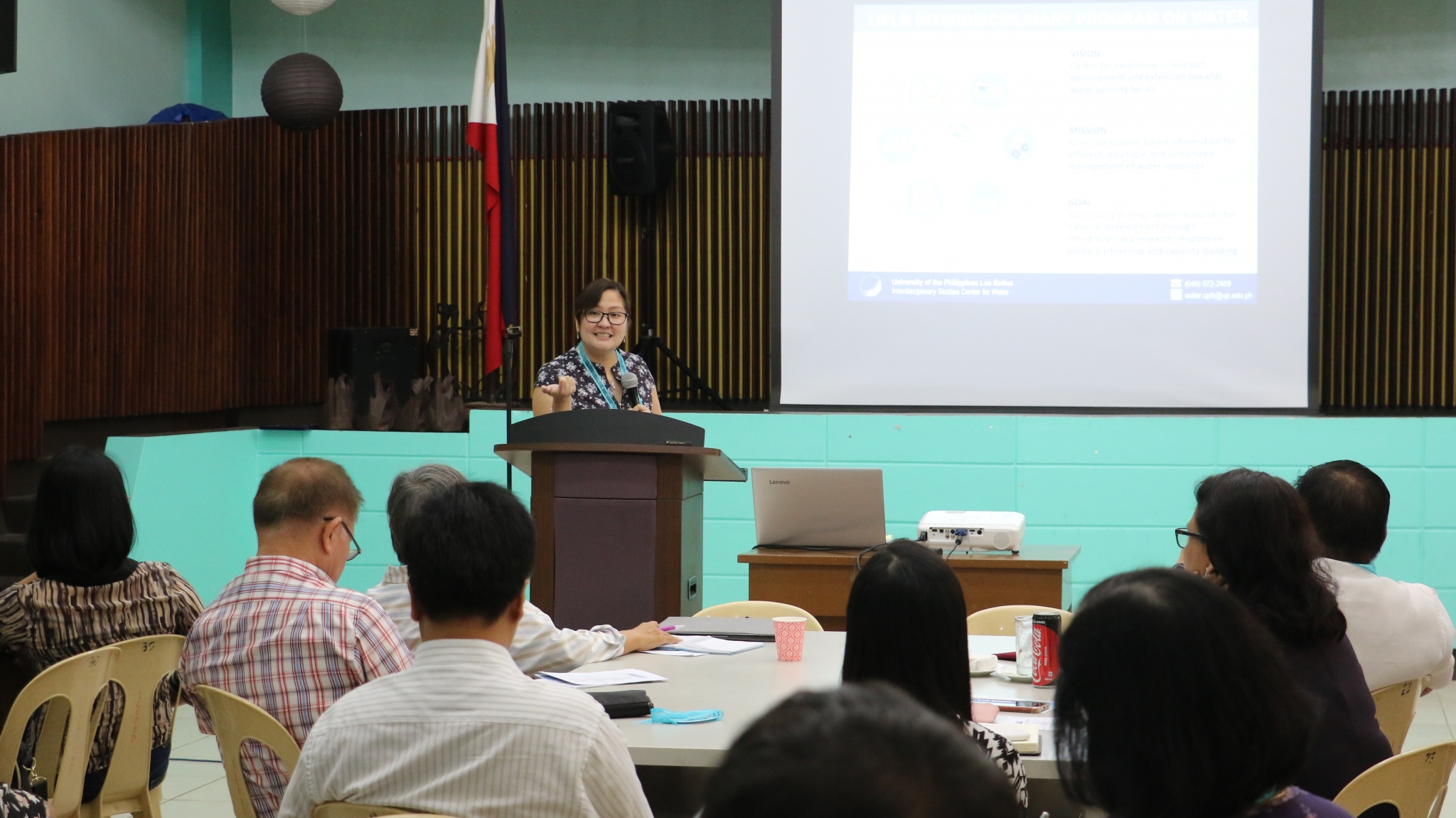 Forum on water value marks World Water Day at UPLB
As the global community observes the World Water Day on Mar. 22, the UPLB Interdisciplinary Studies Center for Water (Water Center) spearheaded a knowledge sharing event that looked into the socio-economic component of water.
The forum entitled "Valuing water and enhancing water access: gender, culture, and community" is the Water Center's third forum since it was established in 2017.
"Why do we have to value our water resource?" asked Ma. Angeles Catelo, associate professor at the College of Economics and Management (CEM), who served as one of the forum's economist-speakers.
"It's basically because our water resources are economic goods and people are willing to pay for these," she said.
Catelo gave a rundown of economic valuation methods that can be used to derive the value of water. Having water value, she said, is critical for decisions on infrastructure investment, treatment of wastewater, design of economic instruments, and water allocation.
"If you don't have policies to control the use or extraction of water, all the extraction of water can lead to scarcity," Catelo added.
Fellow economist Dr. Isabelita Pabuayon, dean of CEM, underscored the importance of determining the value of water.
"From theory, the correct price leads to the most optimal or efficient allocation of the commodity or resource," Dr. Pabuayon said.
Dr. Rico Ancog, assistant professor at the School of Environmental Science and Management and an environmental economist, introduced a water valuation tool called Water Footprint Accounting (WFA).
According to him, WFA calculates both water consumption and its pollution effects. "WFA has a strong potential for us to do due diligence on water consumption," Dr. Ancog said.
Meanwhile, Dr. Maria Helen Dayo and Dr. Myra David gave the social aspect of water access based on their study of the Sta. Cruz Watershed in Laguna.
Dr. Dayo, university researcher at the Agricultural Systems Institute, said that despite the perceived equal access to water of men and women, the latter use the said resource more, particularly for household chores, health, and sanitation.
Dr. David, assistant professor at the College of Public Affairs and Development, underscored the role of social organizations like river councils in managing a watershed.
After the talks, forum participants from state universities and colleges, government agencies, and the private sector took part in a workshop where they identified current initiatives, proposed interventions, and responsible entities to act on valuation and gender issues on water.
Present during the event were Chancellor Fernando C. Sanchez, Jr., Dr. Patricia Ann J. Sanchez, chair of the Water Center, and the center's committee heads and members. (Mark Jayson E. Gloria)