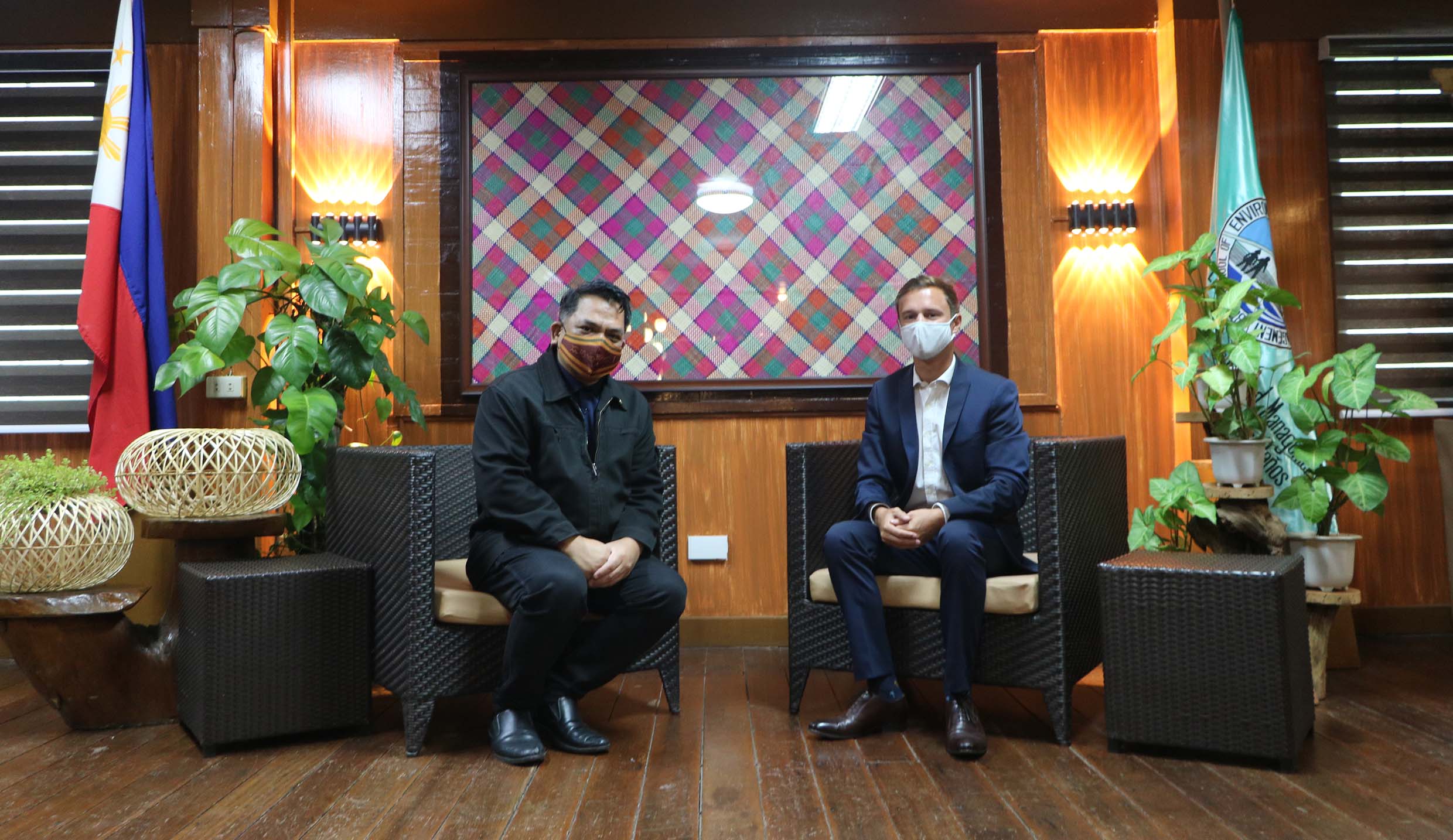 French Embassy, U of Bordeaux, UPLB hold exploratory talks on research
The School of Environmental Science and Management (SESAM) might just be able to accomplish what it has been eyeing to do since 2019 – collaborate with the University of Bordeaux of France on research in climate change, biodiversity, and One Health.
With the support of the Embassy of France in the Philippines, this partnership is destined to move forward and mutually reinforce both universities' position as contributors to scientific knowledge creation.
This is imminent after a team from SESAM led by Dean Rico C. Ancog and with Chancellor Jose V. Camacho, Jr. in attendance, held exploratory talks at UPLB on Sept. 27 with Dr. Nicolas Peryraube, enseignant-chercheur (teacher-researcher) at the University of Bordeaux and Rafael Basciano, Attaché for Science and Research Cooperation of the Embassy of France in the Philippines.
The SESAM cohort also included faculty members Dr. Decibel V. Faustino-Eslava, Dr. Jessica Villanueva-Peryraube, Dr. Patricia Ann J. Sanchez, and Dr. Janice B. Sevilla-Nastor.
In setting the tone of the discussion, Dr. Ancog highlighted SESAM as being very active in environmental science and management. He discussed three major research topics related to natural resources management, namely: on caves, in which SESAM has recently increased its expertise; climate change, on which it has a considerable big research portfolio; and the third that has been gaining a lot of attention now, is One Health and ecohealth.
Dr. Ancog also discussed the active participation and membership of SESAM in the GREASE network or Gestion des Risques Emergents en Asie du Sud-Est. GREASE is a regional network to support research activities for a better management of emerging epidemic risks in Southeast Asia.
He expressed his hopes of UPLB being able to contribute to the discussion on zoonotic diseases in relation to the recently approved UPLB zoonosis studies program.
Dean Ancog also presented an overview of SESAM, its expertise, its research agenda, and the services that it offers.
From this presentation, French Attache Basciano expressed interest in the climate change, Biodiversity, and One health studies of SESAM.
The exploratory discussion also included a presentation by Dr. Peryraube and Dr. Villanueva-Peryraube, French and Philippine main project and collaboration proponents, respectively, of a project entitled, "Monitoring the impact of intense climatic events in a tropical setting on cave air."
Other areas for collaboration were also discussed in the meeting such as providing of scholarships of and mobility for SESAM students to French universities; an environmental diplomacy program for Southeast Asia-climate change leadership; OneHealth and EcoHealth training/capacity building programs and research projects on topics such as African Swine Fever and its impacts on local pigs in selected islands in Luzon, and biodiversity studies.
This potential partnership further reinforces the Philippine and French governments' diplomatic relations which Chancellor Camacho said in his welcome remarks is very strong partly because of the academic partnership in which UPLB is an active player. (RM Areglado)