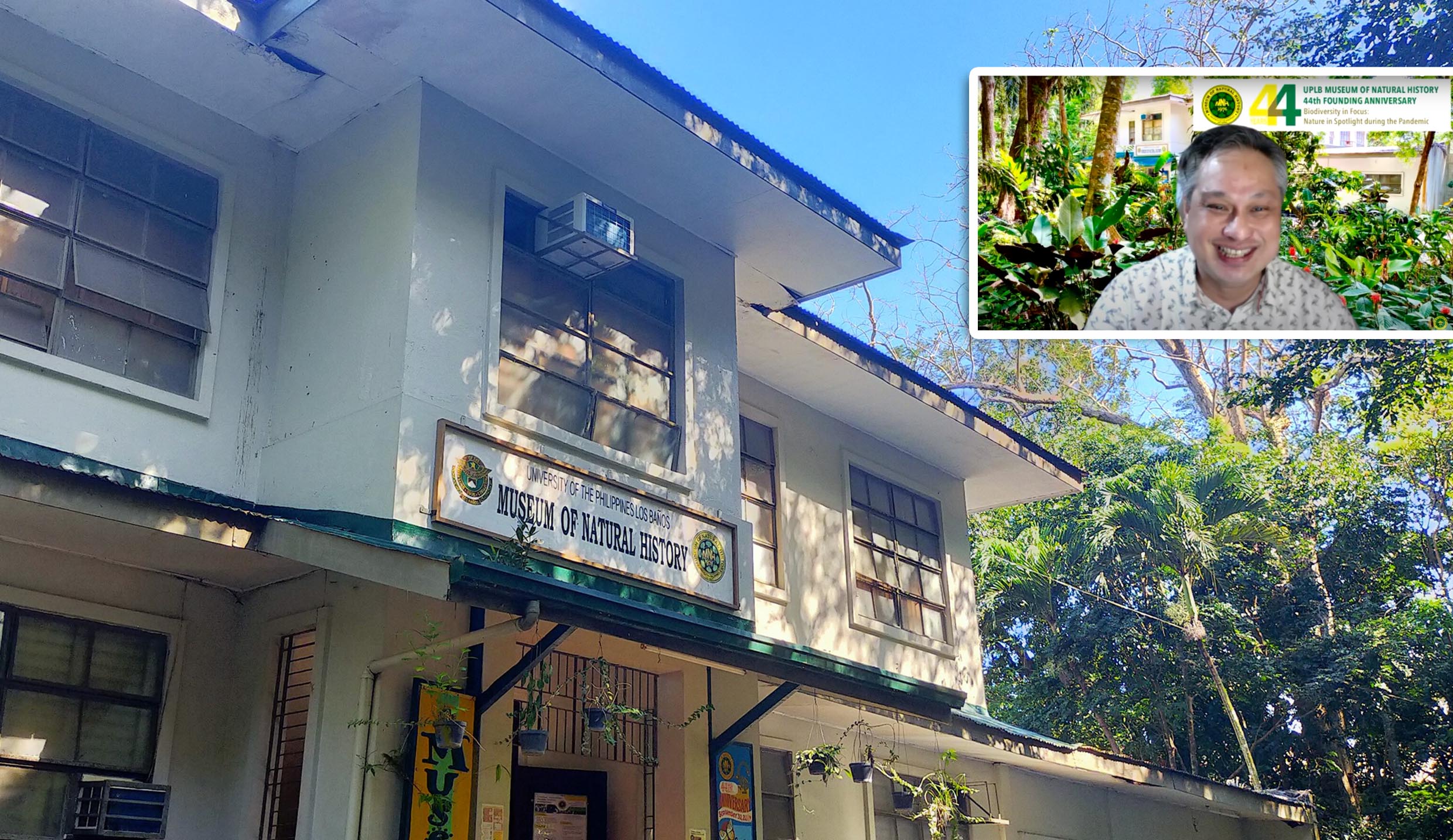 Gonzalez reports MNH accomplishments, challenges
Dr. Juan Carlos T. Gonzalez wrapped up his two terms as the 11th director of the Museum of Natural History (MNH) through a virtual report held on Jan. 19.
Gonzalez served two terms in office from Feb. 16, 2015 to Feb. 15, 2018 and from Feb 16, 2018 to Feb. 15, 2021, guided by the mission of "Building toward a globally relevant heritage center and model university museum."
During the period, MNH improved and modernized its facilities; expanded linkages; increased staff development opportunities and research and creative outputs; enhanced public service; celebrated a milestone through the holding of an international conference; and established a visible and active online presence in the midst of the quarantine measures enforced due to the COVID-19 pandemic.
Dr. Gonzalez's presentation was divided into three parts: overview of the MNH status, a summary of MNH visitors and services, and notable issues and challenges that were presented as suggestions to the next director.
According to Dr. Gonzalez, MNH benefited from a modernization program in UPLB that included the MNH facilities.
He said that he continued to implement programs under the administration of Dr. Ireneo L. Lit, Jr. who preceded him as MNH director.
Building local and international linkages
He spearheaded the celebration of MNH's 40th anniversary by holding the Culture + Learning, Art + Design, Environment + Science (CLADES) national conference and establishing partnerships to co-host symposia with the South East Asian Zoos Association (SEAZA), Asian Network of Research Resource Centers (ANRRC), and Crocodylus Porosus Philippines, Inc.
MNH pursued opportunities to establish linkages during global networking events to venues such as the Field Museum in Chicago and the University of Kansas Natural History Museum.
Aside from participating in international gatherings organized by the Society for the Preservation of Natural History Collections (SPNHC) and International Council of Museums (ICOM), the MNH was also involved in many workshops and seminars held nationally, including Plotting Points: Museum Summit 2019, the Museum Management Training of Museo Kordilyera in 2020, and workshops of the National List of Threatened Terrestrial Flora and Fauna of the Philippines.
MNH collaborated and established linkages with international and local agencies.
These are the Department of Science and Technology, Philippine Council for Agriculture, Aquatics and Natural Resources Research and Development, National Research Council of the Philippines, National Academy of Science and Technology, Philippine Science Heritage Center, Department of Environment and Natural Resources, Biodiversity Management Bureau, Department of Education, Department of Tourism, Bureau of Fisheries and Aquatic Resources, ASEAN Center for Biodiversity, Mindoro Conservation Biodiversity Foundation, Inc., the National Zoo Association of the Philippines, Philippine Equity Fund, Inc., Philippine Society for Microbiology, Inc., Biodiversity Conservation Society of the Philippines, Crocodylus Porosus Philippines, Inc., National Commission for Culture and Arts, St. Louis Art Museum, National Sciences Research Institute, Southeast Asia Regional Center for Graduate Study and Research in Agriculture, Government Service Insurance System, Global Biodiversity Information Facility, University of California Davis, Texas A&M, Oklahoma University, Washington College, University of Kansas, Lawrence University, Masungi, Balingcaguin Conservancy, and the National Museum of the Philippines.
Expanded services, increased creativity and visibility
As the second largest natural history collection in the Philippines, the MNH houses herbaria and collections containing 614,022 specimens, over 50,000 of which were added since 2015. Some 96 new taxa were described by MNH curators and staff during the period.
The MNH pursued staff development through postgraduate degree programs, participated in local and international training programs on biosafety, caving, tree-climbing, database management and in-house training workshops on photography, web design, bioinformatics, and digitization of collections.
MNH received 201 funded and core-funded projects that helped produce 128 articles and journals. New renovation plans and new research programs were set in place as MNH also received externally funded projects.
For its extension programs, MNH conducted short courses and training projects, a biodiversity seminar series, produced publications, and provided technical assistance to various institutions on projects such as collaboration with pest management, and cave monitoring and wildlife trade.
They also conducted biodiversity inventory with cooperative groups in different parts of the country and trained interns-students from UPLB, UP Baguio, UP Rural High School, and Philippine Science High School.
MNH experts served as resource persons in TV programs and documentaries featuring biodiversity, and offered free scientific name verification service, served in cave and biosafety committees, and participated in wildlife rescue. The museum also hosted internationally-acclaimed media personalities such as Nigel Marven of Discovery Channel and Joel Sartore of National Geographic Society.
MNH reported over 90,000 visitors to its information portal and maintained active online visibility in its social media pages. It earned a Trip Advisor badge as a recommended visit destination. MNH also has active online service and digitization projects and collaborates with other units of UPLB for a wider reach.                                                                                                              
New normal and challenges
Pre-pandemic, MNH had recorded more than 200,000 visitors since 2015; provided support for teaching; and conducted seminars, trainings, and short courses. After the pandemic saw a drastic drop in the number of visitors, MNH partially reopened its office, continued its online services, practiced biosafety protocols, converted physical seminars to webinars, and created a virtual exhibit and online digital image database.
As a note to the next director, Dr. Gonzalez reported on the challenges that MNH is facing, namely: decentralized collections, rapid staff turnover, limited phone and WiFi connections, the COVID-19 lockdowns, and the need to find ways to future-proof the museum to meet international standards.
He likewise discussed the need to review the safety measures and development of the Hortorium, the MNH organizational structure, modifications in curators' terms of reference, refurbishing of the exhibits, and plans for reopening in the new normal.
In closing, Dr. Gonzalez thanked the MNH staff and supporters for helping him during his term and took time to acknowledge and pay his respects to the MNH staff and collaborators who had passed away during his term. A video montage prepared by the MNH staff was played at the end of the report showing the progress of MNH under the six-year term of Dr. Gonzalez.
A recording of the program where Dr. Gonzalez presented his end-of-term report as part of the search process for the next MNH director, is available at the MNH website.
The Search Committee is led by Vice Chancellor for Research and Extension, Merdelyn C. Lit, as chair; with members: Noel H. Tan Gana, from the National Institute of Microbiology and Biotechnology (BIOTECH); Visitacion C. Huelgas from the College of Agriculture and Food Science; Dr. Mary Grace B. Dacuma from the College of Arts and Sciences; Dr. Edwino S. Fernando from the College of Forestry and Natural Resources; and Ms. Ruth M. Almario from the Office of the Vice Chancellor for Research and Extension (OVCRE) as recording secretary. The event was attended online by UP Faculty Regent Dr. Aimee Lynn B. Dupo and former MNH directors including Dr. Ireneo L. Lit, Jr. and Dr. Lourdes B. Cardenas; and curators and staff. (KEAraguas)