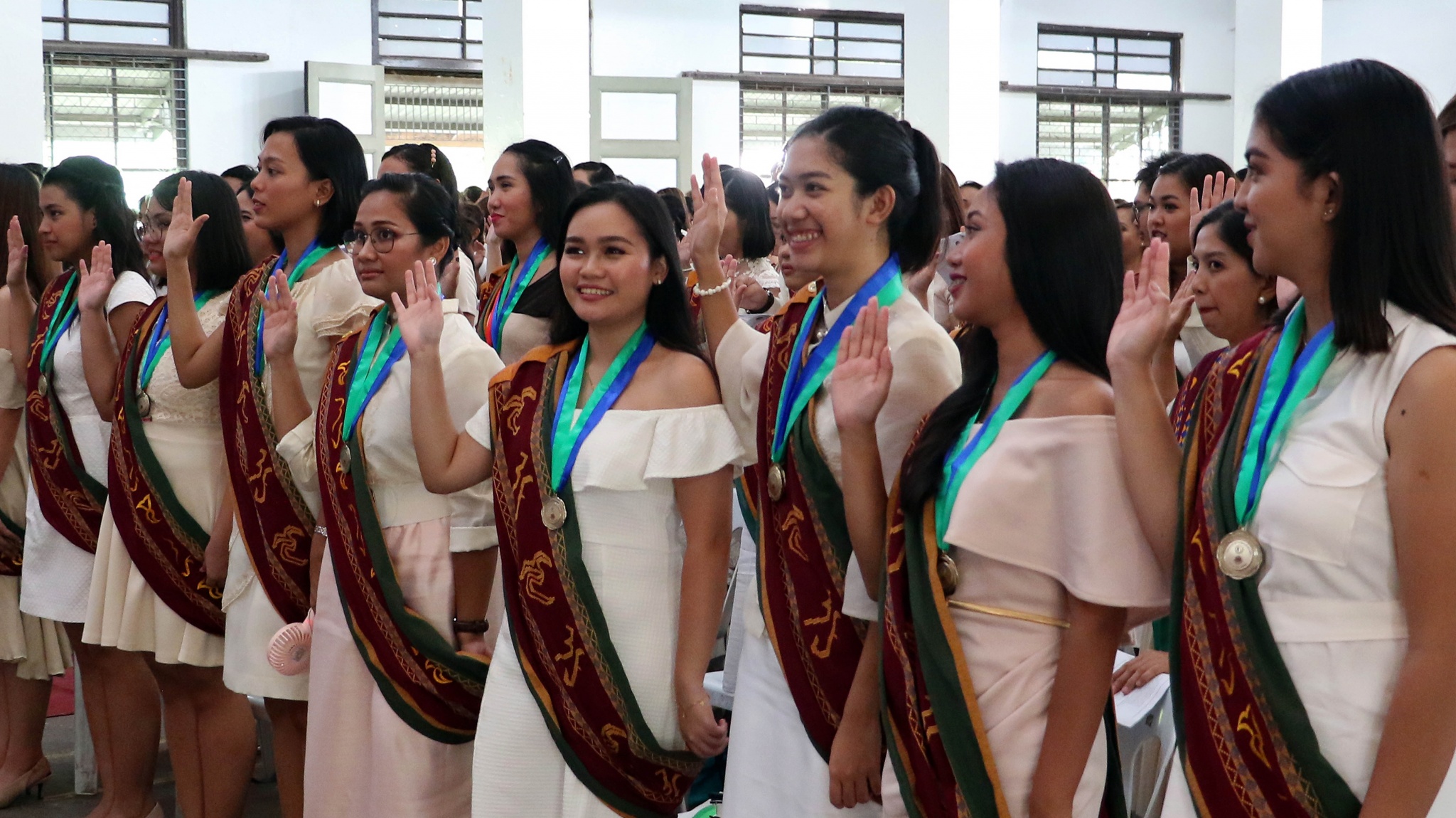 Graduating students recognized at college testimonials
Before shifting their Sablay from their right to their left shoulder, formally signifying their graduation at the 47th Commencement Exercises, UPLB's candidates for graduation first graced their respective college recognition and testimonial programs.
These intimate send-off ceremonies from June 17 to 22 that were mostly held at the Baker Hall recognized the graduating students, including those with honors, the college valedictorians, and the recipients of special awards.
At the College of Forestry and Natural Resources (CFNR) Recognition Rites on June 20, Lyka Mae C. Urriza, cum laude and college valedictorian, shared her victory with fellow 175 candidates for graduation and called UP's academic costume as "Sablay na nangangahulugang tagumpay."
The lone magna cum laude of the College of Development Communication (CDC), Samantha Johanna T. Timbreza, whose triumph over lupus is in itself already a source of inspiration for students like her, advocated equality, love, and forgiveness in her valedictory address.
As CDC's top graduate, Timbreza also received the Nora C. Quebral Medal for Scholarship in Development Communication during the Testimonial and Recognition Program for the college's 128 graduating students on June 20.
A magna cum laude student also leads the 249-strong College of Agriculture and Food Science (CAFS) graduating class. On June 21 at the CAFS Testimonial and Recognition Ceremonies, John Vincent A. Garcia, BS Agricultural Biotechnology, imparted four lessons to his batch mates, one of which is to "put your faith in what you most believe in."
Faith also served as the centerpiece of Helbert A. Paat's valedictory speech at the College of Arts and Sciences (CAS) Testimonial Program. Paat, the number one graduate and lone summa cum laude of both CAS and UPLB, talked about how his spiritual journey added purpose to his passion for learning.
The graduating class of CAS is UPLB's largest with 620 candidates. Its program was held on June 20 at the DL Umali Freedom Park, the same venue of UPLB's 47th Commencement Exercises.
Meanwhile, the top graduating master's student of the School of Environmental Science and Management (SESAM), Angelica Magpantay, also echoed personal principles that helped her in studies. These are professionalism, planning, passion and persistence, prayer, and people. SESAM's Testimonial Ceremony was held on June 20 at the CAS Gallery.
These testimonial programs also featured the oath-taking of the soon-to-be graduates to their college's alumni association and inspirational messages from alumni-guest speakers.
At the Recognition Rites and Hooding Ceremony of the College of Veterinary Medicine (CVM) on June 20, Dr. Edgardo Eugenio V. Unson talked about the ten things he has learned from work. He encouraged the 90-strong CVM Class 2019 to "be effective millennials" and "wise leaders" who are "part of the solution, not part of the problem."
Meanwhile, at the College of Human Ecology's Testimonials on June 17, Rasmiah Mayo-Malixi, president of the Pollution Control Association of the Philippines, Inc., advised the 195 graduating students to "get their hands dirty." By saying so, she meant to encourage the students to do actual work and experience tasks from scratch, which could help them uncover their purposes in life.
The College of Economics and Management held individual testimonial programs for its three degree-granting departments covering 236 candidates for graduation. The College of Public Affairs and Development, a de facto graduate school like SESAM, also held its own on June 20.
The Graduate School staged its Hooding and Recognition Ceremonies for 358 postgraduate students on June 21. The College of Engineering and Agro-industrial Technology's Testimonial Program for its 351 graduating students will be held in the morning of June 22, before the 47th UPLB Commencement Exercises. (Mark Jayson E. Gloria, Lysette Nadine B. Sigua, Catherine S. Bucu-Flores, Thaddeus P. Lawas, and Eunice A. Del Rosario)