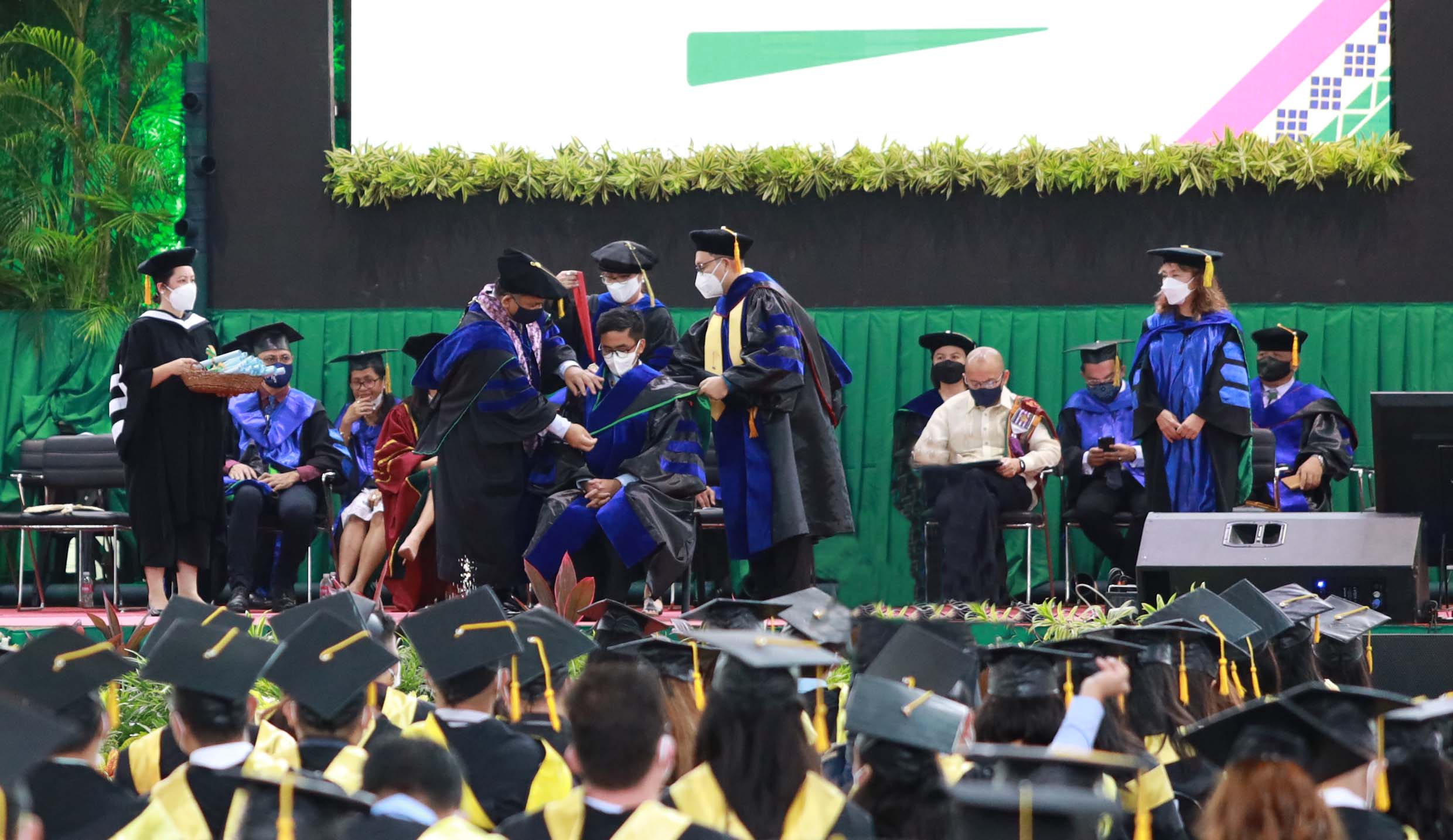 GS fetes 316 graduates of 2022
Three hundred sixteen candidates were recognized during the Graduate School (GS) Hooding and Recognition Ceremony held at the Copeland Gymnasium on Aug. 5. Two hundred forty-five received their master's degrees, while 71 were conferred their doctorate degrees.
Graduates from Master of Science programs number 190, ranking first among the programs according to the number of graduates. This was followed by the Master in Public Affairs program with 25 graduates and the Master of Management with 12 graduates.
Chancellor Jose V. Camacho, Jr. reminded the graduates that apart from inspiring academic excellence, UPLB instils and promotes public service.
"UPLB has prepared you to become leaders with the intellectual capacity and the heart to contribute to your respective communities. We encourage you to use the knowledge you have gained to address real-world social concerns," said Chancellor Camacho.
Justice Marvic Mario Victor F. Leonen, senior associate justice of the Supreme Court of the Philippines, was the speaker at the event.
In his speech, Leonen talked about the features of a totalitarian system and how individuals can prevent its emergence through critical knowledge.
"As advocates and as scholars, we have the responsibility to know that to speak and to express is a right, but it is a responsibility to speak well, to speak the truth clearly without drowning others and with the openness to engage in real conversations," Justice Leonen said.
He highlighted "doing better and being more critical" as the better choice as he enjoined the graduates to find the patience to read, think, share, and act.
Marching as the top graduate for the doctoral program was Kim Leonard Guna Dela Luna, PhD Human Nutrition. He was supervised by Dr. Ma. Theresa M. Talavera of the Institute of Human Nutrition and Food.
Leading the master's degree candidates was Elcar John Araneta Solera, MA Communication Arts. He was supervised by Jerry R. Yapo, an associate professor at the Department of Humanities.
Dela Luna and Solera received the Academic Excellence Awards. Following them were the Academic Achievement Award recipients.
Receiving Academic Achievement Awards under the doctoral program were Ernesto Cordero Collo, PhD Development Communication; Neilyn Ona Villa, PhD Genetics; Marie Faye Ramirez Nguyen-Orca, PhD Food Science; and Roejae Carlo Andaya Ang, PhD Agricultural Engineering.
Academic Achievement awardees at the master's level were Argel Lozada Arena, MS Molecular Biology and Biotechnology; Patrick Dagandan Mabbagu, Master of Public Affairs in Strategic Planning and Public Policy; Emerson Ruiz Rico, MS Mathematics; Rehel Almoguerra Diaz, MS Agronomy; Venice Jiezzelle Color Nesperos, MS Forestry specializing in Silviculture and Forest Influences; and Kareen Rae Casida Sernande, MS Animal Science.
The Leadership Award was given to Kendrick Mico Loresca Faronilo, MS Environmental Science, who was honored for his service to his fellow students and the university through his active involvement in the University Student Council.
Among the Class of 2022 were 37 international graduate students from Bangladesh, Ghana, Indonesia, Iran, Lao PDR, Liberia, Myanmar, Sri Lanka, Thailand, Timor Leste, and Vietnam. (Kristine E. Araguas & John Glen S. Sarol)
Aligned with our commitment to: