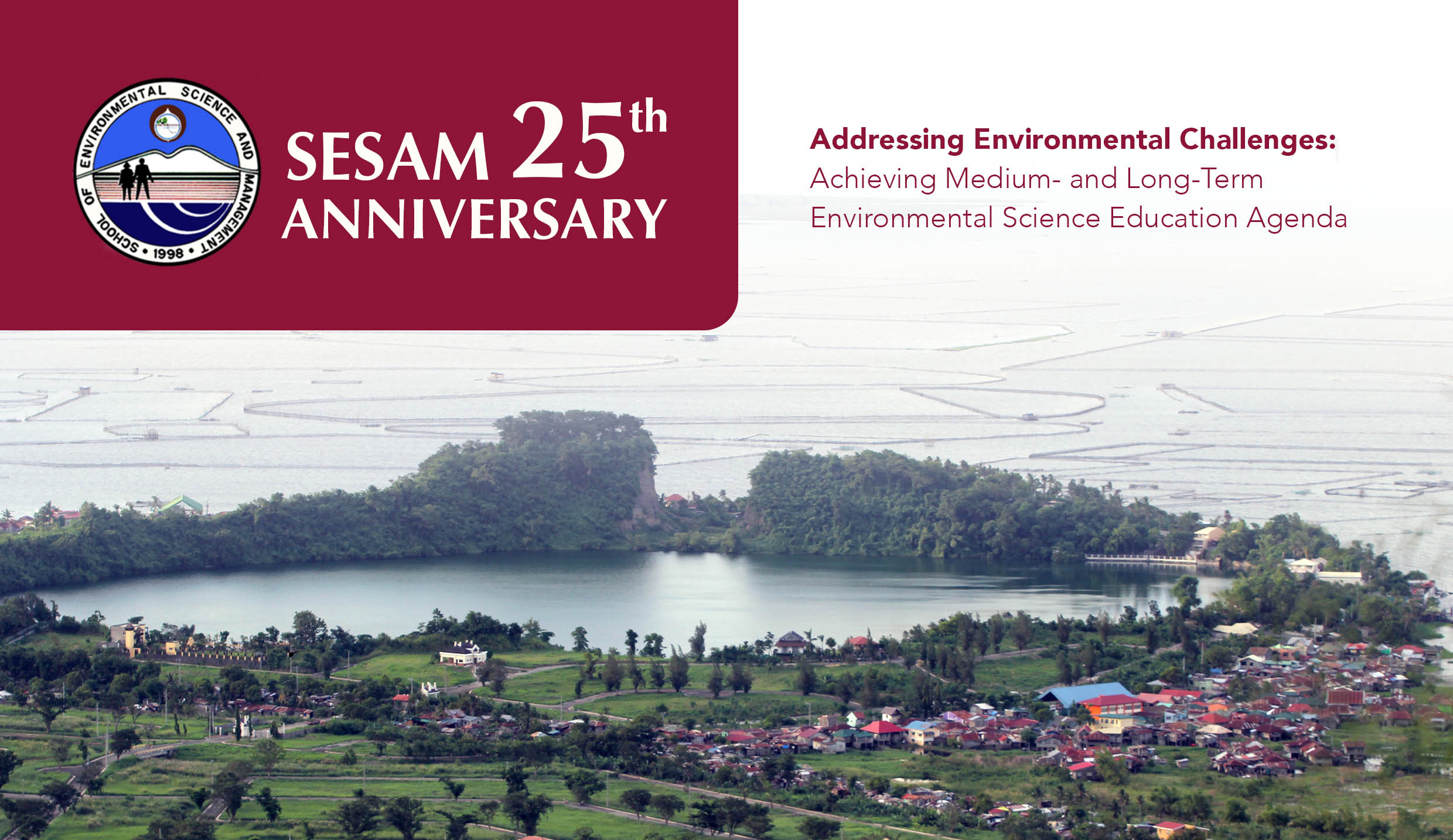 HEI roles in environmental education highlighted at SESAM silver anniv
To continue its 25th founding anniversary celebration, the School of Environmental Science and Management (SESAM) focused the second part of the Philippine Environmental Science Summit (PESS) on the roles of HEIs in addressing environmental issues.
The afternoon session was a roundtable discussion on the topic "Addressing Environmental Challenges: Achieving Medium-and-Long-Term Environmental Science Education Agenda" held with the presidents of higher education institutions (HEIs) on June 7 via live conferencing.
Sofia A. Alaira, head of the Continuing Education and Training Division of SESAM, opened the event with the announcement of SESAM's 25th anniversary celebration with the theme "From Strength to Strength: Sustainability and Accelerated Integrative Learning (SAILING)."
Dr. Karl Kendrick T. Chua, director-general of the National Economic and Development Authority, served as the keynote speaker for the event. He talked about the impending triple planetary crisis, namely, climate change, biodiversity loss, and pollution.
"Each of you has a significant role to play if we are to pass on a better planet for our children. Let us work together to address the most pressing crisis of our time," he said.
The roundtable discussion was led by HEI presidents who spoke about their experiences offering the Bachelor of Science in Environmental Science program in their respective universities. They also discussed the issues they encountered during the pandemic and how they responded to it.
The speakers were Dr. Cecilia S. Navasero-Gascon, president of Bulacan State University; Dr. Cherry I. Ultra, president of University of Eastern Philippines; Dr. Marjorie A. Española, research director of Palawan State University; and Dr. Betty Cernol McCann, president of Siliman University.
The roundtable discussion was followed by an open forum which brought up questions about the role of HEIs in promoting SDGs, the effects of the pandemic, and the issues and effectiveness of blended learning.
For the breakout workshops, Dr. Jessica D. Villanueva-Peyraube, associate professor at SESAM, discussed the National Environmental Education Action Plan of the Philippines 2018-2040, which is divided into three implementation periods: 2018-2020 (medium-term), 2023-2030 (long-term), and 2030-2040 (foresight).
The workshop then tackled the seven key strategies of the Action Plan. These were later synthesized by SESAM faculty and researchers, including Alaira, Dr. Patricia Ann J. Sanchez, Dr. Juan Miguel R. Guotana, Eduardo F. Roquino, Dr. Janice B. Sevilla-Nastor, Dr. Loucel E. Cui, Dr. Alma Lorelei DJ. Abejero, Dr. Eduardo C. Calzeta, and Dr. Janice S. Garcia. Dr. Mari-Ann M. Acedera, director of the Marine Resources Research Division of the Philippine Council for Agriculture, Aquatic and Natural Resources Research and Development, spoke as a reactor at the event. She highlighted the need to adjust to new challenges and to look at capacity-building efforts with a new perspective on environmental education.
"Whatever we do, everything we do, we do it for our One Mother Earth," she added.
In a special message, Dr. Angelina Galang, former president of Philippine Green Convergence for Safe Food, Healthy Environment, and Sustainable Economy, said that online education has its pros and cons, but that it cannot replace fieldwork, which is an essential part of environmental education.
Aline G. Magalong, assistant chief of the Standards Development Division of the Office of the Programs and Standards Development under the Commission on Higher Education, also spoke in the program. She underscored higher education's critical role in empowering people to take responsibility in creating a sustainable future.
Dr. Enrique P. Pacardo, professor emeritus at SESAM, ended the program with a brief history of SESAM and shared about its beginnings as a program of environmental science and management in 1978 and later as an institute in 1987. He also invited the participants to join SESAM's activities in the upcoming months.
SESAM will continue its 25th anniversary celebration with multiple events. These include the Kapihan at Kamustahan with the SESAM Pillars on Sept. 29, and the Annual SESAM Alumni Homecoming Symposium on Oct.10.
SESAM will host a two-part Scientific Webinar Series on Dec. 6 & 13. These events will be held with a tree planting ceremony on Dec. 6 and the launching of a Silver edition of the Journal of Environmental Science and Management on Dec. 13. The celebration will conclude with a Silver Anniversary Thanksgiving Gala Party on Dec. 19.
The afternoon session of PESS can be viewed on the UPLB SESAM Facebook page. (Kyle Ramiel Dalangin)