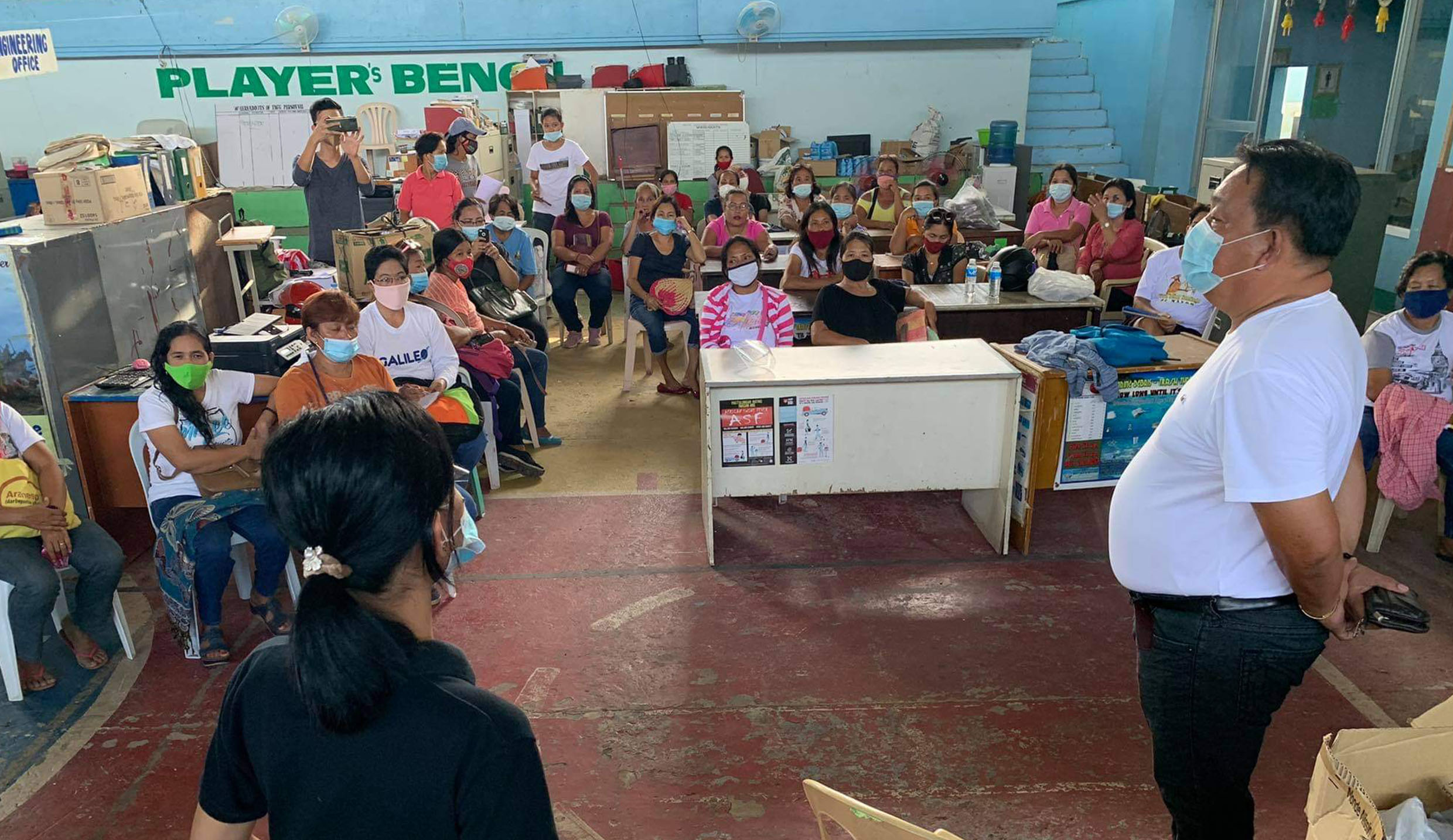 Helping hands for social change: UPLB Ugnayan ng Pahinungod in the new normal
Since its inception in 1994 by former UP President and UPLB Chancellor Emil Q. Javier, the Ugnayan ng Pahinungod has worked to intensify public service and volunteerism in the culture of UP. Many Iskolar ng Bayan's first foray into public service was through the Pahinungod after it was institutionalized in all UP constituent universities in 2001.
While the past year saw the pandemic impose many limitations in physical travel and interaction, Pahinungod's commitment to help the marginalized remains strong in its 27th year, with the people's heightened needs and further isolation fueling their drive to continue with public service even through alternative means.
BUYanihan: Uplifting farmers and small business owners
With the nationwide lockdown in March 2020, many small farmers and businesses were threatened of losing their livelihood as they lost access to major roads and tourist traffic. Being far from major cities, these communities were heavily reliant on transportation and the coming and going of visitors to sell their products.
Seeing this need, the Pahinungod spearheaded the BUYanihan program which aimed to help far-flung communities market their agricultural products and handicrafts through promotion on social media.
Among their beneficiaries have been the Kiday Community Farmers Association in General Nakar, Quezon; and the Sipag ng Kababaihan ng Tuntungin-Putho (SiKat-Po) in Brgy. Tuntungin-Putho, Los Baños, Laguna.
Buyanihan also partnered with the organization Rural Microenterprise Promotion Programme to reach small business owners and crafters in Liliw, Laguna.
Through the BUYanihan program, Pahinungod communicated with their partner communities and determined their needs. Since the pandemic and the lockdown made it hard for many of them to reach customers, Pahinungod helped them gain more visibility by posting and promoting their products online: from delicacies such as homemade fruit jams, cassava chips, and suman, to handicrafts like woven bags, sandals, and hair accessories.
BUYanihan also provided frequent updates on social media about the communities' situation to encourage people to support these local producers and businesses.
Thanks to these combined efforts, the communities were able to get through the hard months of the pandemic and earn income to sustain their families.
Special Tutorials: Education at home
Literacy and education have been major concerns of Pahinungod even before the pandemic began, and it remained one of their priorities as they were plunged into the new normal.
Pahinugod has long conducted programs and special tutorials to improve literacy rate and reading in remote communities and has also initiated tutorials for students in higher levels to strengthen their understanding of English, Science, and Math.
In the past, this would require weekly visits and hours-long journeys, wherein student-teacher volunteers would meet with their students in their sitios and barangays to assess their learning needs and devise appropriate lesson plans for them.
Recently, however, such personal encounters have been hampered by the pandemic, prompting Pahinungod to shift their approach to modular and online learning, where students can continue to learn from their homes.
Like before, these were planned and conducted with partner communities. Aside from making sure that lessons can be understood, Pahinungod now also assessed their technological means. This meant finding out if students had available gadgets and access to stable internet connection.
For alumnus volunteer Kevin Binay, the pandemic only highlighted all the more these students' disenfranchisement that made what was already a daunting task even more challenging.
"Sa special tutorials, we try to reach those communities na hirap sa ganito: may matataas na illiteracy rate, mga hirap magbasa. 'Yon 'yong purpose natin e, matulungan sila," said Kevin.
"Pero no'ng dumating 'yong pandemic, sila na nga 'yong mahirap nating i-reach, wala pa sila no'ng resources na meron tayo, for example the internet, computer. Pa'no natin sila marereach kung meron tayong gano'ng limitations?"
However, far from dampening their spirits, knowing that the communities' needs have become more dire has made them more determined in their service.
"Nadagdagan 'yong enthusiasm namin, ng mga co-volunteers ko, mga co-staff ko. The pandemic won't stop us. Kasi sila mismo 'yong nagtatanong na, 'kailan po kayo babalik? Pwede na po ba?' Kumbaga may attachment na kasi. Kung ikaw, facilitator ka, volunteer ka, mas gaganahan ka na, 'Okay, they appreciate us.' Ayun, mag-a-adjust tayo hangga't kaya natin," he shared.
E-Ligtas: A digital enhancement for community preparedness
With such a widespread public health crisis on-going all over the world, it might be overlooked that other disasters continue to persist. Storms, earthquakes, droughts can still happen with or without a virus.
To continually prepare and educate communities about disaster and climate change-preparedness despite current limitations, Pahinungod initiated E-Ligtas to forward relevant advocacies on these topics through digital platforms.
E-Ligtas is an off-shoot of Pahinungod's pre-pandemic program, Project Katatagan, which hosted seminars and capacity-building activities for those who are interested or responsible for increasing community resilience for disaster risks. Their trainings engaged barangay workers, climate change action centers, students, and senior citizens in spreading awareness about disaster risk reduction and climate change adaptation.
In the past year, E-Ligtas took advantage of the internet to reach a wider audience for its advocacy.
On Sept. 2, 2020 they hosted a webinar to discuss the novel approach of Digital Humanitarianism which uses technology and the internet to make civic efforts more effective and timelier, and which provides a means to extend help and respond to crisis in the new normal setting.
They launched the Resilience Photo Challenge for the International Day for Disaster Risk Reduction on Oct. 13, 2020 and invited the public to share their understanding of resilience through photos, prompting participants to display various forms and facets of what resilience looks like.
They also partnered with Humanitarian OpenstreetMap team Philippines and led OpenStreetMapping sessions, or a series of "mapathons" that documented buildings and unmapped areas such as in barangays located in 3rd grade municipalities. These maps were later given to local government units for their disaster management planning and other similar projects.
In a session held in partnership with the UPLB Environmental Science Society, Pahinungod contributed to mapping 11,274 buildings to enhance food security in Bukidnon.
Of these projects, volunteer Kendrick Faronillo, an Environmental Science graduate student, notes that Pahinungod's framework effectively delivers and laymanizes technical vital information, such as climate change, for the community at the grassroots level, where it is oftentimes hampered by physical distance and limited education.
He further said that Pahinungod's approach can be described as "honor and excellence with a heart" in which evidence-based information is used to create programs that can benefit stakeholders.
Ian Mhar Aguila, a student volunteer, also describes the efforts as looking at the long-term, in which Pahinungod builds a relationship with partner communities to make sure that the programs that have been implemented are monitored and can meet the needs of the people.
Steps forward on shaky ground
As the pandemic shows no signs of being over very soon despite the development of vaccines, Pahinungod braces itself to continue its operations in a physically distanced setting.
Keeping these programs will require sustainability, and for that the Pahinungod has prepared capacity building activities for its beneficiaries to carry on and magnify the impacts.
Pahinungod plans to intensify assistance to farmers and small business owners by looking for more partner communities and implementing modules that will be used to train their stakeholders.
Capacity building for community resilience in the new normal will continue to take the digital route in creating informational materials in video format for online and limited on-site training.
Pahinungod will also be expanding its tutorials at a time when distance education has become the norm by including more beneficiaries and enlisting the help of more partner schools for teaching. Production of supplemental learning materials will also be one of their strategies.
While it has faced constant roadblocks and multiple adjustments, such as unstable communication lines due to the limited connectivity of both volunteers and beneficiaries and limits on group gatherings and travel, Pahinungod takes each step with plans that are motivated by the spirit of volunteerism.
It continues to enhance these modified programs in its mission to extend the University's talents and resources to reach the community grassroots and the marginalized. (Jessa Jael S. Arana)
Aligned with our commitment to: