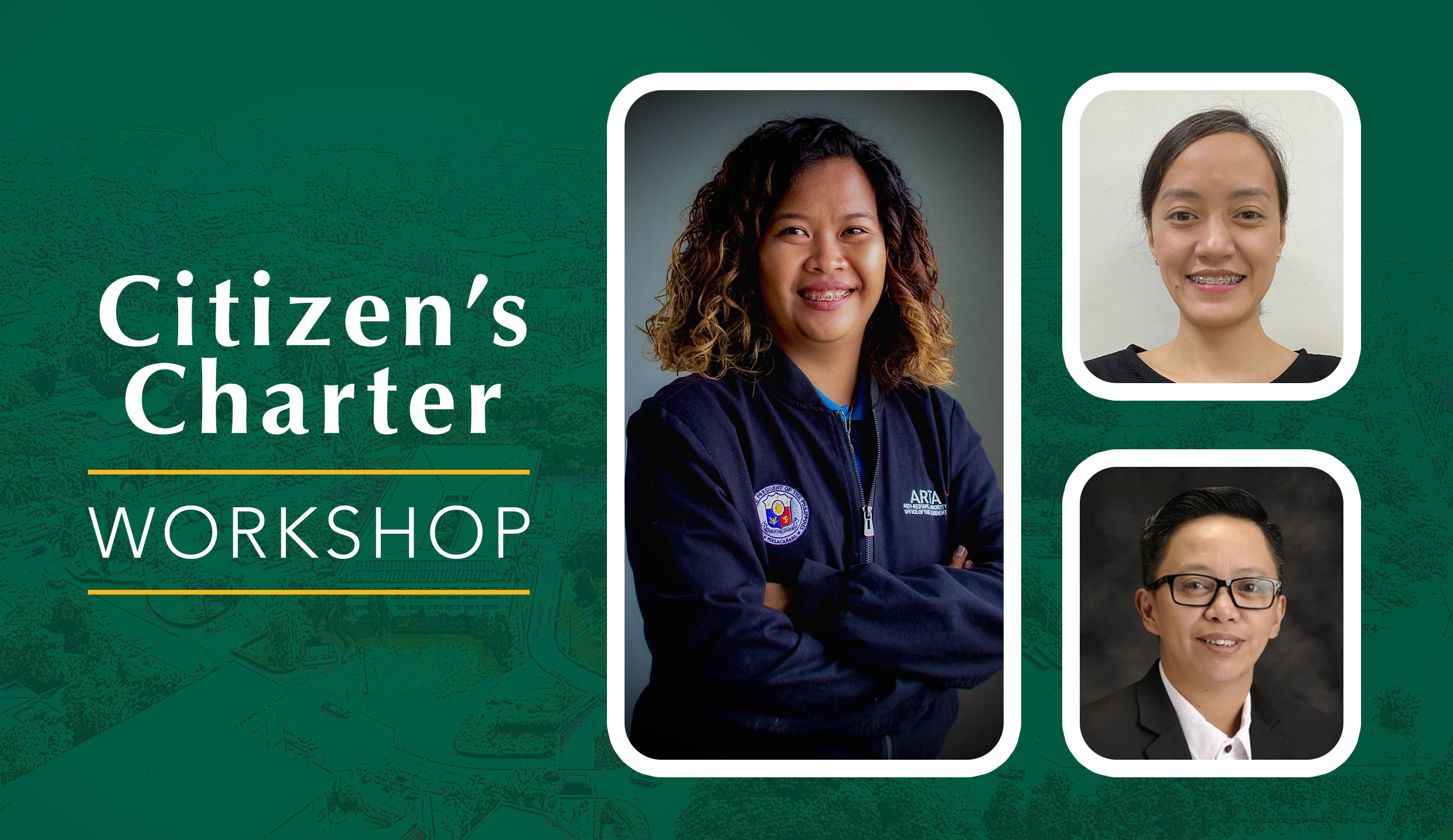 HRDO, ARTA conduct Citizen's Charter Workshop for UPLB
In cooperation with the Anti-Red Tape Authority (ARTA), the Human Resources and Development Office (HRDO) of UPLB conducted the Citizen's Charter Workshop on Jan. 13 as a refresher course for all units, colleges, and offices.
HRDO Director Eric Paul D. Peralta kickstarted the workshop with his inspirational opening remarks and a reminder to the participants of the importance of the Citizen's Charter, which has lawful provisions and mandates under ARTA.
This is especially true for government frontline services because it increases the efficiency of offices, informs clients about their rights as stakeholders, promotes transparency across the board, and inspires productivity and accountability among employees as they perform their duties and responsibilities in their respective posts.
In a motivational message, Vice Chancellor for Administration Rolando T. Bello reiterated the essential points discussed by Attorney Peralta and encouraged everyone to listen and take down notes.
According to him, adhering to the Citizen's Charter will help government offices perform their functions well, avoid corruption, and deliver quality services.
A short pre-test was conducted to gauge and benchmark the participants' knowledge of the webinar topic, after which Kristine Joy T. Fajardo, chief of the Compliance Monitoring and Evaluation Office-Division B of ARTA, took the floor as the resource speaker and subject matter expert.
She said, "the Citizen's Charter is more than any other document. It is a solemn pledge and the golden standard for all government agencies in providing services to their constituents and clients."
According to Fajardo, the Citizen's Charter should be posted in conspicuous places, and the information billboard should contain the list of external services offered by the office, the requirements for availing them, and the procedure for lodging complaints and giving feedback.
In line with this, the agency's handbook and website should also contain its profile, a complete list of its public services, and all processes' details and service specifications. Aside from sharing the suggested format and template of the information billboard, handbook, and website, Fajardo discussed the varying specifications of each service offered by the agency and the prescribed manner of writing the description of these services.
Fajardo was later joined by Rosalyn Mabel Manipol Jimera of HRDO and Dim Estolas, chief of the Compliance Monitoring and Evaluation Office-Division C of ARTA, for the question and answer portion of the workshop to shed light on the queries of the participants.
A posttest followed this to assess the participants' learning from the workshop. To wrap up the program, Dr. Jennifer Marie S. Amparo, assistant to the vice chancellor for administration, delivered the closing remarks, encouraging everyone to comply with the Citizen's Charter for transparency and to cultivate a culture of honor and excellence in the service to the university.
The webinar may be accessed at the official HRDO Facebook page. (by Christian Jonah P. Mizal)
Aligned with our commitment to: