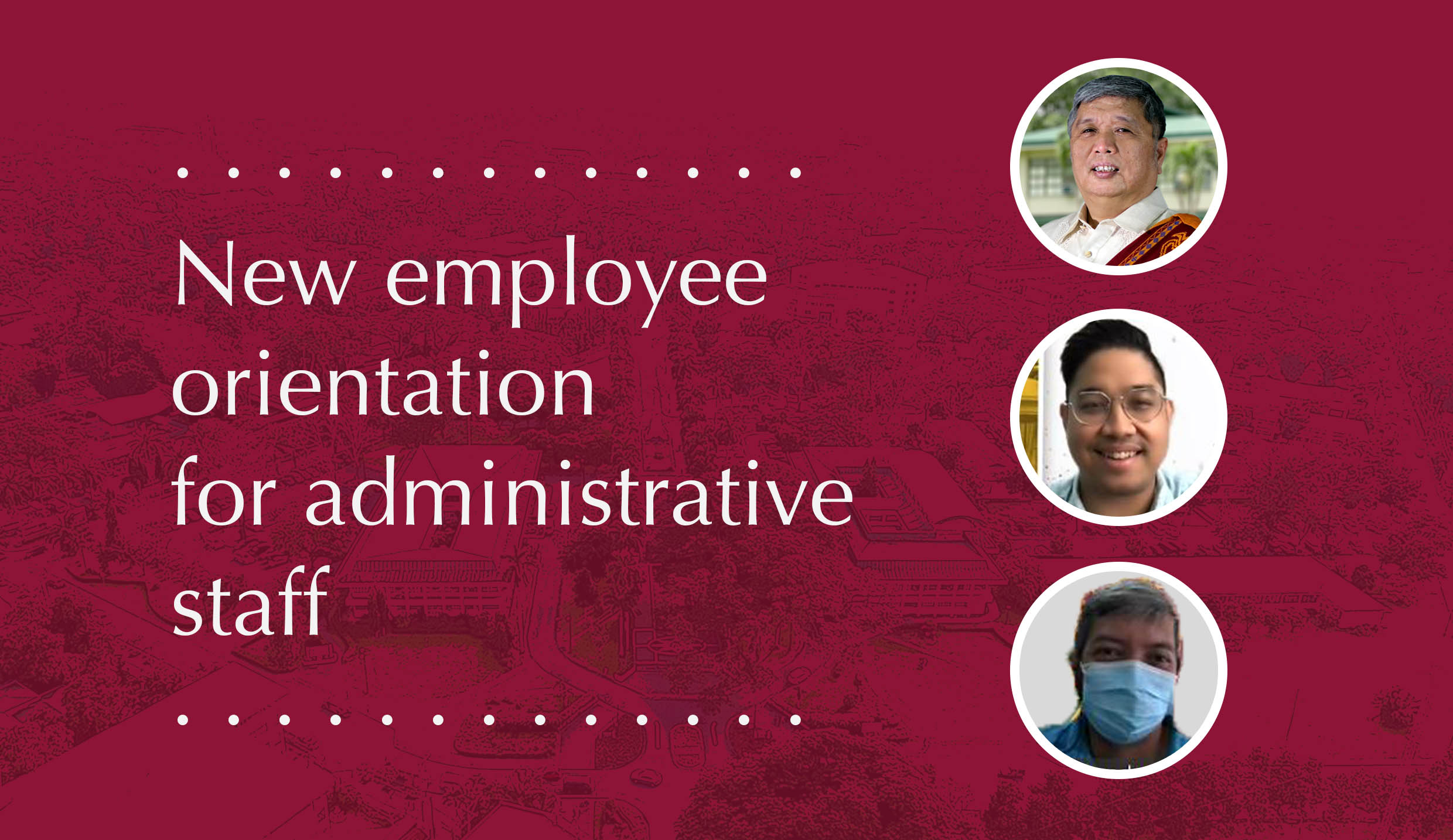 HRDO orients new administrative employees
The Human Resources Development Office (HRDO) conducted the New Employee Orientation on Wednesday, March 30, as part of an onboarding program for 67 newly hired administrative personnel.
The orientation program is designed to help the participants acclimate to their workplace environment, familiarize themselves with inner workings of the administrative sector, and uphold their duties and responsibilities with honor and excellence.
Rolando T. Bello, vice chancellor for administration, welcomed the participants and formally opened the program.
He enjoined and encouraged the participants to internalize the mission and vision of the university so that they could render excellent and noteworthy public service, as well as know more about their rights, responsibilities, and benefits as the next generation of administrative employees of UPLB.
He commended the HRDO staff by saying that he tipped his hat to those who "worked tirelessly to provide onboarding programs, training seminars, and other learning and development initiatives for their colleagues across the university."
Atty. Eric Paul D. Peralta, director of HRDO, discussed the general policies under the UP Charter and the Civil Service Commission that new employees must take to heart for them to fulfill their functions as public servants.
These include working according to the prescribed government working hours, and with the changes brought about by the new normal, under an alternative and flexible work arrangement.
Furthermore, he reminded the participants of the vow they made as government employees when they took the Oath of Office and pledged to fulfill their duties and responsibilities.
Atty. Peralta said that the sacred oath that they took is not mere compliance and must be ingrained deeply in their hearts and minds. "This oath will guide and keep you on the straight and narrow path for the duration of your careers as public servants," he added.
Aside from expounding on the different information systems that new employees must learn to navigate and use for improved efficiency and productivity, Atty. Peralta also touched on the core principles of the Strategic Performance Management System, performance rewards, development planning, and coaching and monitoring learning interventions.
He encouraged the new employees to always give their best effort and aim for 'Very Satisfactory' and 'Outstanding' ratings.
In his presentation, Atty. Peralta laid out the different privileges, compensation package, benefits, and and rewards and recognition given to exemplary employees who consistently perform well and deliver successful results.
A discussion on the participants' questions and concerns commenced after Atty. Peralta's presentation. This was handled by Vice Chancellor Bello, Atty. Peralta, and Ricardo Amiel V. Reveche, HRDO Supervising Administrative Officer.
The orientation program was formally closed by Reveche who reminded the participants to take pride in their role of supporting the fulfillment of the UPLB mandate. He enjoined them to ensure that their respective contributions have the "Tatak UP" or the mark of excellence in them.
A video of the New Employee Orientation as well as other training webinars of HRDO are available on its Facebook page. (Christian Jonah P. Mizal)