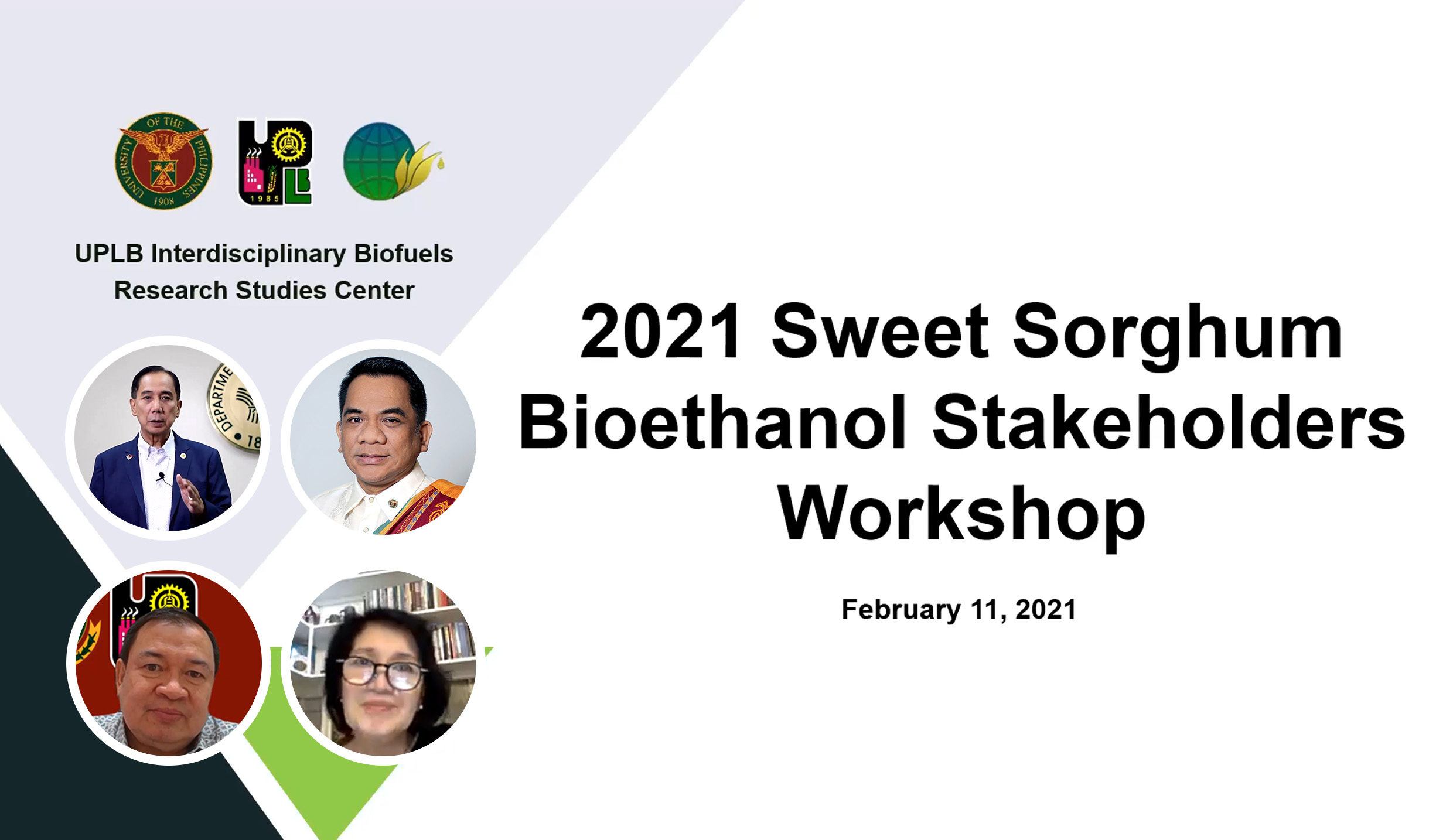 IBRSC consults stakeholders on sweet sorghum bioethanol commercialization
The UPLB Interdisciplinary Biofuels Research Studies Center (IBRSC) spearheaded a stakeholders' workshop via video conferencing on Feb. 11 to discuss the prospects of the commercial-scale use of sweet sorghum as a potential alternative or complementary feedstock for producing bioethanol.
This was after IBRSC gathered information and data from research on bioethanol production using sweet sorghum since 2010, as well as from basic research conducted much earlier all over the country.
Dr. Rex B. Demafelis, IBRSC chair, presented to the stakeholders the "Feasibility Study of Commercial-scale Sweet Sorghum Bioethanol Production in the Philippines" in order to validate the assumptions his team used in the study, to ask for their suggestions, and to plan the next steps that will be taken.
He presented various business models and feedstock scenarios, as well as combinations of other factors such as bioethanol plant parameters, investments on land, and financial parameters such as income tax holiday considered in the feasibility study and the sweet sorghum and bioethanol production processes that were used in the study.
According to him, IBRSC worked closely with ethanol producers in Negros Oriental, specifically San Carlos Bioenergy, Inc.; Biomass Resource, Inc.; Fuel, Inc.; Negros Biochem, Inc.; and Roxol in conducting validation trials.
He acknowledged the support of the local government of Sagay City in Negros Occidental through its mayor, Hon. Alfredo Marañon III, who provided logistics and manpower for the validation trials.
Beginnings of research on sweet sorghum as biofuel feedstock in UPLB
Dr. Demafelis said that sweet sorghum research in UPLB began when a team that included Dr. Domingo Angeles, former dean of the College of Agriculture (now the College of Agriculture and Food Science); and Dr. Heraldo Layaoen, former vice president for planning and external linkages of the Mariano Marcos State University, conducted plantation trials on sweet sorghum all over the country.
According to him, he came into the picture after he was asked by Dr. Nicodemus Eleazar, then the director of the Department of Agriculture-Bureau of Agricultural Research to take the lead in undertaking the commercialization of sweet sorghum as a biofuels feedstock.
He further acknowledged the role of Agriculture Secretary William Dar in paving the way for sweet sorghum to be used as a biofuel feedstock in the Philippines in 2004. Secretary Dar was then the director general of the International Crops Research Institute for the Semi-Arid Tropics (ICRISAT) in India.
Dr. Dar, who graced the virtual program, gave a short talk in which he discussed how, as ICRISAT director general, he pushed for the promotion of sweet sorghum "as a major and cost-effective biofuel feedstock for advancing food and security goals while ensuring the protection of the environment."
"With its benefits of high yield and resistance to extreme weather conditions, sweet sorghum might just be the miracle crop we need to continue to produce in order to address the demand for fuel while emphasizing sustainable farming," Dr. Dar added.
Way forward for UPLB in biofuels research
UPLB, through IBRSC is going to implement the 2021 Sweet Sorghum Bioethanol Project that is an offshoot of an initiative of Sen. Sherwin Gatchalian to establish through a senate bill the Philippine Energy Research and Policy Institute (PERPI) that will be based in UP.
This is according to Dr. Maria Cynthia Rose Bautista, vice president for academic affairs of UP, who gave a message at the virtual event.
Dr. Bautista highlighted the energy sector as a critical area of research in policy intervention to ensure energy security, access, and sustainability in the context of climate change.
"PERPI aims to close the gap in the energy sector by producing multi-disciplinary energy research, incubating and developing cutting edge technologies, and serving as the government's partner in the energy policy making process toward greater energy security, sustainability, and affordability," Dr. Bautista said.
She also revealed that UP convened national scientists, engineers, economists, and social scientists who have been working in energy issues and research to undertake 20 projects in the three clusters of energy security, energy planning, and energy efficiency.
Chancellor Jose Camacho, Jr., who gave the welcome remarks said that UPLB-IBRSC's work will help stabilize the country's bioethanol supply and further contribute to the attainment of its sustainable development goals.
Engr. Ruby B. de Guzman, chief science research specialist at the Department of Energy, represented by Ms. Celine Jimenez, provided status updates on the Bioethanol Industry in the country while Engr. Rosemarie Gumera, alternative representative of the Sugar Regulatory Administration to the National Biofuels Board, provided updates on bioethanol feedstock. (JMBo)