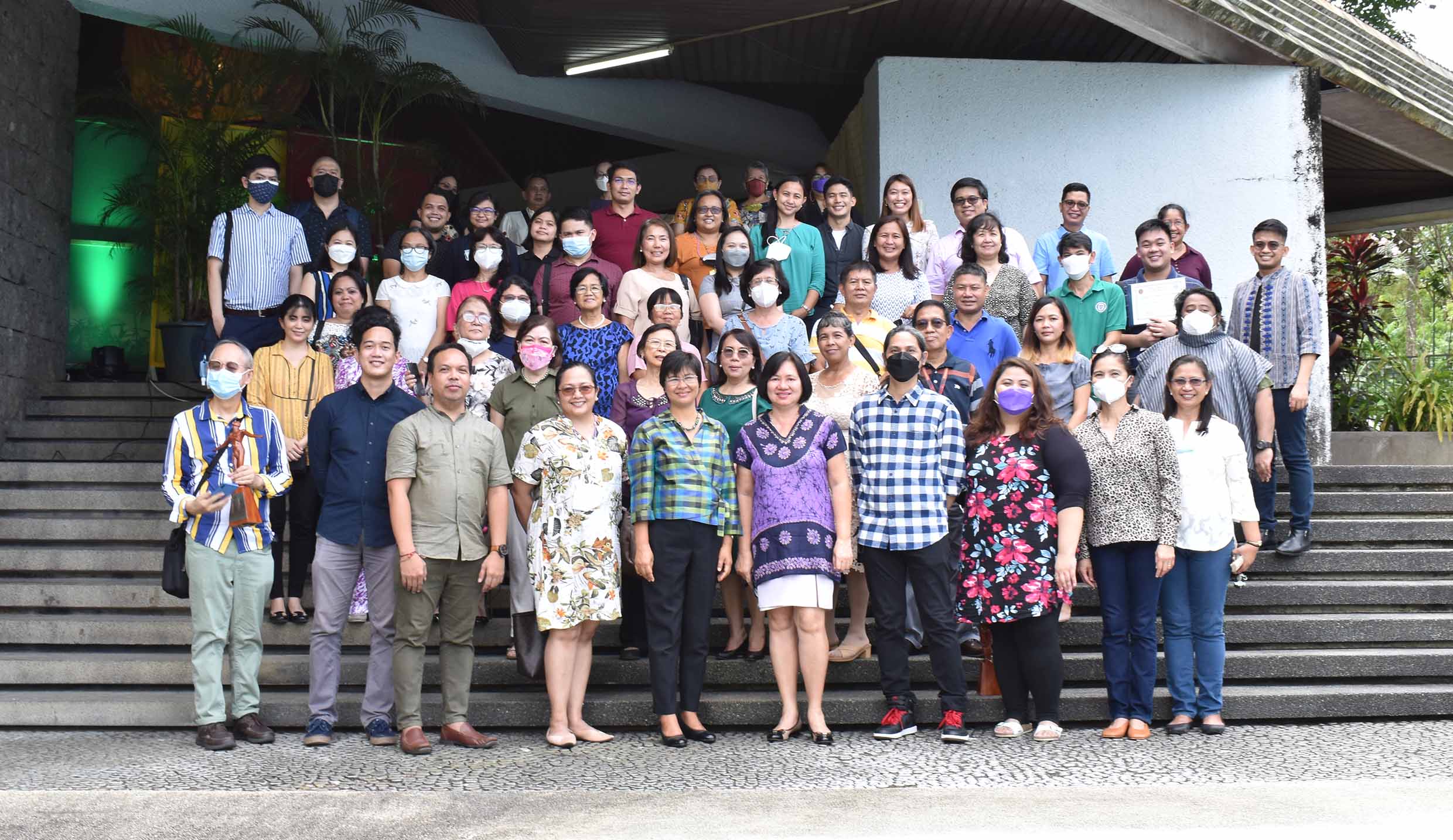 IBS awards personnel, highlights leadership at 39th anniv
The Institute of Biological Sciences (IBS) celebrated its 39th anniversary on March 23 and 28 with the theme, "Forging Leaders in Biological Education, Research, and Public Service."  
The two-day celebration kicked off with a ceremony recognizing IBS' retiring and outstanding personnel held at the UPCO Social Hall on March 23.
IBS also honored 22 faculty and staff who had served the university for at least 20 years and paid tribute to some colleagues posthumously.
Chancellor Jose V. Camacho, Jr. and College of Arts and Sciences (CAS) Dean Maribel L. Dionisio-Sese, with the institute's executive committee members, were present at the on-site ceremony.
IBS Director Vachel Gay V. Paller welcomed the attendees and reiterated the significant role of IBS in the advancement of knowledge despite present challenges. "I would like to encourage everyone to continue to tread the path of success no matter how difficult it is," she said.
In her inspirational message, Dean Sese reiterated that IBS has gained distinction as the National Center of Excellence for the Biological Sciences and said that she will work for it to be recognized as the National Institute of Biological Sciences.
She also introduced the BRIGHTEN program of CAS, which seeks to collaborate with the Department of Education in enhancing the capabilities of basic education teachers by tapping the institute's people and resources.
"BRIGHTEN is the monumental challenge that must inspire us. [It is] truly uplifting the basic education of tens of millions of our youth with the knowledge, skills, and values that will help ensure a productive, dignified, and fulfilling life for them. Let us brighten their future," Dean Sese said, as she enjoined the IBS faculty members to take part in the said program.
In his keynote address, Chancellor Jose V. Camacho, Jr. commended the IBS faculty who have served in key administrative positions at UPLB and made significant contributions to research and national development.
"Through the years, IBS has been known to produce the most number of outstanding teachers in biological sciences here in the university, and innovative scientists and researchers who have brought life to amazing science products," he said.
"As we brave the new normal and work together to find better, sound, and sustainable ways to future-proof our university and our country, I trust that everyone in IBS will heed the call to continue using their expertise to further create relevant and beneficial initiatives," Chancellor Camacho added.
He also acknowledged the important role IBS will play in pursuing the "Accelerating Growth through One Research and Extension Action" or AGORA agenda of UPLB. "The IBS is crucial in our future-proofing goal to sustain academic excellence and leadership," Chancellor Camacho concluded.
Among the retirees who were honored were former CAS College Secretary Ivan Marcelo A. Duka, former IBS Director Meryln S. Mendioro, Prof. Lourdes B. Cardenas, Prof. Roberto C. Reyes, Aurelia P. Magpantay, and Martina A. Nepomuceno.
The following individuals were given awards: Diego Leandro L. Contreras, outstanding student; John Vincent R. Plato, outstanding researcher-junior category, Jickerson P. Lado, outstanding researcher-senior category; and Renard M. Jamora, outstanding extension and public service personnel.
The Seven Lakes Assessment and Monitoring Project Team received the Outstanding Research Team Award, while the Zoonotic Transmission of Parasites (ZOOTrip) Project Team received the Outstanding Extension and Public Service Team Award.
IBS then hosted its first fireside chat with esteemed and distinguished alumni on March 28 via virtual conferencing. Dr. Arvin C. Marbibi, Dr. Elmer Jose A. Meceda, Dr. Vera Marjorie E. Velasco, Dr. Leodevico Ilag, and Angel Barnes Jr..
They also answered questions regarding their career choices, scientific innovation, service to the country, leadership, and mentoring. They also gave suggestions to improve the quality of the BS Biology curriculum.
Mr. Barnes, in his parting message, advised the students, "your grades do not define you. There are still a lot of opportunities in store for you. It's really about discovering your interests, working hard on them, and making sure that you do not give up easily when challenges come."
He also added, "It's really important for you to stay humble…It's really about being able to contribute to society the best way you can. I'm really grateful to IBS for allowing me to be able to do that."
A recording of the alumni fireside chat is available at https://fb.watch/c17BZsKZNC/. (Maria Eleanor Aurellado)