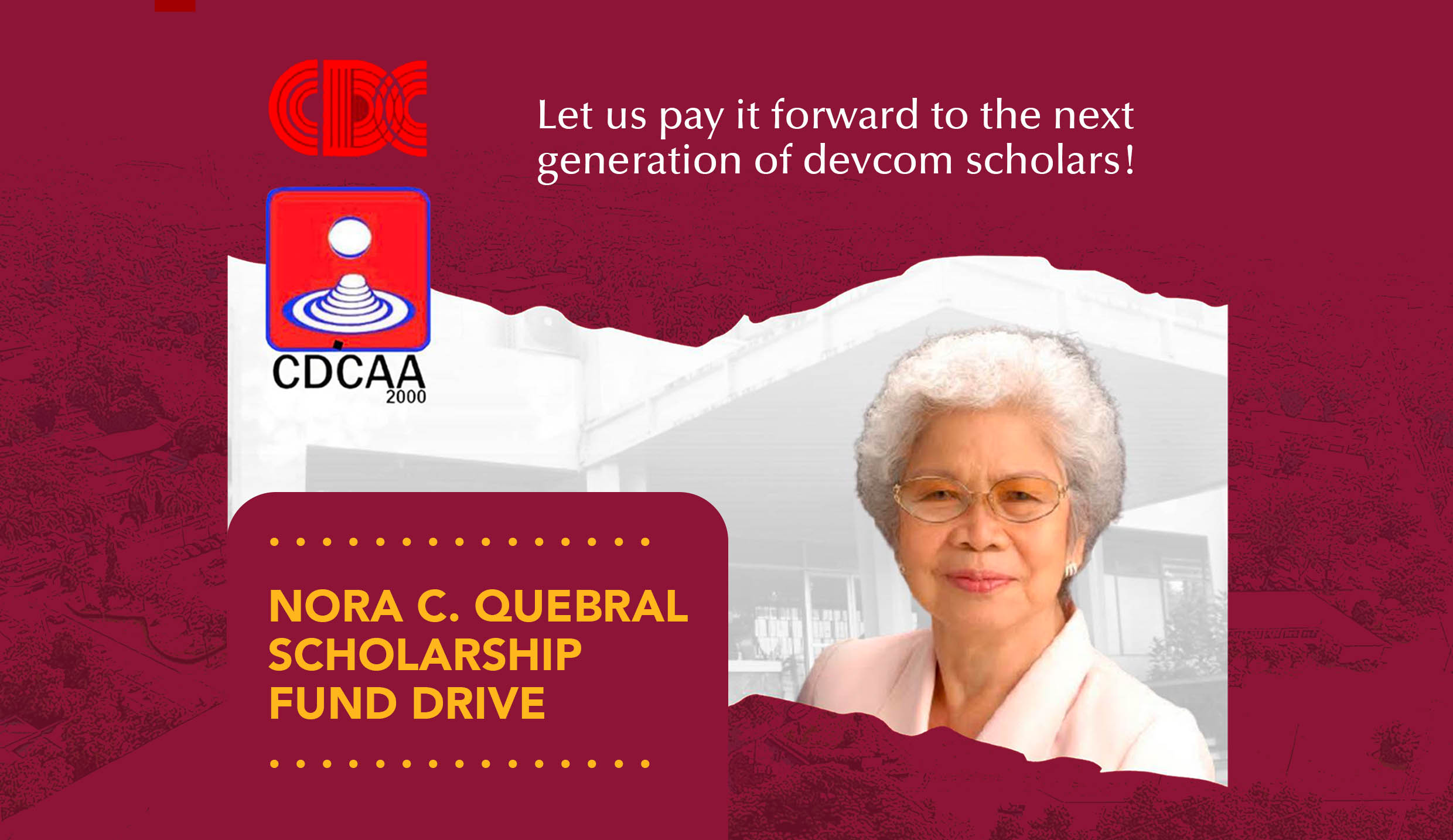 Immortalizing NCQ, the DevCom pioneer
How does one immortalize Dr. Nora C. Quebral, she who broke ground and pioneered the field of development communication?
It was 50 years ago last Dec. 10 when Dr. Quebral first articulated the seed of an idea in a paper she presented at a UP College of Agriculture symposium entitled, "Development Communication in the Agricultural Context."
On its 50th year, the College of Development Communication (CDC) with the CDC Alumni Association (CDCAA) dedicated a scholarship in honor of Dr. Quebral.
The scholarship aims to produce graduates in the field from among its students who are poor but are academically performing.
Romel A. Daya, assistant professor and CDCAA president, who facilitated the launch said that each scholar will receive monthly allowances per semester.
Mark Quebral, a son of Dr. Quebral, pledged PhP 100,000 seed money to the fund. Other benefactors, who are mostly CDC alumni, faculty, staff, and graduate students, also helped kick start the fund through their individual contributions.
Deborah Quebral Diokno, Dr. Quebral's daughter, expressed her family's support for the initiative and said that it was a continuation of Dr. Quebral's legacy of helping people realize their full potential.
"We would like to believe that it was NCQ's loyalty and commitment to the work she passionately loved that has helped bring Devcom to the global stage," she said during the launch.
CDC and CDCAA launched the Nora C. Quebral Scholarship Fund (NCQSF) at the online forum, "Speaking of Devcom: Conversations with Devcom's Finest" alongside the celebration of the 2021 UPLB Loyalty Day and Alumni Homecoming.
CDCAA is calling on kind hearts to support the NCQSF. Donations may be sent to the following channels:
GCash
Name: Samantha Javier (CDCAA Secretary)
Mobile Number: +639176530542
Land Bank
Name: Samantha Javier
Savings Account: 1466 0636 61
Branch: Katipunan
Proof of transaction should be sent to [email protected] for accounting and recording purposes. (Nel Benjamin Magdaleno)
Aligned with our commitment to: