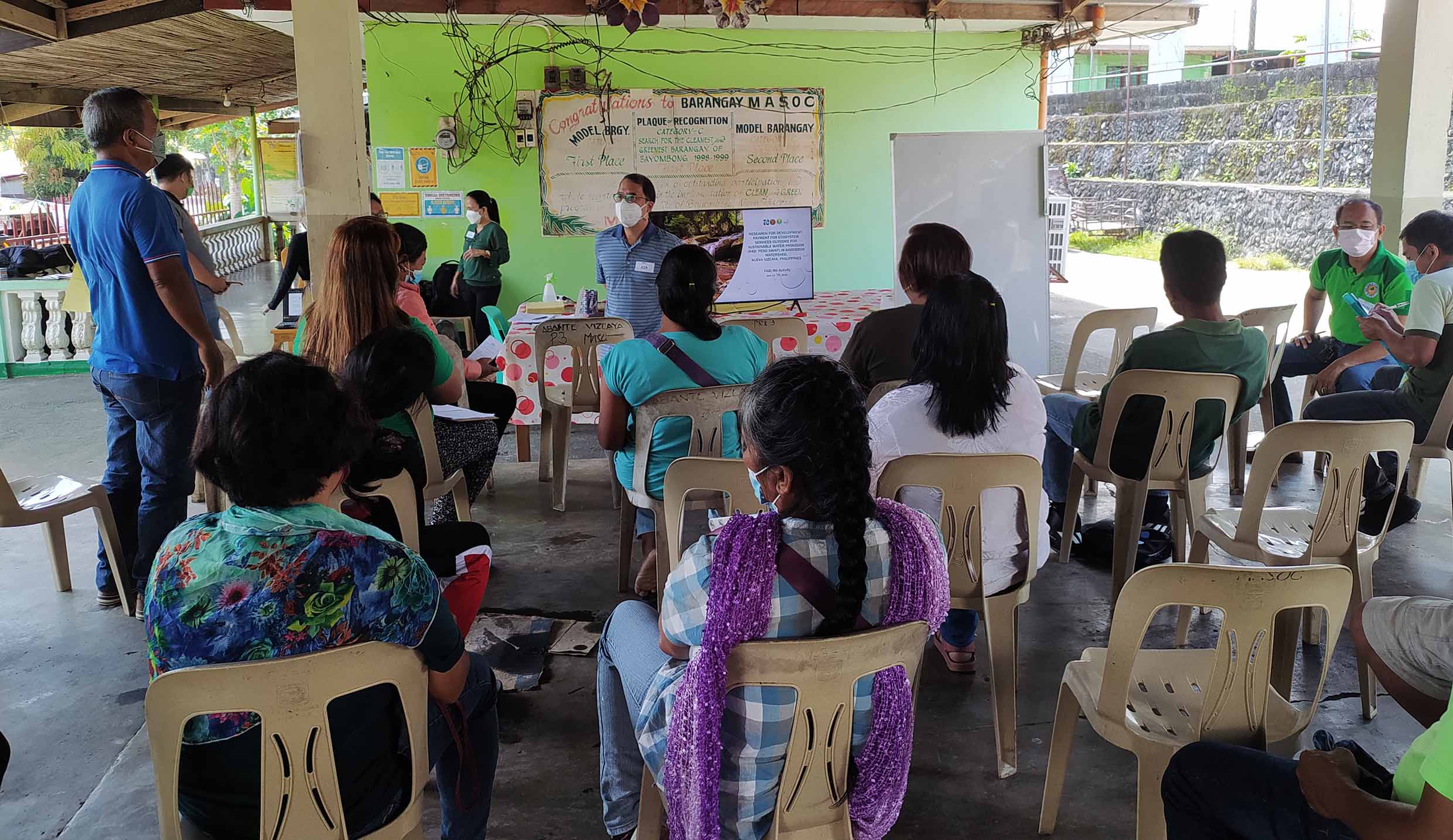 INREM project on payment for ecosystem services conducts FGDs in Nueva Vizcaya
The UPLB Center for Integrated Natural Resources and Environment Management (INREM) held its first face-to-face focus group discussions (FGDs) with the Provincial Government of Nueva Vizcaya, Barobbob Watershed occupants, farmers, and irrigators for the project "Research for Development: Payment for Ecosystem Services Outcome for Sustainable Water Provision (R4D: PESO SWaP) in Barobbob Watershed, Nueva Vizcaya, Philippines" on April 11-13.
The project intends to develop and pilot a payment for ecosystem service (PES) mechanism for improved water supply in the Barobbob watershed. The FGDs gathered information about the present situation of the Barobbob Watershed and served as preparations to establish the implementation and monitoring mechanisms for PES.
The project team, composed of Dr. Catherine de Luna, researcher; Asst. Prof. Jan Joseph Dida, project staff; Dr. Arvin Vallesteros, a consultant from the Nueva Vizcaya State University (NVSU); Sheerah Louise Tasico, researcher; Adelaine Arganda, researcher; and led by Dr. Asa Jose U. Sajise and Dr. Canesio D. Predo, both project staff, visited the offices of the Provincial Local Government of Nueva Vizcaya (PLGU Nueva Vizcaya), Provincial Environment and Natural Resources Office (PENRO), National Irrigation Administration Nueva Vizcaya (NIA), and the Local Government of Bayombong (LGU Bayombong).
Padilla graced the meeting held at the office of the PLGU Nueva Vizcaya and discussed the development projects in the province. He also expressed his appreciation for the project and wished for it to get ramped up to bigger watersheds in Nueva Vizcaya.
Forty-one participants attended the FGDs with the Barobbob Watershed occupants, farmers, and irrigators at the Barangay Hall of Masoc, Bayombong, Nueva Vizcaya.
They represented the Barobbob Watershed Occupants Association, Paoac Upland Farmers Association, and Irrigators Associations in the Municipality of Bayombong.
Marilyn Juan, municipal environment and natural resources officer, and representatives from the Municipal Agriculture Office of LGU Bayombong and For. Rommel Yogyog, Barobbob Watershed coordinator, also participated in the activity.
A dialogue followed, focusing on the current situation, and the water quantity and quality produced by the Barobbob watershed.
The project team also visited a site at the Barobbob spring to observe the state of the watershed and the condition of the pipes and water reservoir in the area.
PESO-SWaP is a project funded by DOST-PCAARRD and implemented by INREM from 2021 to 2023. INREM is chaired by Dr. Juan M. Pulhin, one of the UPLB scientists who has been contributing to the report of the Intergovernmental Panel on Climate Change over the years. (Adelaine C. Arganda)