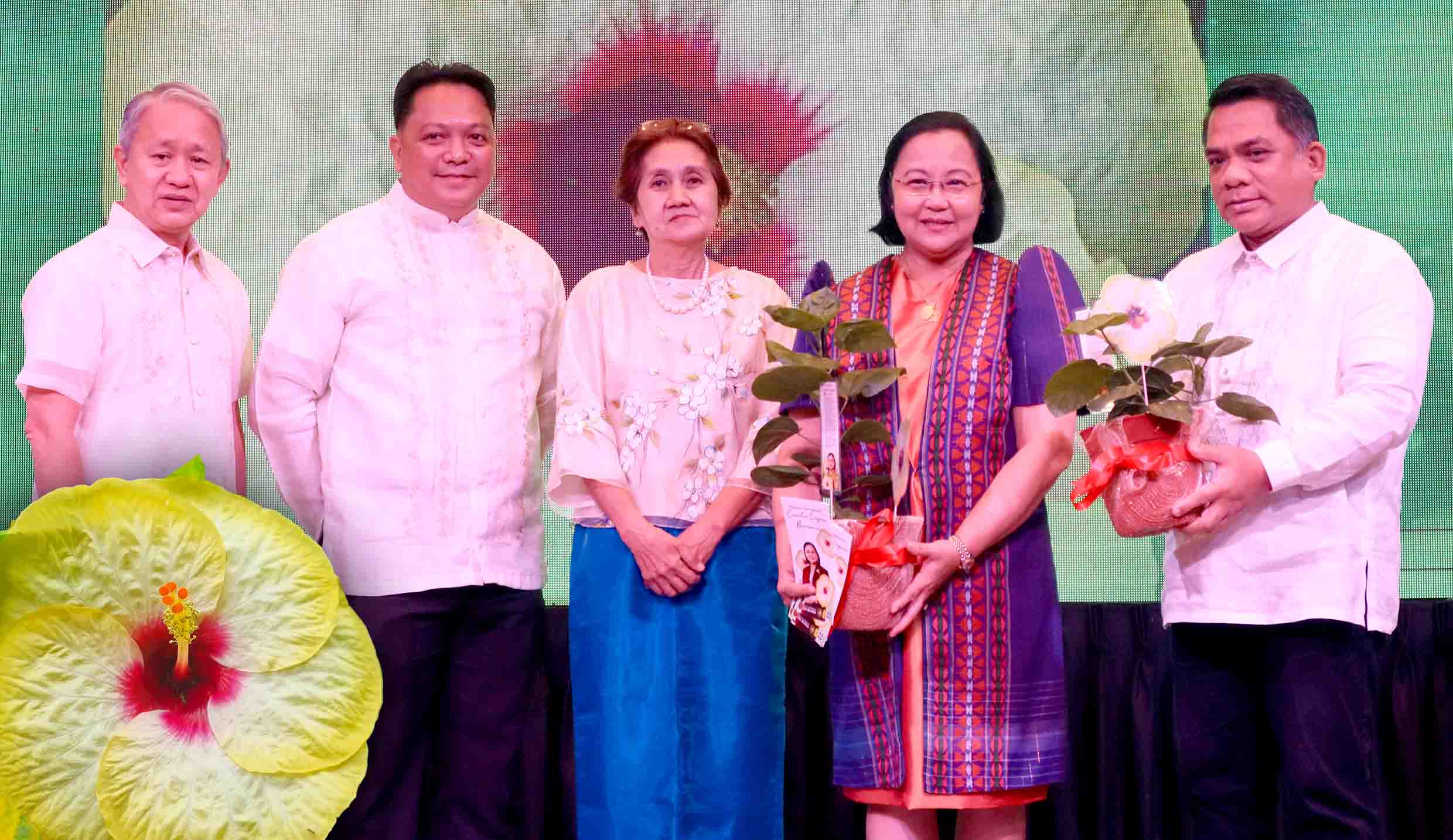 IPB names hibiscus hybrid after LANDBANK president and CEO
UPLB, through the Institute of Plant Breeding (IPB), launched a new hibiscus hybrid named after Cecilia Cayosa Borromeo, outgoing president and chief executive officer (CEO) of the Land Bank of the Philippines.
The gumamela hybrid was formally presented to Borromeo on May 22 at the Diosdado Macapagal Hall, LANDBANK Plaza in Malate, Manila, where President Borromeo delivered her last State of the Bank Address. UPLB officials and researchers led by Chancellor Jose V. Camacho, Jr. were present during the awarding ceremony.
Developed by IPB plant breeder Agripina Rasco, the hybrid Hibiscus rosa-sinensis 'Cecilia Cayosa Borromeo' has delightfully radiant and captivating colors.
Its large, thick bloom is accentuated by a jagged maroon core and thin lines running across soft lemon-yellow petals defined by darker hues along its edges.
The Hibiscus rosa-sinensis 'Cecilia Cayosa Borromeo' is the latest addition to the "Women in Public Service Series" of the Hibiscus Breeding Program of IPB.
Borromeo's honoring with the hibiscus hybrid is in recognition of her efforts in developing and promoting programs that aim to help improve the lives of Filipino farmers and fisherfolk, particularly the institutionalization of farmers' and fisherfolk's access to credit and agri-preneurship programs.
Borromeo is a graduate of the UPLB BS Agribusiness program. She was one of the recipients of the UP Alumni Association Distinguished Alumni Award in May 2022. She was also awarded Outstanding CEO for 2023 during the annual awards of the Association of Development Financing Institutions in Asia and the Pacific (ADFIAP) on May 16. (Ricky Bryan U. Biagtan, Juvelle P. Villanueva)
Aligned with our commitment to: