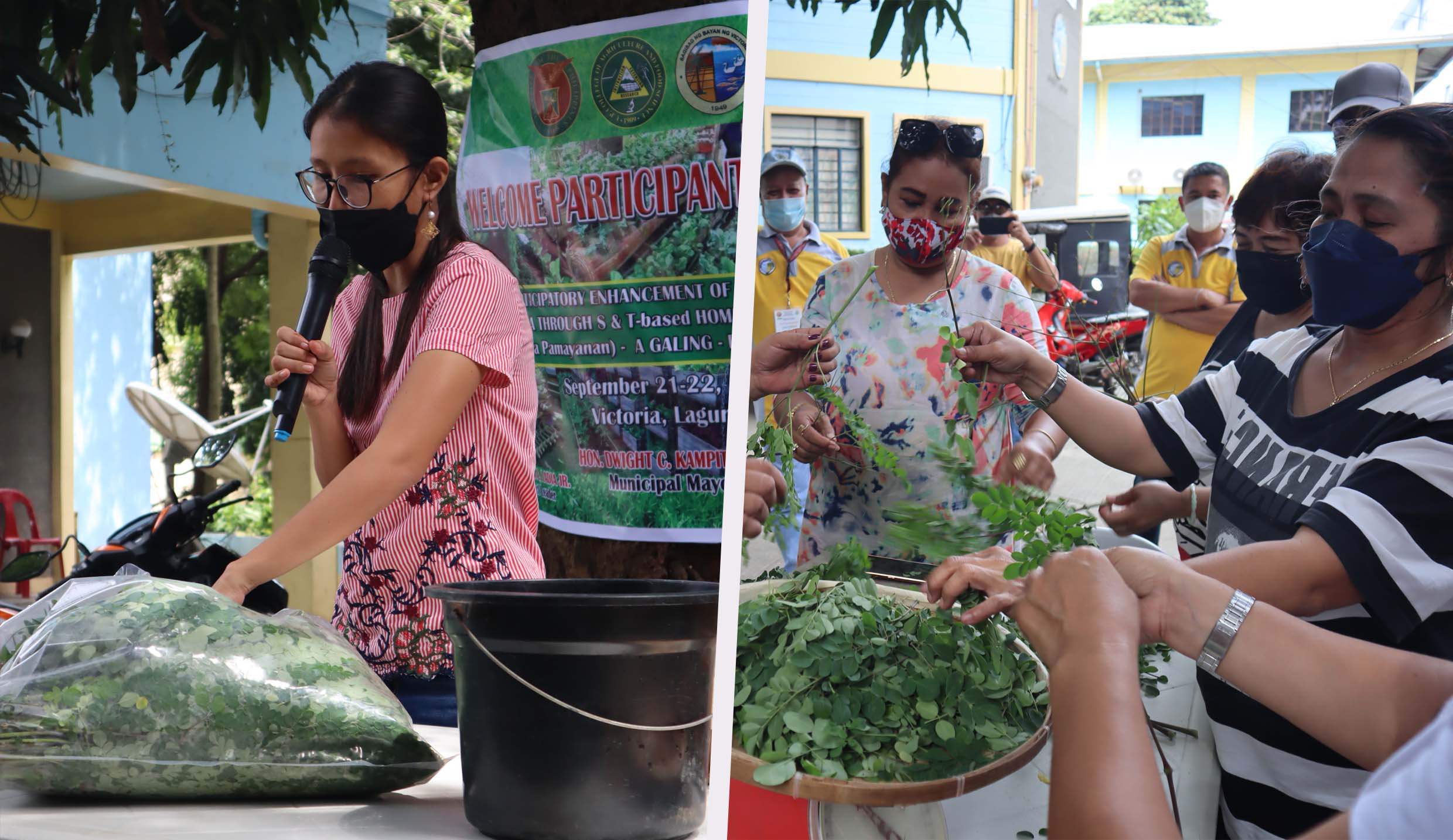 IPB project promotes S&T-based home gardening in the time of a pandemic
The global pandemic has pushed to the fore concerns on food security, uncertainty of vegetable supply, and state of food insecurity of vulnerable populations.
A project of the Institute of Plant Breeding (IPB) sought to address these concerns and the current popularity of gardening as a hobby became the perfect vehicle with which to promote the initiative.
Entitled "Participatory Enhancement of Food Security in Laguna through S&T-based Home Garden Systems," this project is part of the Department of Science and Technology-Philippine Council for Agriculture, Aquatic, and Natural Resources's (DOST-PCAARRD) response to government-led efforts on the COVID-19 pandemic dubbed as "GALING-PCAARRD Kontra COVID-19 Program."
The project falls under the Gulayan sa Pamayanan component, one of seven under the GALING-PCAARRD program.
It deals with the production of quality seeds and planting materials, practical crop management and food safety, and adoption and sustainability efforts.
Considering COVID-19 as a major threat to food security, the project focuses on the potential opportunity of home gardens as a forward-looking measure to complement the food-producing population.
The project, funded under the GALING-PCAARRD initiative, is headed by Villamor A. Ladia Jr., a researcher at IPB who promotes vegetable home gardening while using low-cost inputs.
In line with its objectives, on Sept. 21-22, a group from IPB conducted a trainers' training for leaders of Kababaihan sa Bayan ng Victoria in Victoria, Laguna.
The trainees are expected to extend what they learned from the training on the basics of home gardening, sustainable vegetable production, seed saving, and natural farming inputs preparation to other constituents in the community.
A demonstration and mini hands-on activity on the preparation of natural farm inputs was also held during the training to allow the participants to try accomplishing different tasks like preparation of fermented plant juice and water-soluble calcium. [A1]
The IPB National Seed Foundation (NSF) takes care of the seed production aspect of the project.
NSF produces and markets breeder and foundation seeds of improved varieties, vegetative planting materials, asexually propagated fruit trees, and seedlings
It has been active with its pandemic response of distributing seeds and seedlings during the lockdowns in 2020.
Pinakbet seed packs produced by NSF are part of the home gardening starter kits, which were distributed to project beneficiaries.
Another activity under the project is the development of an online platform to popularize gardening tips and trivia about vegetables and feature success stories of project beneficiaries.
Meanwhile, the Binhing PAMANA Station, which is also managed by the IPB Vegetable Crops Section, showcases home gardening techniques such as container gardening using recycled materials like discarded cans, plastic shoe cabinets, and repurposed plastic bottles.
The set up shows how common vegetables like lettuce, radish, kangkong, tomato and eggplant, and indigenous vegetables like algubati, saluyot, amaranth, pipipinito, samsamping, roselle, and lagkiway are planted in an area with limited space.
The project also conducted another training in Cabuyao, Laguna to showcase how home gardening is done in densely populated areas that have limited space for the purpose. (Julianne Q. Afable)
Aligned with our commitment to: