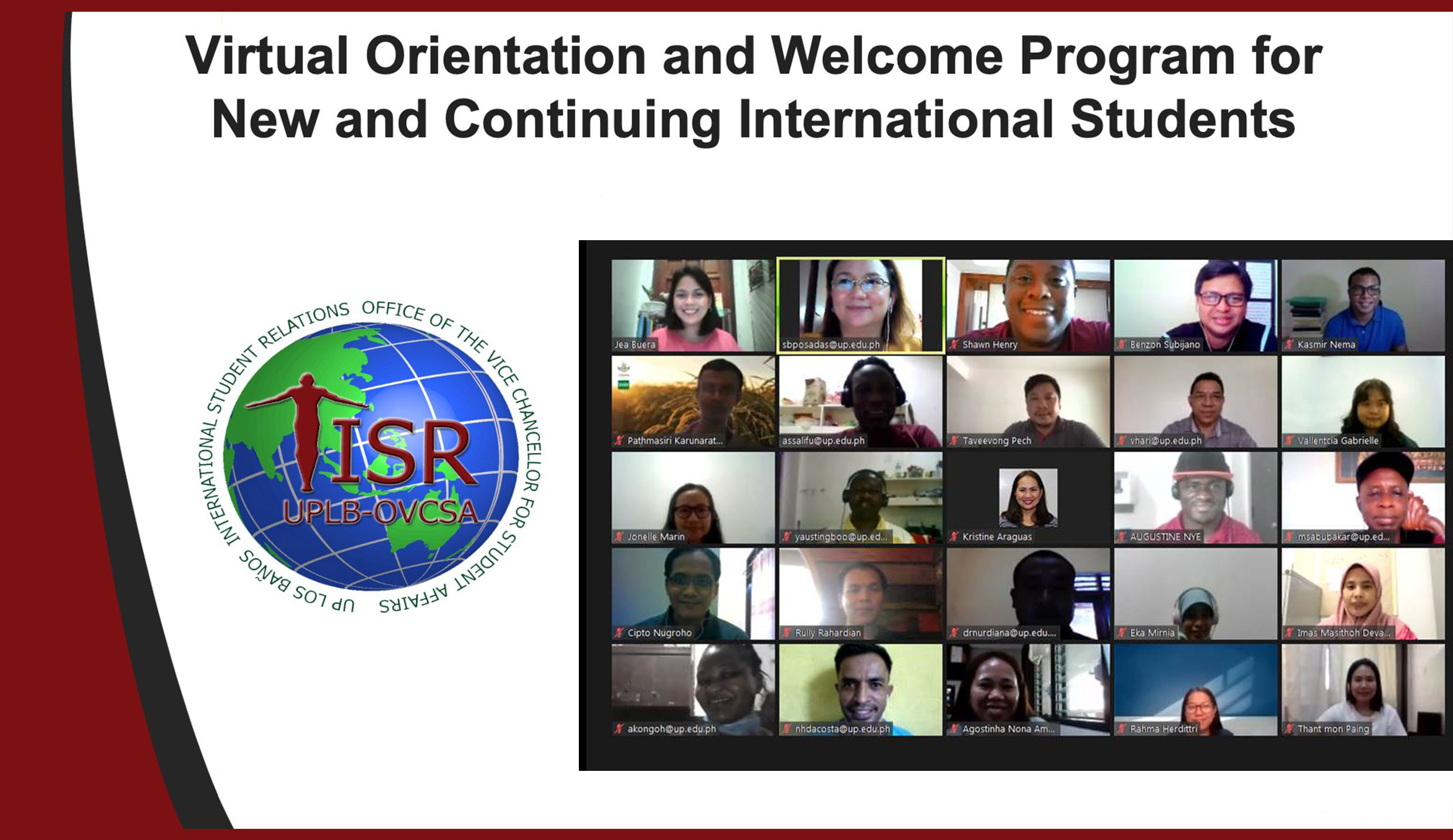 ISR-OVCSA orients international students
In keeping with the new normal, the International Student Relations (ISR) under the Office of the Vice Chancellor for Student Affairs (OVCSA) welcomed international students of UPLB by holding a virtual orientation on March 24.
The annual welcome program, done online due to COVID-19 restrictions, was held for new and continuing international undergraduate and postgraduate students.
Chancellor Jose V. Camacho, Jr. in his welcome remarks cited his personal experience as an international student in Japan and the Netherlands.
According to him, change is an opportunity for growth and for experiencing new things; they may be challenging but learning to navigate them will be worth it in the long run.
He also said that through the virtual orientation, students would learn about the processes that will help them familiarize rules and regulations in studying UPLB and get acquainted with different cultures given that everything is currently held online.
Vice Chancellor for Student Affairs Janette H. Malata-Silva reiterated OVCSA's commitment to serve and help the international students. In her message, Dr. Silva gave assurance of a culturally sensitive service and approachable staff who are always ready to serve.
Sheryl Posadas, administrative officer of the ISR, gave an overview of the services and activities usually held for the international students before the pandemic and the current efforts involving the students.
Benzon Subijano, senior office assistant, discussed the different services that international students can avail themselves of from ISR. Subijano, who oversees immigration-related information, highlighted the different types of visa and community assistance as well as addressed the visa inquiries of students during the open forum.
The online orientation also gave Pathmasiri Karunarathne, president of the International Students Association (ISA) of UPLB, an opportunity to introduce the organization to his fellow students. Karunarathne gave a brief description of the organization, introduced its members, and gave a run through of the activities they have hosted and participated in.
Also in attendance were Jonelle E. Marin, ISR program development associate, and Graduate School Dean Jomar F. Rabajante, who addressed the concerns of existing international students in performing their laboratory tasks amidst the pandemic. Dr. Jea Agnes Buera, ISR head, hosted the event that was participated in by over 30 students. (KEAraguas)