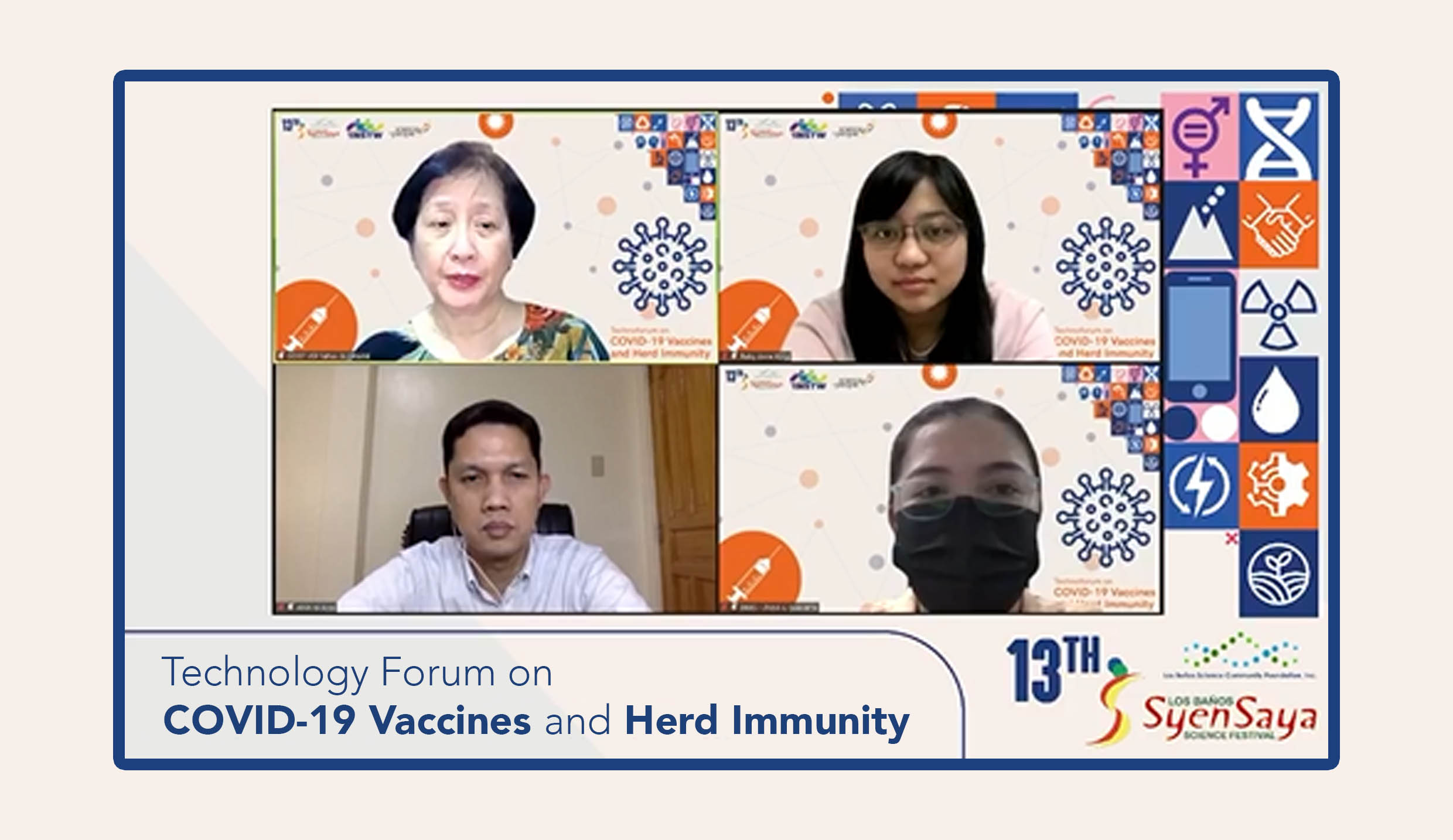 LBSCFI holds technoforum on COVID-19 vaccines and herd immunity
The Los Baños Science Community Foundation, Inc. (LBSCFI) conducted a technology forum on COVID-19 vaccines and herd immunity as part of the thirteenth SyenSaya on Nov. 25 via video conference.
Dr. Joanne V. Serrano, director of the Office of Public Affairs at UP Open University, officially kicked off the conference with her opening remarks. She talked about the technoforum and how it has reached more people since it began to be held virtually.
Regional Director Emelita P. Bagsit of the Department of Science and Technology (DOST) CALABARZON, presented the event's rationale. She talked about the history of the technoforum and the flow of the program.
Bagsit highlighted the goal of the forum of raising public awareness amidst vaccine hesitancy and the need for herd immunity to be attained.
Jhoys Landicho-Guevarra, senior science research specialist at the Research Institute for Tropical Medicine (RITM) of the Department of Health, tackled their team's study on vaccine hesitancy among caregivers in Cavite. She shared the major findings of their study, which talked about the factors that influence vaccine hesitancy.
Dr. Nina Gloriani, chairperson and vaccine expert panel of the Technical Working Group for COVID-19 Vaccines at the Philippine Council for Health Research and Development (PCHRD-DOST), discussed the science behind the development, evaluation, and approval of COVID-19 vaccines.
She explained the steps in developing a vaccine and the criteria used in its evaluation and also talked about SARS-CoV-2 characteristics and the guidelines in choosing the vaccines for it.
Dr. Ruby Anne King, assistant scientist at the PCHRD-DOST, tackled the importance of herd immunity and the challenges of reaching it.
Dr. Alvin Isidoro, municipal health officer of the Local Government Unit of Los Baños, shared the current status and initiatives of the COVID-19 vaccination program of Los Baños, particularly the statistics on the total confirmed cases, recovered, and deaths.
Dr. Isidoro also discussed vaccination sites, available vaccines, and booster dose.
An open forum following the talks revolved around questions on booster shots and the reasons behind vaccine hesitancy.
Mayor Antonio Kalaw of Los Baños ended the forum with his message of encouragement for people to be more confident of the safety of vaccines and to get vaccinated.
The 13th SyenSaya Technoforum was streamed on the LBSCFI Facebook page. (Kyle Ramiel Dalangin)