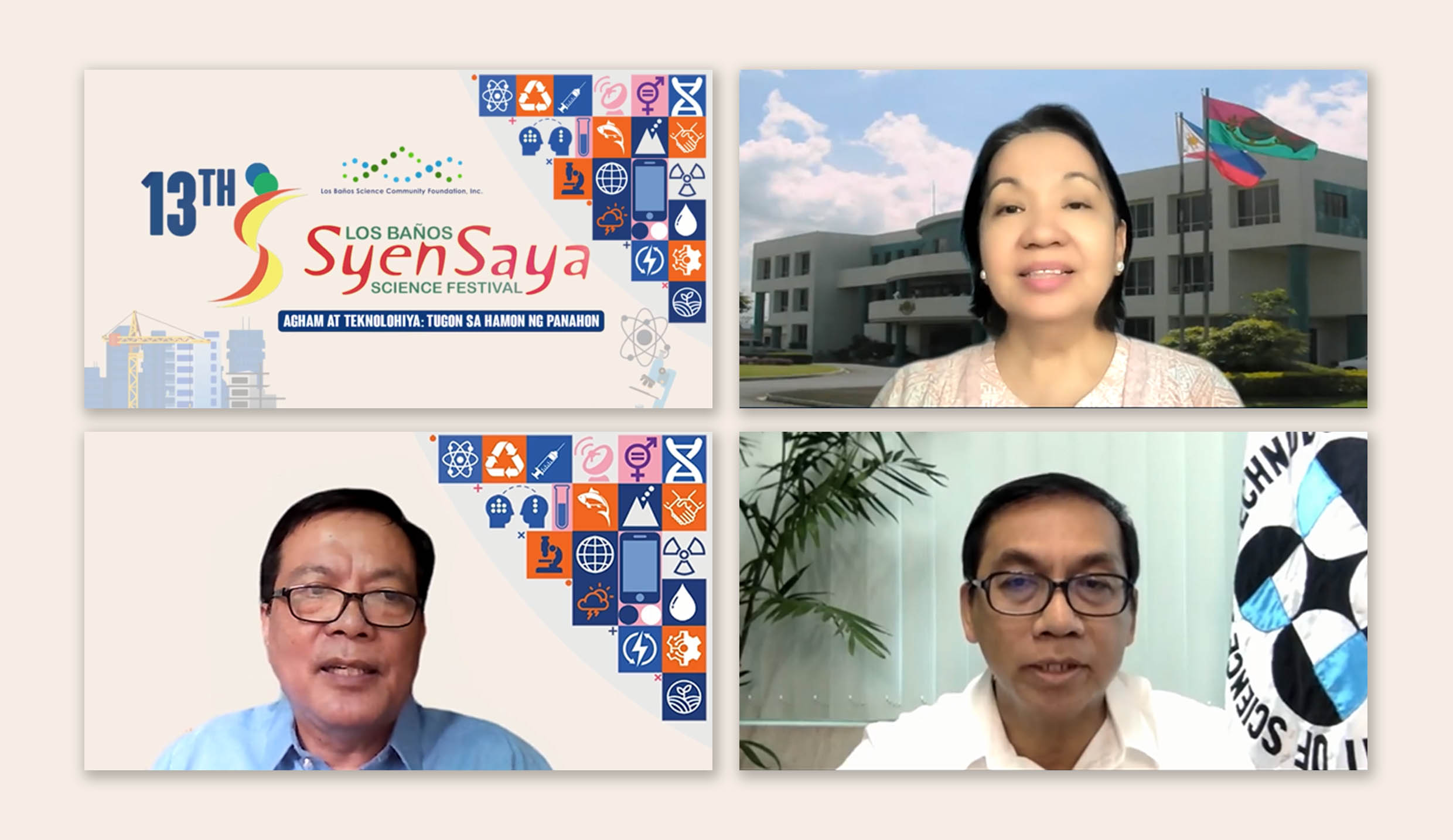 LBSCFI kicks off virtual SyenSaya 2021
The Los Baños Science Community Foundation, Inc. (LBSCFI) launched "SyenSaya 2021, a Los Baños Science Festival," on Nov. 24.
At the opening ceremony, Dr. Melinda dela Peña Bandalaria, chancellor of UP Open University and president of LBSCFI, talked about the theme of SyenSaya, the thirteenth one to be organized by the group.
Anchored on the Department of Science and Technology's (DOST) theme, "Agham at Teknolohiya: Tugon sa Hamon ng Panahon" (Science and Technology: Response to the Challenges of the Times), the event aims to promote science and technology as a weapon against the pandemic.
Dr. Bandalaria also gave an overview of the upcoming activities of Syensaya.
After a video presentation about SyenSaya's history, Dr. Romulo T. Aggangan, director of the Forest Products Research and Development Institute, introduced the keynote speaker, Dr. Renato U. Solidum, Jr., Undersecretary for Technical and Scientific Services of DOST.
Dr. Solidum tackled the benefits of celebrating the National Science and Technology Week (NSTW) and SyenSaya during the pandemic. NSTW is currently being celebrated in the country with DOST spearheading the events.
He acknowledged the efforts of LBSCFI in conducting an event that will encourage more people to appreciate the beauty of science and technology.
The ceremony ended with a video presentation about the opening of the Wonderama Virtual Exhibit, which will feature the collection of technologies, projects, and services of the 24 LBSCFI member-agencies.
SyenSaya 2021 will run for three days with the Techno-Forum-Talakayan and the awarding ceremony for the R&D contest scheduled on the second and third days, respectively. Check the LBSCFI's FB page for the schedule of activities.
LBSCFI is a 24-member group of higher education institutions, public and private agencies, and businesses in Los Baños that was organized in 1984. UPLB is one of its founding members.
It conducts projects in order to facilitate the transfer and adoption of S&T research outputs and services generated by its member agencies to clients and users. (Kyle Ramiel Dalangin)