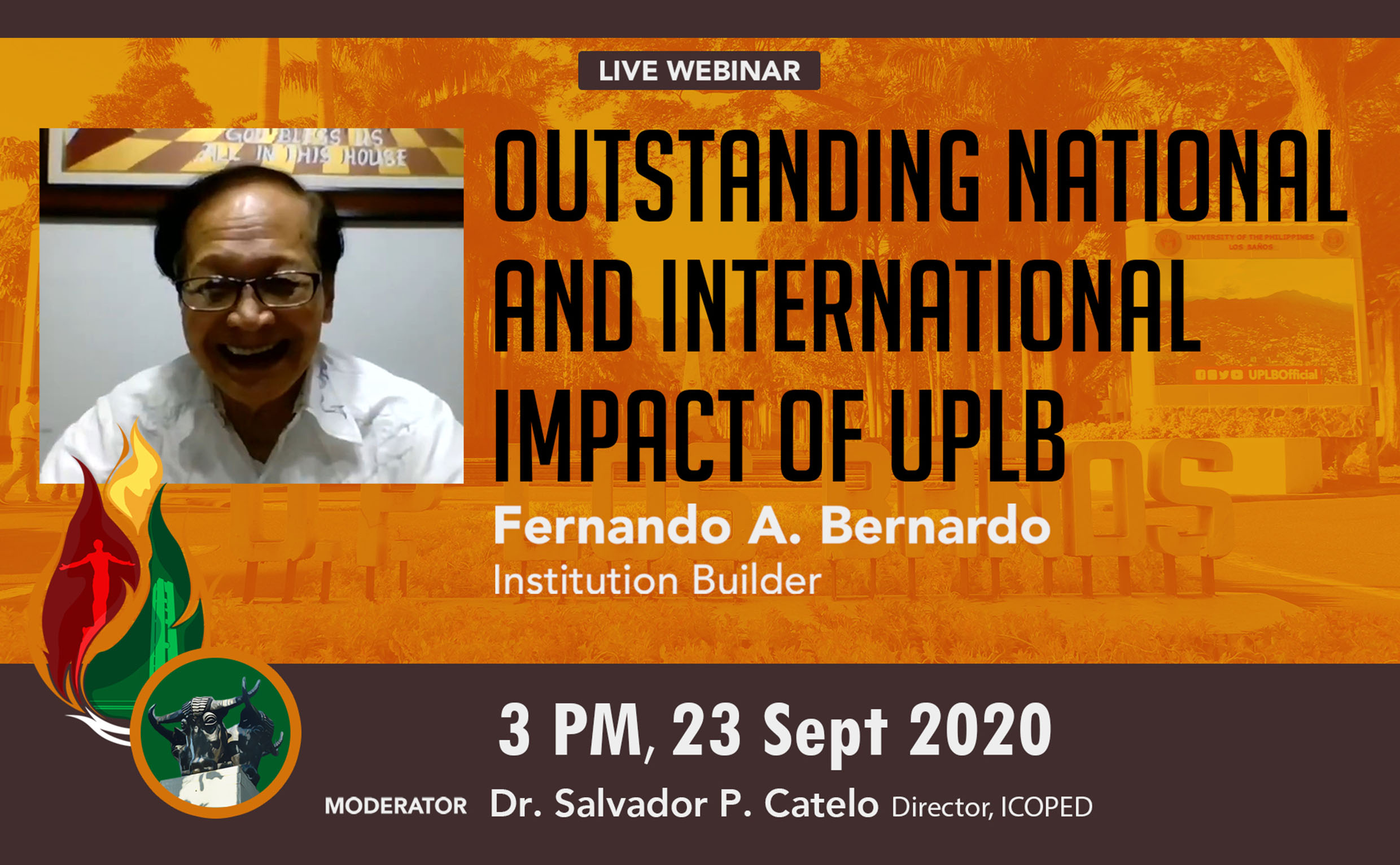 Loyalty Day webinar reviews a century of UPLB's accomplishments
The first of a webinar series celebrating the 102nd UPLB Loyalty Day looked back on the university's accomplishments in the past 100 years.
Dr. Fernando A. Bernardo, former dean of the UPLB College of Agriculture and Food Science and representative of the Class '55, led the online discussion via Zoom on Sept. 23. It was attended by almost 100 participants and was streamed on UPLB's Youtube channel.
The webinar entitled "Outstanding national and international impact of UPLB," illustrated how the university has influenced scientific research, rural development, and the growth of various institutions through its instruction and research endeavors.
From producing enhanced varieties, biopesticides, biofertilizers, and other new technologies, to training professionals who later became leaders in their own industries and sectors, UPLB's influence has multiplied over the past decades, Dr. Bernardo noted.
He cited how UPLB's graduates have went on to contribute to relevant areas such as agriculture, engineering, forestry, and organizational development as they served in the private and public sectors and crossed international borders.
UPLB's improved fruit, vegetables, and rice varieties and alternative technologies, Dr. Bernardo claimed, have helped alleviate poverty for farmers and have contributed to food security.
Among the many examples he gave were Sinta Papaya, with its tolerance against the papaya ringspot virus; iDetect, a detection kit for identifying animal meat; and C4-63, a high-yielding rice variety.
He also mentioned UPLB's direct and indirect services to government agencies and development organizations by providing training, technical support, and information through its various media and extension activities.
Some of the programs that UPLB initiated have also been recognized and adopted in other parts of the country, such as Pahinungod, UPLB's official volunteer program, and the National Corn-based Farmer-Scientists Research, Development, and Extension Training Program (FSTP).
In instruction, he credited UPLB with pioneering development communication in Asia and lauded the university's efforts to put up off-campus programs and collaborate with state universities and colleges (SUCs), government agencies, and the private sector to reach professionals in underserved areas.
He highlighted how UPLB alumni have been instrumental in the growth of regional SUCs, such as Central Luzon State University and Visayas State University, and how UPLB assisted them by opening avenues for staff development.
With the number of international UPLB alumni growing every year, collaborating with foreign universities and global agencies have also become easier for UPLB. As per his presentation, there are currently 1,811 graduates from Asia, aside from the Philippines, who hold a masters or doctoral degree from UPLB, some of whom went on to hold leadership positions in their respective fields.
After reviewing these impacts and milestones, Dr. Bernardo ended his presentation by encouraging fellow alumni to be proud of these accomplishments.
Dr. Bernardo has previously written UPLB' history, some of them in compiled in volumes such as "UPLB: a century of challenges and achievement" and "Centennial panorama: pictorial history of UPLB."
Dr. Bernardo's webinar may be viewed at this link: https://youtu.be/wEVomTAyzqE(Jessa Jael S. Arana)