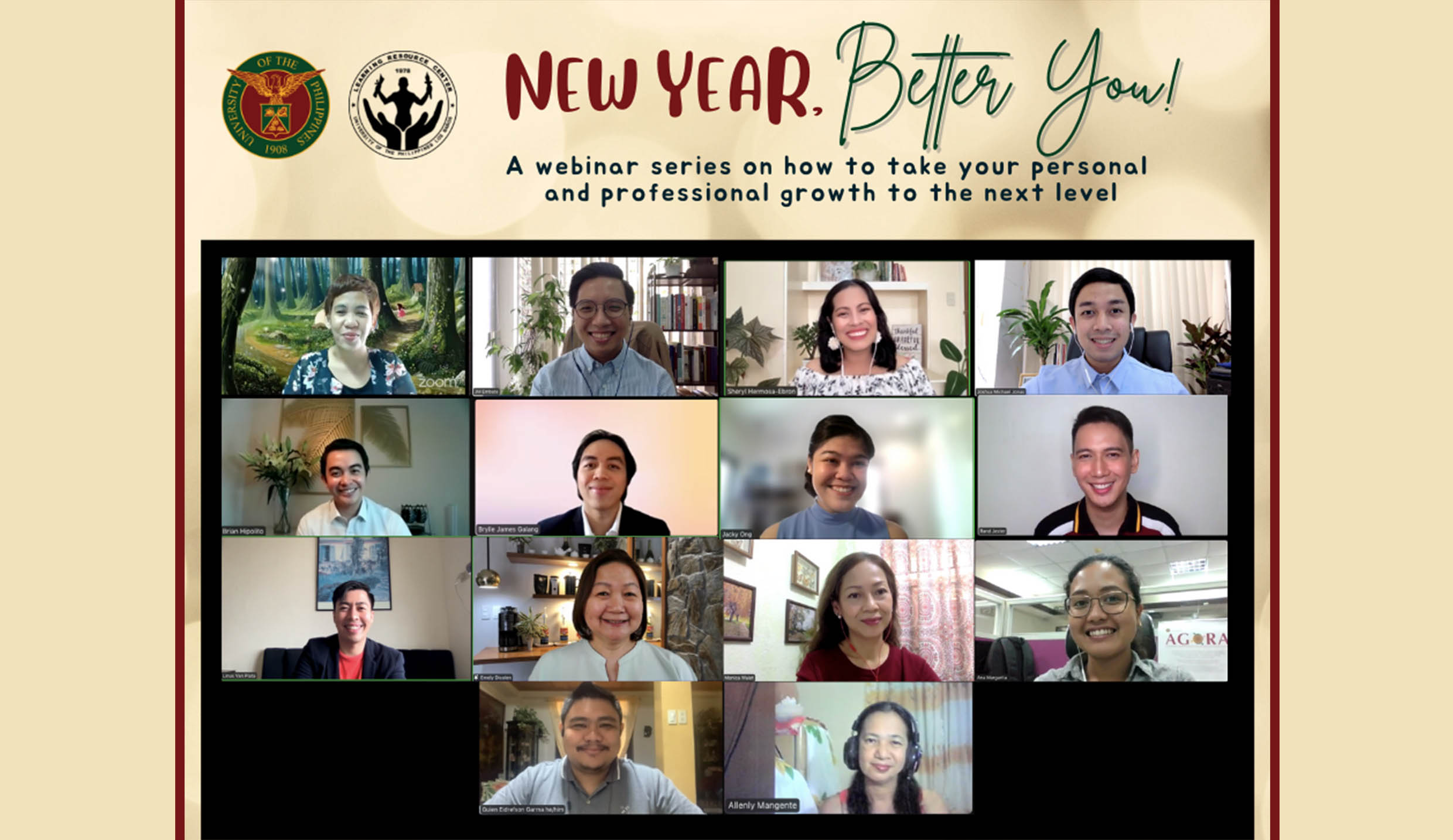 LRC concludes 'New Year, Better You' webinar series
The UPLB Learning Resource Center (LRC) recently held the "New Year, Better You" webinar series that tackled topics on how to take one's personal and professional growth to the next level.
The webinar series had 3,181 registered participants from among UPLB students, faculty, REPS, and staff as well as from different universities and organizations across the country.
In her opening remarks, Vice Chancellor for Student Affairs Janette H. Malata-Silva emphasized the importance of leveling up one's skills to cope with the changing times.
"These skills will help us be prepared with the challenges we face in the future," Dr. Malata-Silva said.
The first session entitled, "#LevelUp!: Job Search Hacks for Success" was held on Jan. 21 with Brian Carlo Hipolito, human resources officer of the Asian Infrastructure Investment Bank, as the resource speaker.
Hipolito shared tips and strategies on making and improving one's resume, how to ace the interview, and the proper way to negotiate benefits and compensation with the management.
The second session that was held on Jan. 28 was entitled "#SavvyUp!: Building your Personal Brand." It featured Brylle James Galang, communications consultant of the United Nations Green Climate Fund.
Galang highlighted three points in building one's personal brand, namely: housekeeping or knowing your purpose, audience, and channel which includes cleaning one's social media presence; crafting an image and treating one's social media as a digital calling card; and networking by joining groups or building a community of people who can vouch for your abilities and refer you to others.
The third session, which tackled "Health and Fitness Tips While Studying or Working Remotely," was held on Feb. 4 with Jacky Ong, marketing manager of PH Anytime Fitness Asia, as the speaker.
Ong explained the basics of fitness from its definition to the importance of daily healthy habits.
She debunked common myths about fitness and shared tips in basic workout routines and other physical activities that can be done at home.
The fourth session entitled, "#BuildUp!: Finance and Lifestyle Habits towards Financial Freedom" was held on Feb. 22.
It featured Rand Jester Poquiz, a licensed financial advisor and a trade and strategic channels solutions manager of Viu Philippines.
Poquiz explained the different terminologies in financial literacy and presented 22 tips on achieving financial freedom through investments, securing insurance and savings, proper spending habits, among others.
The fifth session was held on March 2 and tackled "#SpeakUp!: Helpful Tips for Effective Workplace Communication," which had Linus Van O. Plata, an assistant professor at the Department of Humanities of the UPLB College of Arts and Sciences, as resource speaker.
Plata shared to the participants tips in improving one's communication skills especially in the workplace.
He discussed key points in clear and effective writing and alternatives in conversing with colleagues and superiors, as well as the proper use of communication in resolving conflicts.
The last session held on March 11 entitled, "#InsideOut!: Self-Management Skills Essential in the Workplace" featured Dr. Monica Walet, a registered psychologist and an assistant professor at the UPLB College of Public Affairs and Development.
Dr. Walet described the meaning of self-management and identified the necessary behaviors, skills, and knowledge that exemplify good self-management in the workplace.
She emphasized the importance of reflecting on one's capabilities and demonstrated self-management strategies, which the participants may use in their daily activities.
The sessions were streamed via Facebook live and are available for replay in LRC's Facebook Page and YouTube Channel. (Sheryl Edd P. Hermosa Ebron & Joshua Michael G. Jonas)