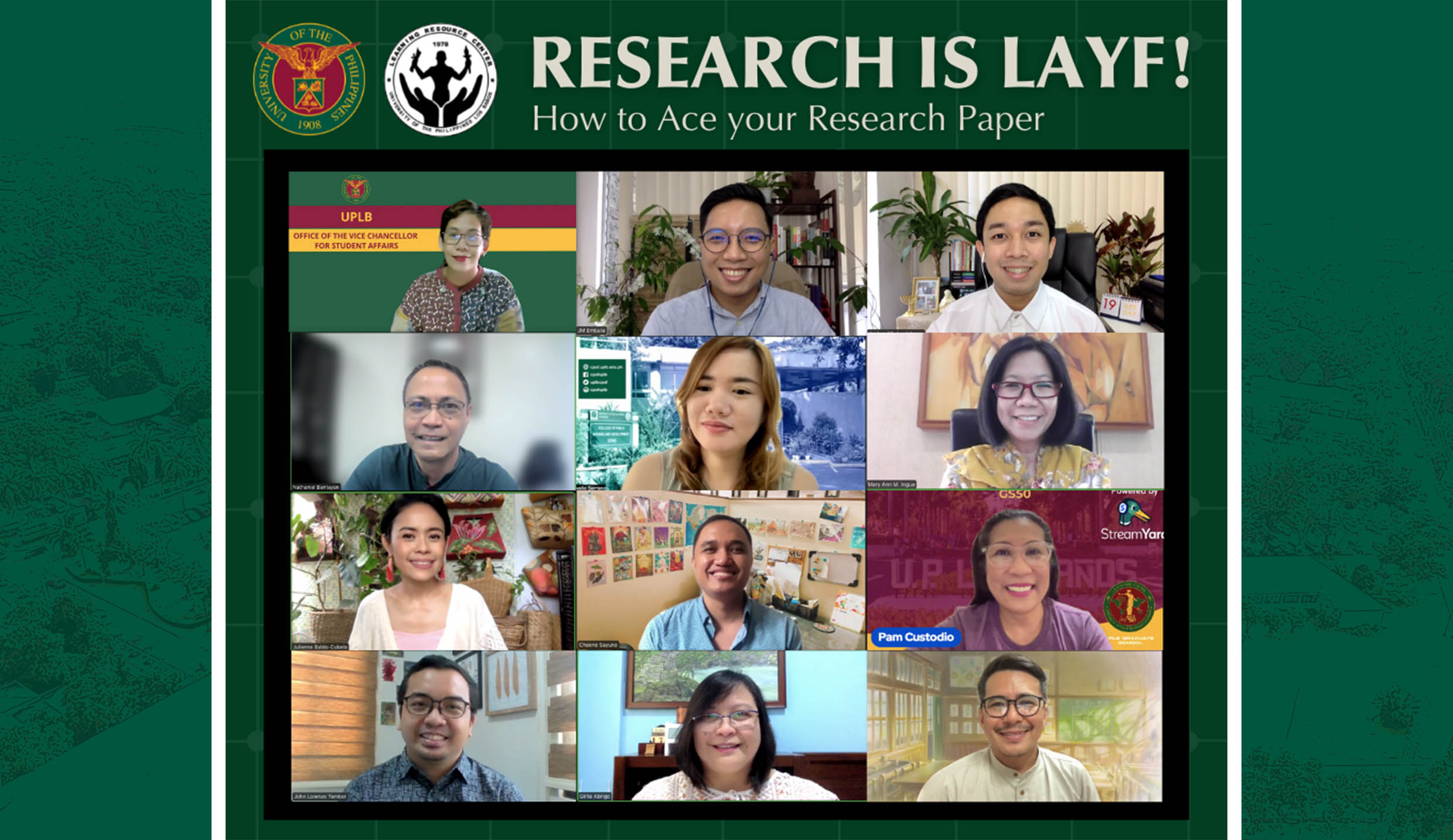 LRC concludes Research is Layf Webinar Series
The UPLB Learning Resource Center (LRC) concluded its month-long webinar series on thesis writing to help students from UPLB and other universities ace their research papers.
From April 19 to May 19, 8,014 participants registered for the webinar series titled "Research is Layf: How to Ace your Research Paper." The webinar included topics that ranged from finding a thesis topic to making effective research presentations.
In her opening remarks, Vice Chancellor for Student Affairs Dr. Janette H. Malata-Silva thanked the participants for taking part in this learning opportunity and emphasized that the topics will help students ace their research papers. She expressed her gratitude to LRC for initiating the webinar series that is timely for students who are doing their research papers.
During the first session titled, RESEARCH ISKOOL: The UPLB Research and Extension Agenda, Vice Chancellor for Research and Extension Dr. Nathaniel C. Bantayan provided a comprehensive discussion about the recently launched UPLB AGORA (Accelerating Growth through One Research and Extension in Action).
He emphasized the different components of the research and extension agenda of the university, including the opportunities for students to pursue relevant topics aligned with UPLB's key focus areas. Dr. Bantayan also encouraged attendees from different universities and colleges to explore possible partnerships with UPLB in pursuit of the AGORA's goals.
Dr. Evelie P. Serrano, director and associate professor of the Institute for Governance and Rural Development, College of Public Affairs and Development, served as the resource speaker at the second session on SOLVING WHY: Doing Research with Social Relevance held on April 21.
Dr. Serrano discussed the development implications of research, including the possible entry points of research in the UN Sustainable Development Goals. She shared her personal experiences, reflections, and lessons learned in conducting research.
For the third session last April 26 titled, I LIB YOU: Making Use of UPLB Main Library Programs and Services, Dr. Mary Ann M. Ingua of the UPLB University Library provided an overview of available programs and services for students. Dr. Ingua emphasized the library's different information literacy and research and extension programs. She also gave instructions on how students can avail the library services, especially about the ID validation and Koha (iLib) Account registration and navigation. She provided the guidelines for a seat reservation in the library and the available services for non-UP constituents.
In the fourth session last April 28, PUT YOUR GRIT AND WIT TO THAT LIT: Best Strategies in Literature Review, Dr. Cheeno Marlo M. Sayuno of the Department of Humanities, College of Arts and Sciences (CAS), discussed some tips for constructing a good review of related literature. He also listed the common mistakes in reviewing literature. Dr. Sayuno stressed the importance of having a substantial literature review content and its contribution to the whole research paper.
The fifth session was held on May 2 and featured the topic titled You GAD It! Mainstreaming Gender and Development in Research. Dr. Julienne Thesa Y. Baldo-Cubelo of the Department of Communication Research, College of Mass Communication, University of the Philippines – Diliman introduced the idea of advocating for gender and development (GAD) in research. She also emphasized the importance of using neutral language in writing research papers since these "little things" can create a "ripple effect" in promoting GAD.
After talking about gender and development, the sixth session held on May 5 tackled the basics of research ethics. Titled IS IT RIGHT OR WRONG? Basics of Research Ethics, Dr. Pamela A. Custodio, school secretary of the UPLB Graduate School and a member of the UPLB Research Ethics Committee, said that research ethics is the responsibility of researchers. She mentioned useful information that participants must know in collecting data, dealing with human subjects, and undergoing ethics review.
The seventh and eighth sessions held on May 12 and 13 focused on quantitative and qualitative research.
In the session titled HAVE A DATE WITH DATA: Common Statistical Analyses used in Qualitative Research, Asst. Prof. John Lorenzo A. Yambot of the Institute of Statistics, CAS, taught the participants to summarize data graphically and numerically. He also introduced observational studies and experiments, and some common misconceptions in inferential statistics. Asst. Prof. Yambot said researchers must ensure the data and methodology are correct at the design stage to avoid affecting the analysis part of the study.
Asst. Prof. John Mervin L. Embate of the College of Development Communication (CDC) and director of the UPLB LRC served as the resource speaker for the session on QUALITY ASSURED: Qualitative Research and Data Analysis. He introduced qualitative research and its difference from quantitative research. Asst. Prof. Embate also covered ways to analyze qualitative data, including sampling and data collection.
After analyzing data, participants were given useful tips for writing their manuscripts during the ninth session held on May 17 titled IT'S GONNA BE ALL WRITE: Writing the Manuscript and Getting Published. Assoc. Prof. Girlie Nora A. Abrigo of the Department of Social Sciences, CAS, also discussed some guidelines on how students can publish and present their studies.
The last session, titled LET'S WERK IT: Oral and Visual Presentation of Research, was held on May 19. Dr. Edmund G. Centeno, associate professor at CDC and director of the Center for the Advancement of Teaching and Learning, tackled the processes involved in preparing research presentations. He also emphasized the principles of designing effective research presentations.
The Center simultaneously posted a series of content every Wednesday on Facebook and Instagram titled, #ThesisIt! Featuring some of the best undergraduate theses of UPLB. The social media cards aim to share information about the research output of exemplary students and share research tips and strategies from the student authors.
The sessions were streamed via Facebook live and are available for replay on LRC's Facebook Page and YouTube channel. (Joshua Michael G. Jonas & Ana Margarita S. Palma)