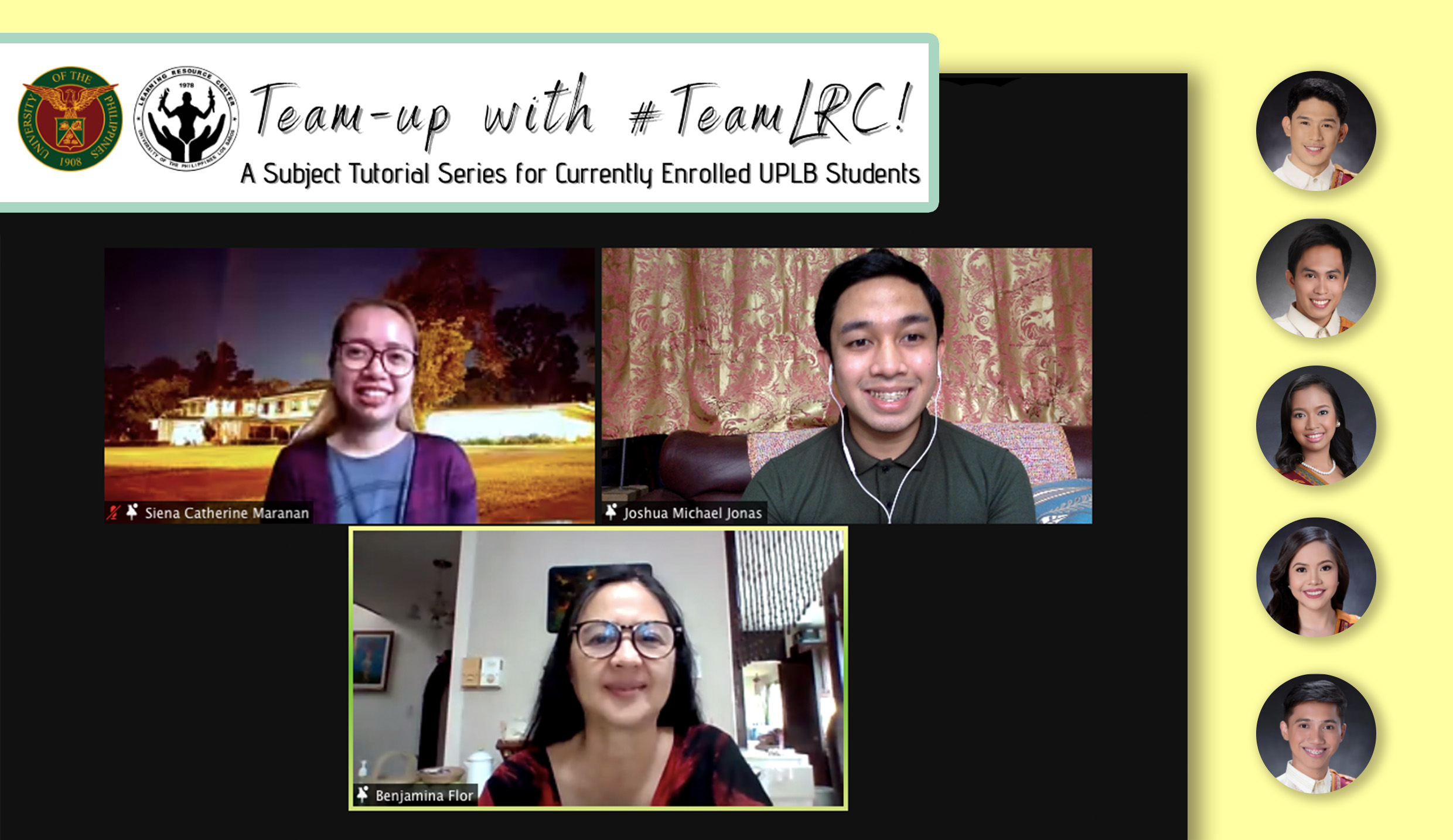 LRC conducts Team-Up Online Tutorials
The UPLB Learning Resource Center (LRC) recently conducted a series of online tutorials dubbed as "Team-Up with #TeamLRC: A Subject Tutorial Series for Currently Enrolled UPLB Students."
The online tutorial series aims to help students cope with their classes particularly those in the challenging subjects.
Prior to the tutorial series, the Center administered an academic needs survey asking UPLB students which among their current subjects they need assistance with through tutorials.
From the survey results, LRC organized five tutorial sessions this semester for Chem 18, Math 25, Math 27, Econ 11, and Bio 30.
Faculty members in these subjects were invited to serve as resource persons in the tutorials to provide review of lessons, and to share tips and strategies in studying for the subjects. The sessions are convened synchronously through Zoom and are recorded for the benefit of participants who could not join the live session.
The first tutorial session, held at 3PM on Nov. 23 entitled "GENE-ius Minds: Appreciating Concepts in Genetics" A Review Session for Bio 30-Genetics, had Emmanuel T. Galang of the Institute of Biological Sciences, as the faculty-tutor.
Before the session, Dr. Jean O. Loyola, vice chancellor for academic affairs, gave an inspirational message to the student participants. Dr. Loyola expressed her gratitude to LRC for providing academic support systems such as these tutorials for students and shared that she also experienced attending LRC tutorials during her freshman years.
She emphasized that attending tutorials does not mean that you are academically challenged but you want to further improve your knowledge on a given subject. "You can never go wrong with that kind of attitude," she told the participants.
The second session entitled, "MATH-talinong Iskolars! Solving Geometry and Calculus with Ease" A Review Session for Math 27-Analytic Geometry and Calculus was held on Nov. 24 with Christian Alvin H. Buhat of the Math Division, Institute of Mathematical Sciences and Physics (IMSP).
The third session, "It's the COST that COUNTS! Discover Easy Tips in Economics" A Review Session for Econ 11-General Economics, happened on Nov. 26 with Marnie Mae M. Mendoza of the Department of Economics, College of Economics and Management.
The fourth session, dubbed "CHEM-To-Me-UNO: Ace Chemistry Like A Pro" A Review Session for Chem 18-University Chemistry on Nov. 27 was handled by Jethro T. Masangkay of the Institute of Chemistry.
The fifth and last session entitled, "MATH-dali lang 'yan! Learn Best Tips and Strategies in Calculus" A Review Session for MATH 25-Fundamental Calculus was conducted on Nov. 28 by Siena Catherine A. Maranan of the Math Division, IMSP.
LRC has been conducting tutorial sessions under one of the Center's flagship programs, TEAM (Together Everyone Achieves More) Learning Sessions in partnership with recognized student organizations and faculty members of UPLB. (Joshua Michael G. Jonas)