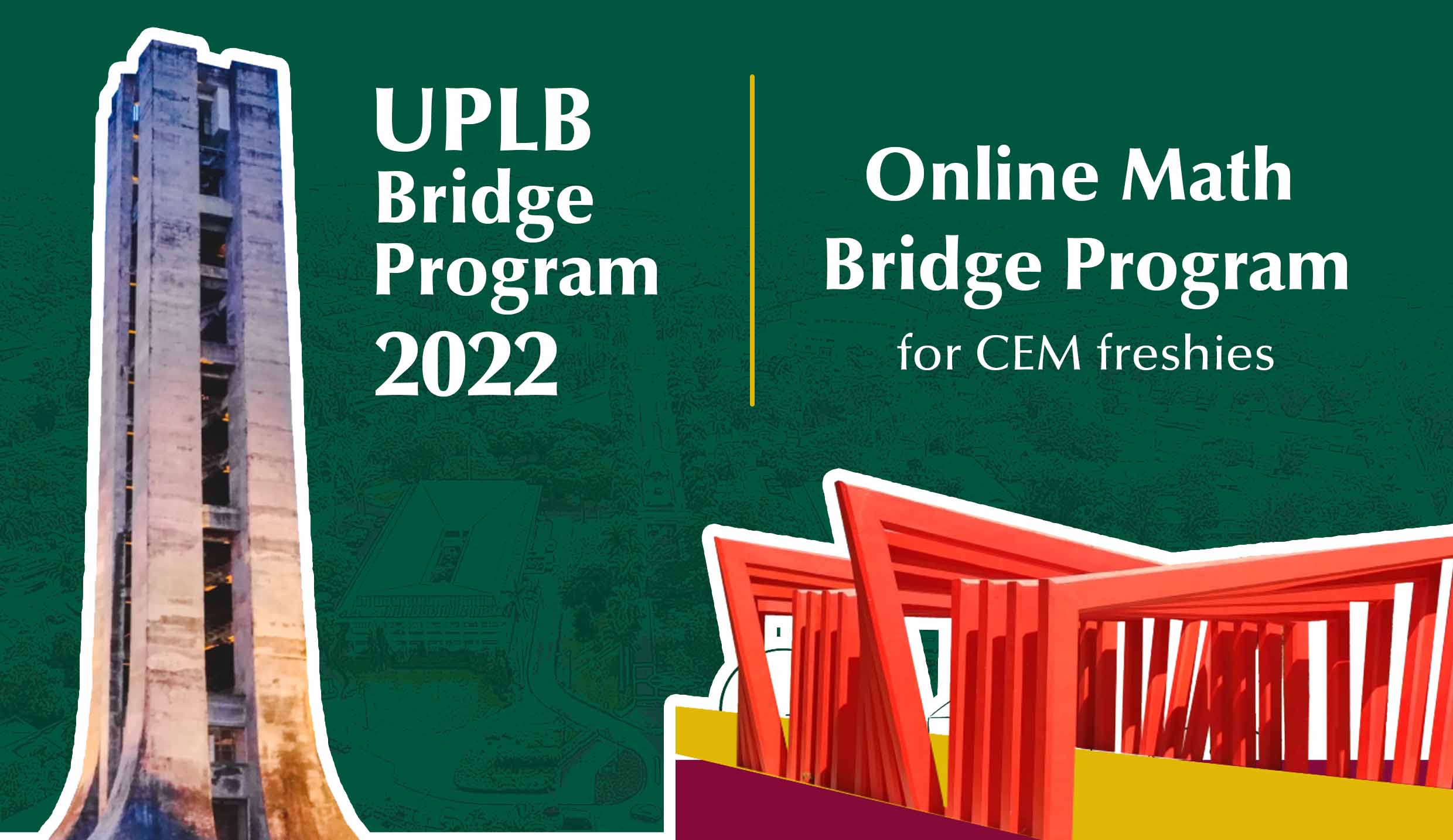 LRC to conduct UPLB Bridge Program & CEM Math Bridge Program 2022
The UPLB Learning Resource Center (LRC) is scheduled to conduct the UPLB Bridge Program this 8 August 2022, simultaneous with the Math Bridge Program for Freshies of the College of Economics and Management (CEM). Due to continuous restrictions brought about by the COVID-19 pandemic, both Bridge Programs shall be conducted entirely online from 8-30 August 2022.
The UPLB Bridge Program is an annual event organized by LRC for selected incoming first year students of the University of the Philippines. The UP Office of Admissions determines the participants based on their UPCA formula scores in Mathematics and English. The Bridge Program is a four-week activity conducted during the midyear before the students' first semester. The classes in Math and English serve as a simulation of their actual classes come their first semester. It aims to bridge the gap between their high school exit skills and the entry requirements necessary in UP. The Math faculty-tutors are from the Math Division of the Institute of Mathematical Sciences and Physics, while the English faculty tutors are from the Department of Humanities, both from the College of Arts and Sciences. This is the third time the UPLB Bridge Program is being offered online.
Apart from their classes in Math and English, the students are given Psychosocial Sessions with guidance counselors from the Office of Counseling and Guidance from the Office of the Vice Chancellor for Student Affairs, where they are given team-building activities and group dynamics exercises to establish camaraderie with fellow freshie students. These sessions aim to help the students physically, emotionally, and mentally adjust to the new environment they will face at UP. Values education classes are also conducted in partnership with Every Nation Campus, a youth organization in UPLB.
A special Math Bridge Program was opened to incoming first year students from CEM, particularly for students who did not come from the Science, Technology, Engineering, and Mathematics (STEM) Senior High School Strand. This Math Bridge Program aims to bridge the gap of CEM students who could not take introductory courses covering topics on Calculus during their Senior High School. This intervention shall aid these students in adjusting and familiarizing themselves with the subject matter before they take MATH 25 (Fundamental Calculus) during their first semester at the university. This is the third time the Math Bridge Program for CEM Freshies has been offered.(Joshua Michael Jonas)