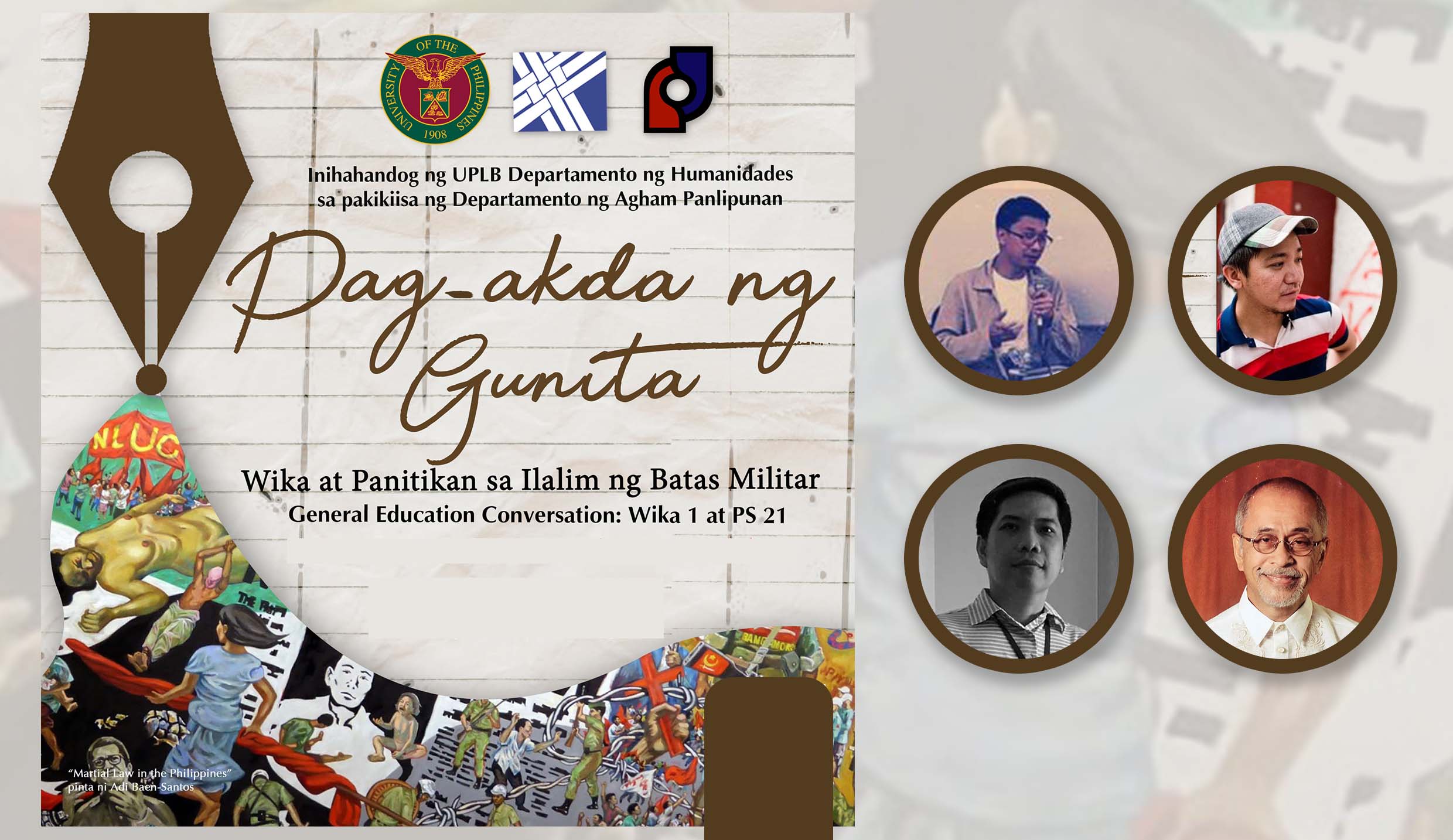 Martial Law revisited at GE Conversation
Philippine history during the Marcos years was revisited at the latest General Education Conversation (GE Con) hosted by the Department of Humanities of the College of Arts and Sciences (DHUM-CAS) on Sept. 27.
The GE Con entitled "Pag-akda ng gunita: wika at panitikan sa ilalim ng batas militar" looked back at the historic turbulent period to see how culture, art, and literature became a means of protest for the mass movement against fascist dictatorship. It featured seasoned professors and artists who shared their knowledge and experience to Wika 1 and PS 21 general education classes.
The first discussion was led by Dr. Roderick Javar, a faculty member at the Department of Social Sciences (DSS-CAS), who discussed Ferdinand Marcos's deliberate rise to power from Ilocos to Malacaang, leading to his declaration of Martial Law and extended presidency.
Bonifacio Ilagan, a writer for theater, television, and film and 2019 Gawad Plaridel Award recipient, shared his personal experiences as a participant of the student movement at the height of Martial Law.
He emphasized that art could not be separated from social reality and highlighted that many artists at that time not only joined the working class and poor communities in protest but also used their art to express their desire for change.
Dr. Michael Andrada, director of the Filipino Language Center at UP Diliman, talked about words and terminologies that circulated during the Marcos dictatorship and discussed how these words reflected the social consciousness at the time.
Dr. Karlo Mongaya, a faculty member at the Departamento ng Filipino at Panitikan ng Pilipinas of UP Diliman and head researcher of the 50th anniversary of the Diliman Commune, discussed how Marcos attempted to stamp out critical dissent during his term by making changes in Philippine education.
Among these measures were removing progressive teachers, censoring and banning books and media that could be linked to government opposition, and dissolving student councils and publications.
The GE Con ended with a reaction commentary from Marie Jopson Plopinio, a member of the board of trustees of Bantayog ng mga Bayani Foundation, who encouraged the audience to continue to act on truth and against injustice in the present.
The GE Conversation is a regular event by DHUM-CAS to encourage critical and free discourse in the general education program. (Jessa Jael Arana)