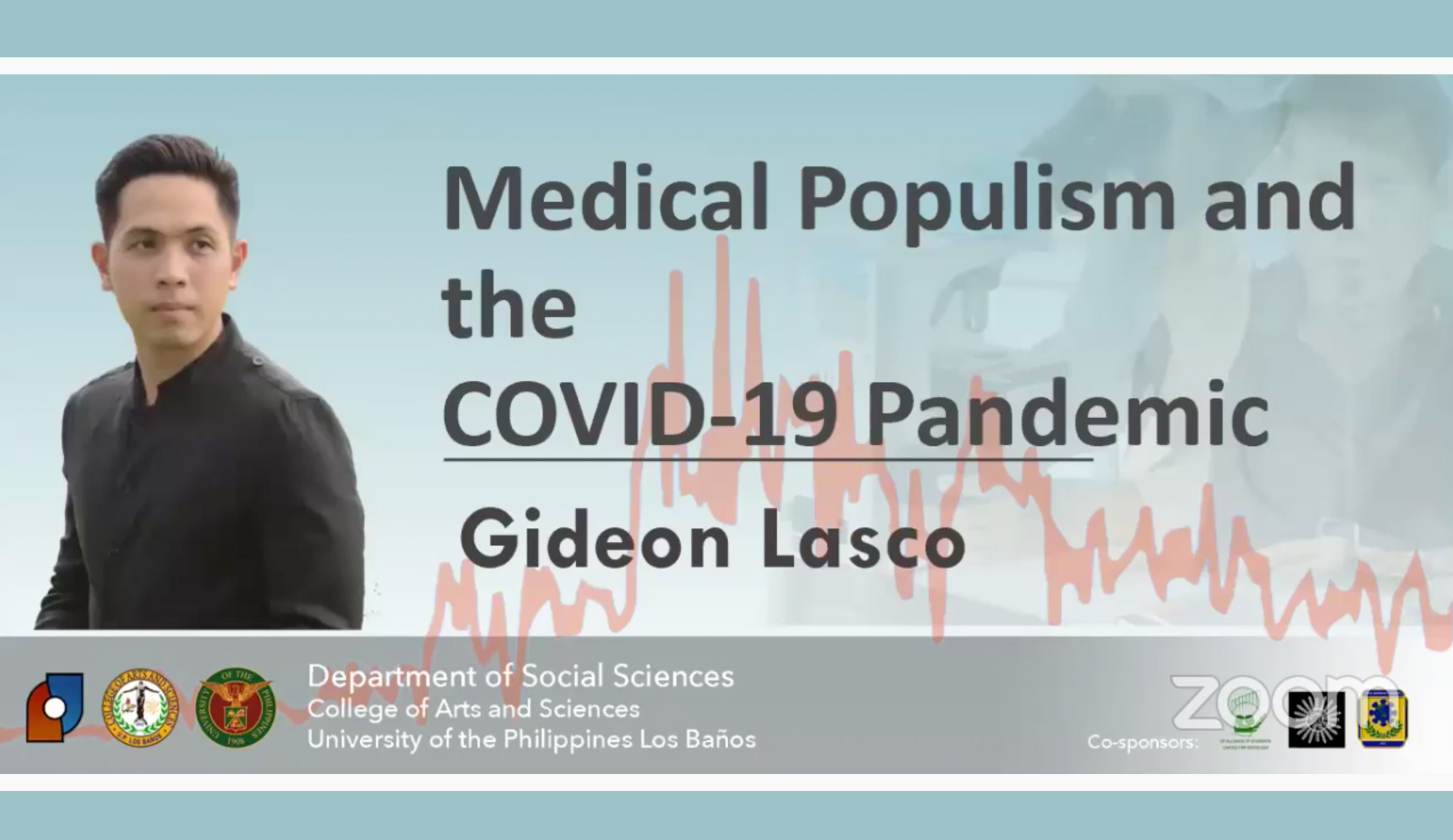 Medical anthropologist tackles medical populism at CB Lamug memorial lecture
Dr. Gideon Lasco, medical anthropologist who writes a regular column on the Philippine Daily Inquirer entitled Second Opinion, headlined the Corazon B. Lamug Memorial Lecture Series, which was held online on Nov. 25 and tackled the topic on medical populism.
Dr. Lasco is a senior lecturer at the Department of Anthropology of the University of the Philippines Diliman, and a research fellow at the Ateneo de Manila University's Development Studies Program.
An advocate of health equity, Dr. Lasco discussed how the COVID-19 health crisis had become vulnerable to politicization through medical populism.
According to Dr. Lasco, the Philippines and other countries deal with medical populism in the midst of medical emergencies that are now a staple feature in today's 24-hour, 7-day-week culture of breaking news, with politics becoming increasingly stylized.
The fragmented audience and contested established knowledge claims have made the health crisis even more vulnerable to politicization.
Dr. Lasco discussed the four key elements in medical populism, namely: (1) simplification or the downplaying of the pandemic and offering of easy solutions; (2) spectacularization, exemplified by the dramatic displays of action using language of war and optics of power; (3) division or going after scientists, critics, journalists, and perceived sources of the virus; and (4) knowledge claims, which is the selective use of science by using unverified knowledge claims, spreading of fake news, and making predictions of the future.
He said that medical populism, when properly refined, can contribute to a positive response. In simplification, communication using simple language, not jargons, can help promote public understanding; spectacularization can help assure people that the government is in control of the situation; division can lead to accountability, and knowledge claims ensure that decisions are based on science and evidence.
The annual Corazon B. Lamug Memorial Lecture Series is organized by the Department of Social Sciences (DSS) to pay tribute to Dr. Lamug as former chairperson of the DSS, former dean of the College of Arts and Sciences (CAS), and former president of the Philippine Sociological Society.
Ivan A. Duka, officer-in-charge of the Office of the Dean of CAS said in his opening remarks that it is remarkable for DSS, headed by Zoilo Belano, Jr. as chair, to hold the lecture series despite the new normal and the threat of COVID.
OIC Dean Duka said that the annual lecture series of Dr. Lamug serves not only as a celebration of her life but an opportunity to discuss and look into issues with greater depth, and hope to create ripples of change.
Five years after Dr. Lamug passed away in 2008, DSS organized the first installment of the lecture series and since then every year, the DSS has featured key figures in the social sciences to conduct a lecture. This year's lecture was also co-sponsored by the UP Alliance of Students Unified for Sociology, UPLB Sociology Society, and the UP Socius. (KEAraguas)