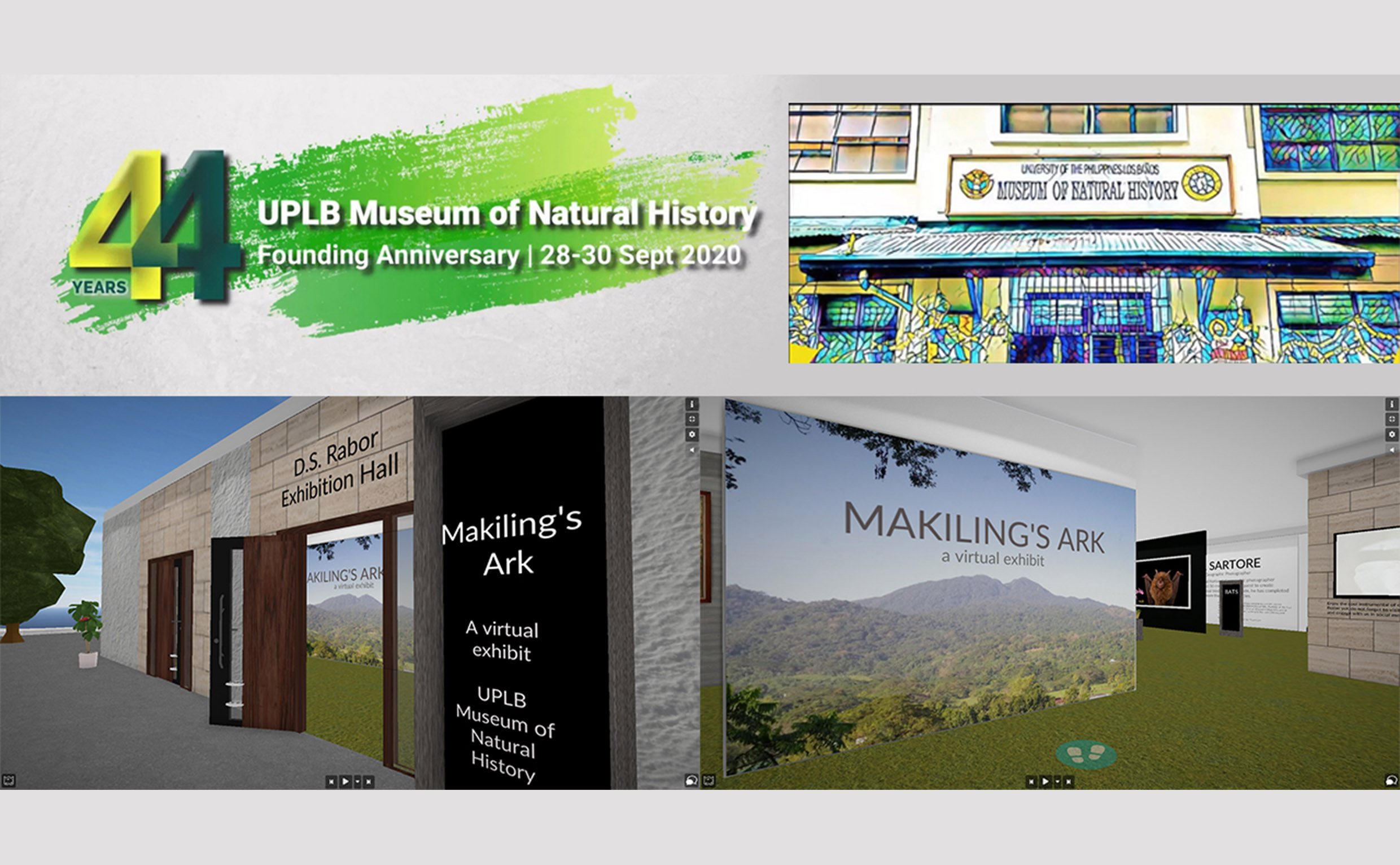 MNH goes online on its 44th year
Scholars and enthusiasts who have missed marveling at the biodiversity display of the UPLB Museum of Natural History (MNH) could now see and access some of the museum's collections online.
At the 44th anniversary program of MNH that premiered on YouTube on Sept. 28, the museum launched its new projects that signaled its stronger virtual presence amidst the COVID-19 pandemic.
"Our museum, for the purpose of education and enjoyment, should remain open. For MNH, this could inevitably mean embracing the digital world through virtual tours and exhibitions for the meantime," said Dr. Rex Demafelis, vice chancellor for research and extension, in his inspirational message.
At the virtual celebration, MNH introduced the Makiling Ark online exhibit, which showcases the photographs of Joel Sartore, founder of National Geographic Photo Ark, featuring the diverse fauna of Mt. Makiling.
"Interacting with the exhibit feels like [you are] on a mobile game," said online exhibit curator Florante Cruz, university extension specialist at MNH. He encouraged the viewers to download the artsteps mobile app and use a VR cardboard viewer to elevate the virtual exhibit experience.
MNH also launched its Zoological and Wildlife Specimens Image Bank, an online catalog of images from MNH's Zoological and Wildlife Section.
According to Camila Meneses, one of the project proponents and a university extension associate at MNH, the said image bank can be accessed for academic, research, and non-commercial purposes.
Meneses also introduced the new MNH Wikipedia page. "[It] is designed to improve the depth and availability of information not only of the museum's collections, but also of the history and the journey of the museum," she said.
MNH also showed its four new exhibits that are found at the museum headquarters. Dr. Juan Carlos Gonzalez and Dr. Marian de Leon, MNH director and university researcher, respectively, inaugurated the exhibits.
The Photo Ark Exhbit is the physical version of the Makiling Ark. The Audubon Exhibit showcases the replica of hand-painted birds by John James Audubon, an American ornithologist, naturalist, and painter.
The Dr. Harold Conklin's Book Exhibit displays some of the books of the American anthropologist and ethnobotanist, which MNH has received from the said Yale University.
The Smilodon Exhibit boasts of a skull of the extinct saber-toothed tiger, which was donated by the UPLB alumni group in Davis, California.
Museum donors and friends all over the world gave their well-wishes for MNH during the virtual celebration. Senator Juan Miguel Zubiri, a UPLB alumnus, also graced the online program.
"I especially commend the team for finding ways to teach and reach out to the public even in the middle of this pandemic," said Senator Zubiri, who co-authored the Wildlife Conservation and Protection Act. (Mark Jayson E. Gloria)