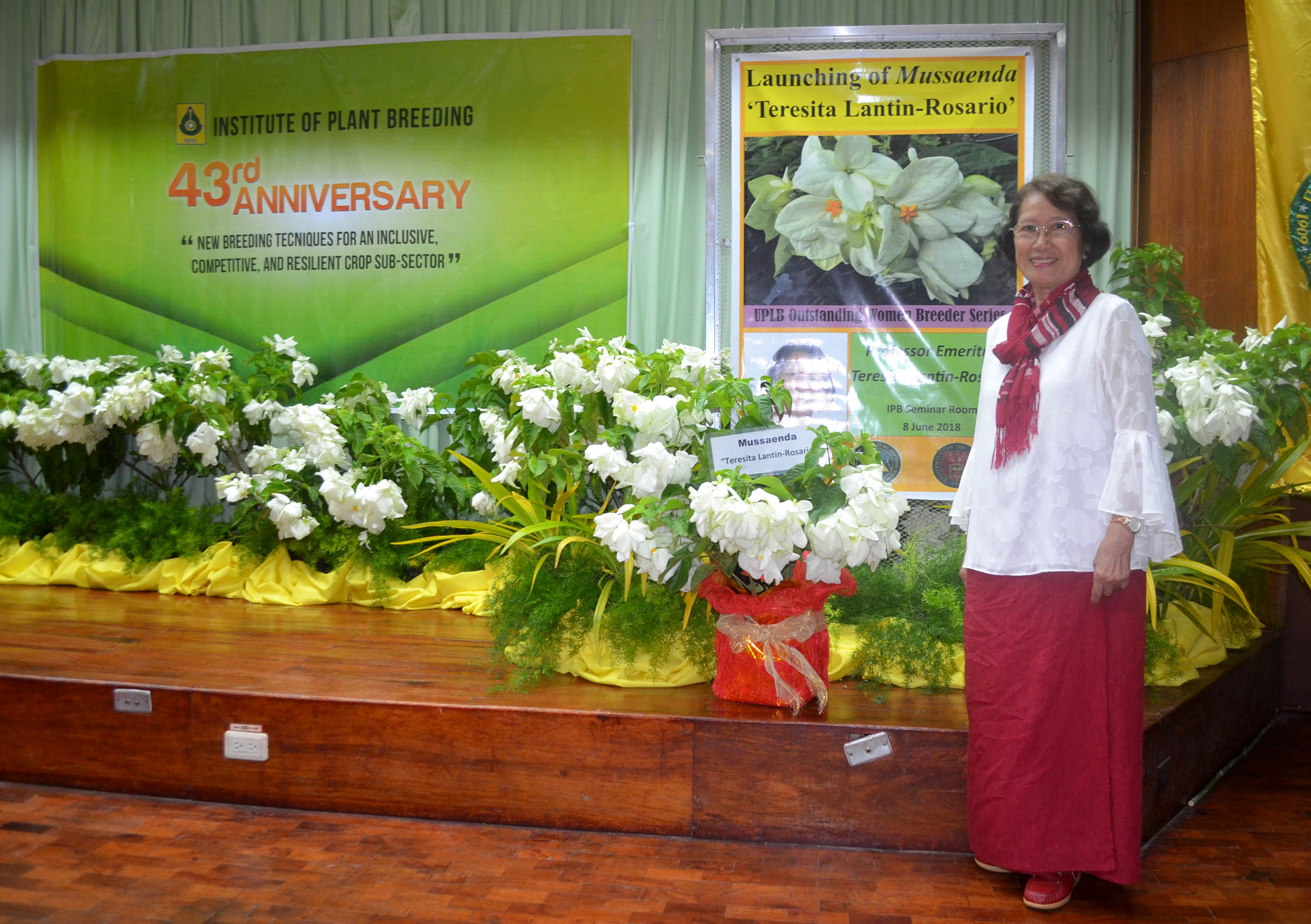 Mussaenda 'Teresita Lantin-Rosario' is finally abloom!
What could be the most appropriate reward for a scientist who has devoted her career to the art of ornamental plant breeding? How do you give back to a woman whose scientific "art works" have enriched floral biodiversity and have delighted some of the most esteemed women in the country?
If it is having a flower named after her, then Dr. Teresita Lantin-Rosario, professor emeritus at the College of Agriculture and Food Science, has just received the honor that she deserves.
Dr. Rosario, known in the crop science circle as "Ma'am TL," has gone full circle with the Mussaenda 'Teresita Lantin-Rosario' or 'TLR' (NSIC No. 2016 Or 86) named in her honor. For more than 30 years, Ma'am TL has spearheaded the breeding of new ornamental hybrids and varieties not only mussaenda, but also of anthurium, medinilla, aglaonema, and the orchid genus spathoglottis that were named after distinguished Filipinas.
M. TLR, the first mussaenda variety under the UPLB Outstanding Women Breeder Series, was given to Ma'am TL on June 8 during the 43rd anniversary of the Institute of Plant Breeding (IPB). A former colleague, the late Dr. Simeona V. Siar, was the primary breeder of this newly launched mussaenda variety.
Mussaenda is a hardy flowering shrub belonging to the Family Rubiaceae. Pioneering UPLB forestry professor Calixto Mabesa discovered Mussaenda philippica, called locally as Kahoy-dalaga, in 1915 in Tuntungin Hill, Los Baños. Mussaenda 'Doña Aurora' is said to be a mutant of the said species. Forestry professors Mamerto Sulit and Hugh Curran also made significant mussaenda discoveries in 1930.
Mussaenda 'TLR' has creamy white, large petaloids or calyx lobes and grows upright to spreading, symbolizing Ma'am TL's conscientious traits toward work and relationship with others. The variety is a cross between M. 'Maria Makiling' x M. 'Diwata.'
M. 'TLR' blooms throughout the year except during its dormant months of December to February. It thrives well in organic-rich well-drained soil. It requires exposure to full sunlight and abundant moisture, and can be propagated through marcotting.
Ma'am TL belongs to the second generation of mussaenda breeders in UPLB, following the footsteps of Dr. Dioscoro L. Umali. As early as 1948, Dr. Umali worked on breeding strategies to produce female hybrids that can be crossed with other cultivars to produce new mussaenda breeds.
Dr. Umali cross-bred M. philippica var. aurora, named after Aurora Quezon, the first lady of Manuel L. Quezon, with an introduced mussaenda species, M. erythrophylla, later renamed Mussaenda 'Doña Trining' in 1952, after the wife of President Manuel A. Roxas. This gave rise to hybrids that were named after the Filipina first ladies.
This was how the UP College of Agriculture's tradition of dedicating flowers to the country's finest women started, one that the College has nurtured even after it became the autonomous UPLB. Quite recently, the honor is going to be given to the University's own plant breeders.
Ma'am TL introduced six mussaenda varieties: 'Mutya', 'Diwata', 'Paraluman', and 'Bathaluman.' They were named after Filipino women chosen for their poise, grace, beauty and intelligence, including the legendary goddess 'Maria Makiling' of Mt. Makiling, and 'Maria Clara,' the Filipina portrayed in Rizal's Noli Me Tangere. The Queen Sirikit of Thailand was also honored by a pink hybrid M. 'Queen Sirikit' when she visited the Philippines in 1963.
Together with her mussaenda breeding team, Ma'am TL developed and registered with the National Seed Industry Council (NSIC) the mussaenda hybrids M. 'Dona Amelita,' named after First Lady Amelita Ramos; M. 'Gloria Macapagal-Arroyo,' dedicated to the former president and now house speaker; and M. 'Zenaida Umali,' wife of pioneering mussaenda breeder, Dr. Umali.
Ma'am TL also studied the biology of mussaenda. She undertook research on the cytology, morphology, floral biology, tissue culture, and enzyme polymorphism of the flower. She probed the origin of the parentals and hybrids of mussaendas for better understanding and planning of a breeding program and conducted mutation breeding to determine the origin of M. 'Doña Aurora.'
Fragrant ornamental crops like gardenia, magnolia, champaca, dama de noche, and cinamumo were also subjects of her research, as well as root crops onion, shallot, and garlic, for which she developed protocols in tissue culture.
After decades of sowing ingenuity, patience, and persistence in coming up with new crop varieties and hybrids, the time has come for Ma'am TL to reap her harvest – a flower that has just bloomed, bearing not only her name, but also her legacy as a woman of science and a creator of art. (Dr. Lourdes D. Taylo and Marilyn M. Beltran)