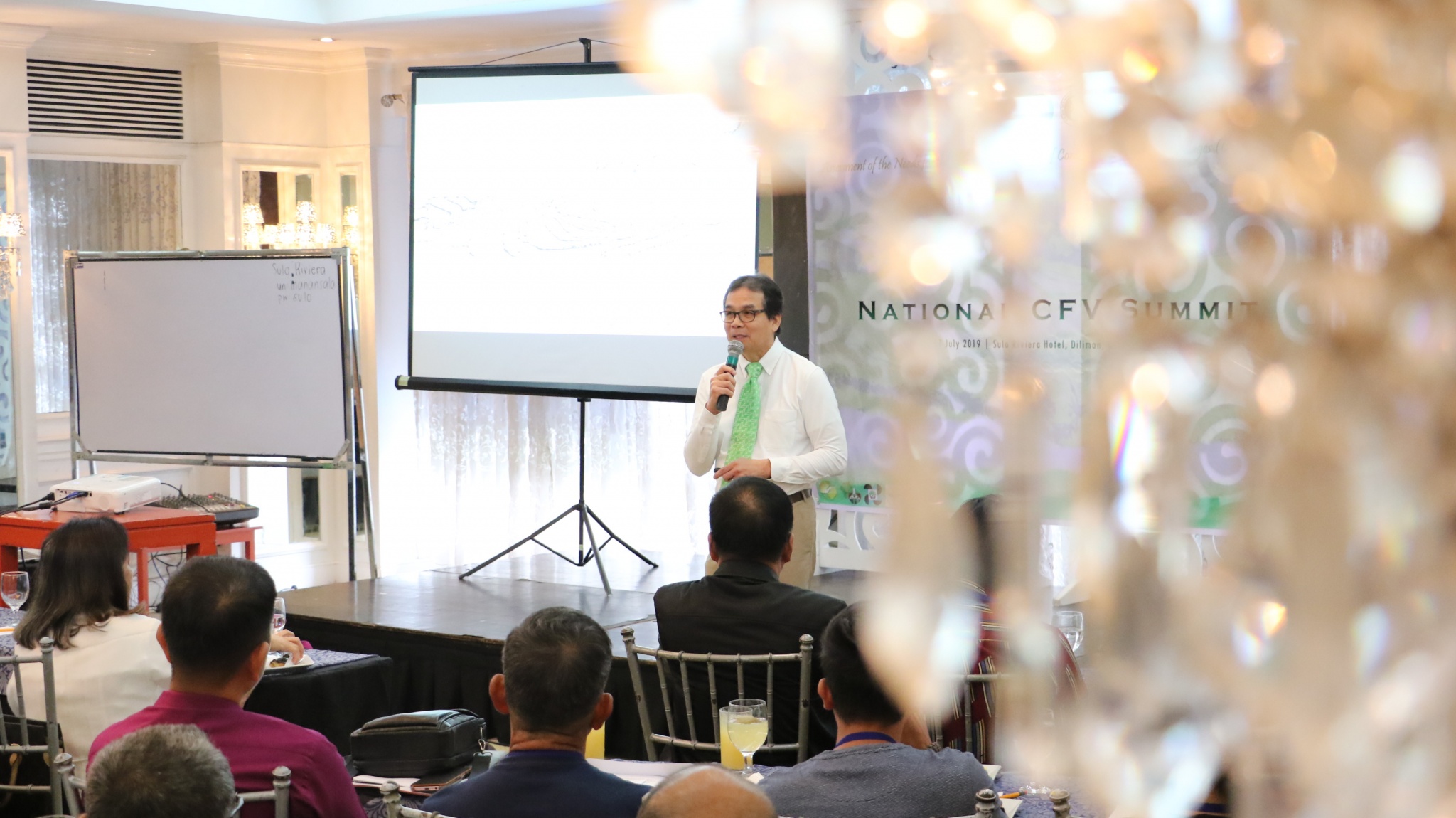 NAST Academician moves to scale up CFV approach to upland development
Dr. Rex Victor O. Cruz, Conservation Farming Village (CFV) project leader and Academician of the National Academy of Science and Technology (NAST) pushed for the scaling up of the CFV agroforestry approach in the country.
Dr. Cruz proposed this at the third national CFV summit at the Sulo Riviera Hotel, Quezon City on July 17.
CFV is an agroforestry-based upland development approach that aims to make farming communities resilient and adaptive while conserving soil, water and biodiversity. It was first implemented in the late 1990's in Maria Paz, Batangas mainly to promote appropriate agroforestry techniques and crop diversification among upland communities in the country. In 2007, the CFV was relaunched as a more comprehensive upland development strategy to address the degradation of upland resources due to unsuitable farming practices, and to promote the resiliency of upland farming communities amid climate change.
Dr. Cruz's proposal covers the development of an action program, drafting, review and finalization of national guidelines, multiagency pilot CFV implementation, capacity building of CFV facilitators, and identification of potential project sites.
Also bannered in the summit were CFV success stories shared by the following farmer-adopters: Rolando Biñan of Ligao City, Albay; Carlos Gumintang of Alfonso Lista, Ifugao; Andres Pacunla, Jr. of La Libertad, Negros Oriental; and Loreto Moises of General Nakar, Quezon.
According to Biñan, his harvest increased, his farm expenditures decreased, and he was able to send his children to school through the practice of CFV.
From being a pioneering CFV participant in 2008, Biñan is now a CFV coordinator who trains other farmers on how to adopt CFV technologies in their area and nearby villages.
Meanwhile, Gumintang, who also came from the first batch of farmers to adopt CFV in the Cordilleras, testified how after three years practicing CFV techniques has addressed soil erosion in their farmlands.
Aside from being a member-beneficiary of CFV, Gumintang is now a volunteer of the program.
For his part, Pacunla, who is a barangay captain, shared how their community prevented soil erosion through hedgerows planting across contours recommended under CFV. He also cited how their communities applied the principle of hedgerows as barriers to soil erosion in using loose rocks as contour bunds that prevents soil erosion from their sloping farmlands as well as hedgerows.
He added that the additional crops that they planted also provided animal feed for their livestock.
Moises also echoed the same benefits that Pacunla cited. Initial curiosity made him sign up for CFV training, and now he applies what he has learned about climate change and how it affects farming.
Over 40 representatives from farming communities and local government units participated in the summit.
The summit also served as an opportunity to assess CFV results and to identify CFV lessons and challenges.
Present during the event were Dr. Portia Lapitan, vice chancellor for academic affairs, representing Chancellor Fernando C. Sanchez, Jr.; Hon. Eliseo R. Ruzol, Sr., mayor of General Nakar, Quezon; and Hon. Emmanuel Laurence L. Iway, mayor of La Libertad, Negros Oriental.
Also present were representatives of the Tan Yan Kee Foundation; Philippine Council for Agriculture, Aquatic and Natural Resources Research and Development; Department of Agriculture-Bureau of Agricultural Research; Department of Agrarian Reform; Department of Trade and Industry; National Commission on Indigenous People; and faculty members and staff from the College of Forestry and Natural Resources.
The summit is part of the on-going project entitled "Assessment of the Needs for the National Upscaling of CFV" and funded by the Department of Science and Technology-NAST. (KEAraguas)