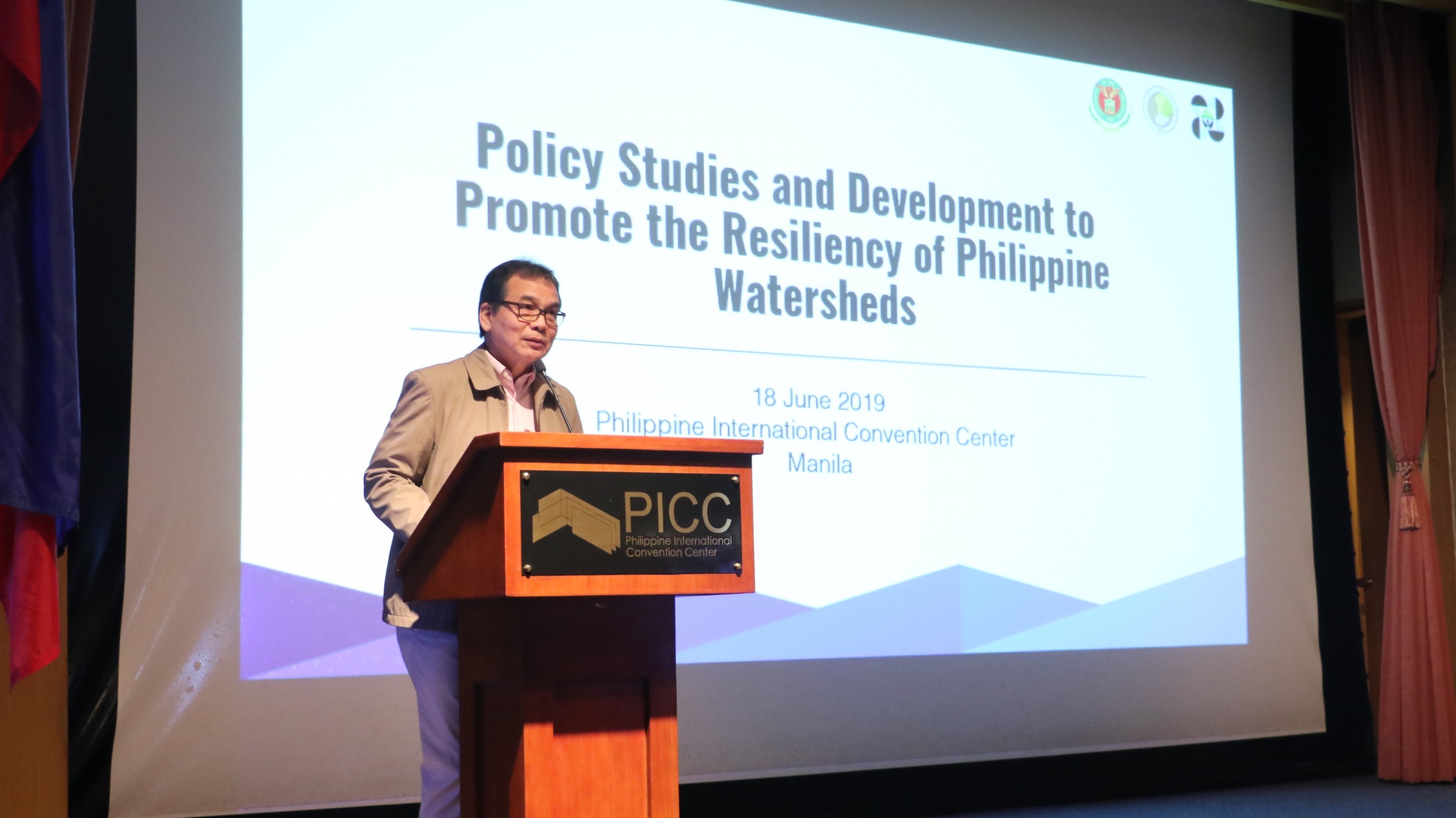 Nat'l watershed forum centers on UPLB's policy research
With pressing water supply issues surrounding the country, conversations about managing watersheds and making them resilient have become more crucial.
At the National Watershed Policy Forum on June 18 at the Philippine International Convention Center, watersheds were put front and center amidst water source issues in the country.
UPLB's on-going project titled "Policy studies and development to promote the resiliency of Philippine watersheds" served as the focal point of the forum.
The said project looks into the existing policies and challenges surrounding watershed management. This is to ensure that watersheds can be more resilient even during dry season, to sustainably provide ecosystem services, and to meet demands for domestic and industrial use of water.
During the forum, Dr. Rex Victor O. Cruz, professor at the College of Forestry and Natural Resources (CFNR) and project leader, talked about the watershed approach as a basis for land use and development planning.
He explained that land use figured heavily in watershed management since it affects major interconnected systems in the watershed, such as biodiversity and climate, water-related risks like flooding and drought, soil conditions, and economic productivity.
Project team members–University Researcher Noel Tolentino and Faculty Members Prof. Nelson Jose Vincent B. Querijero and Marlo Mendoza, all from UPLB – talked about policies that will be beneficial to watersheds.
Tolentino talked about land use allocation and regulation within and around watershed areas, specifically about making mining compatible with watershed management.
He proposed that mining operations must be included in creating a comprehensive watershed management plan and that mining companies be given a more forefront role in restoring the land that they mined.
Prof. Querijero talked about institutionalizing payment for environmental services (PES) to fund key watershed projects in upstream communities.
He said that more valuation studies with identifiable financing schemes and a payment mechanism should be in place to properly implement PES among local government units (LGUs).
Mendoza, for his part, discussed the means and importance of creating multi-sectoral watershed councils among LGUs.
He emphasized that LGUs need to work with their neighboring local governments since watersheds commonly cover adjacent municipalities.
Centralizing all watershed-related activities in one multi-sectoral council with an identified single authority, Mendoza added, will also mean better coordination and watershed management among LGUs.
Representatives from the National Power Corporation, National Economic Development Authority, Department of Interior and Local Government, various LGUs, non-government organizations, and private industries attended the forum.
Co-organizing the event were CFNR, the Department of Environment and Natural Resources, and the Department of Science and Technology-Philippine Council for Agriculture, Aquatic and Natural Resources Research and Development, the policy research project's funding agency. (Jessa Jael S. Arana)