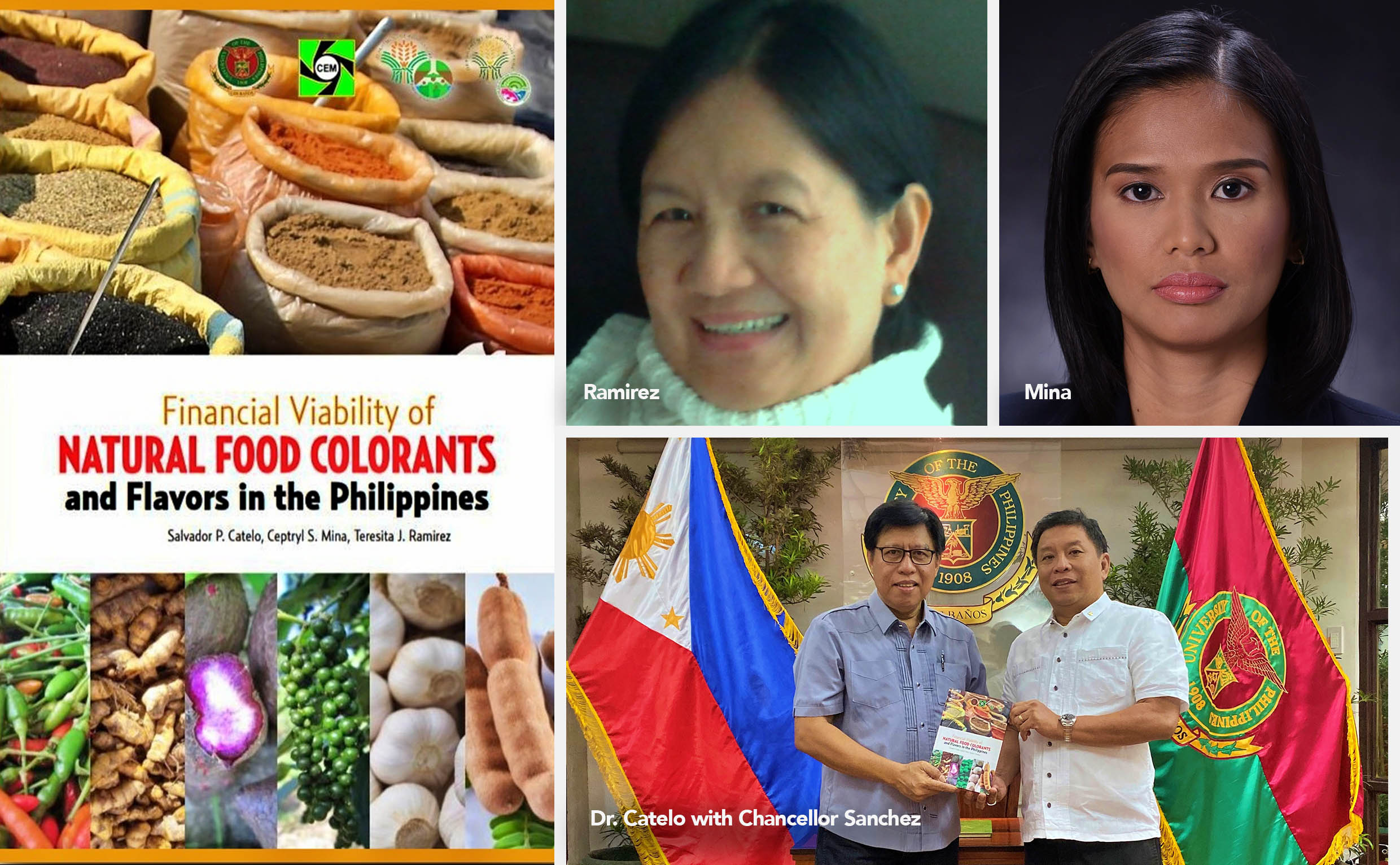 Natural food colorants book gets NAST award
Another book written by UPLB experts won this year's Outstanding Book Awards of the National Academy of Science and Technology (NAST).
The book, entitled "Financial viability of natural food colorants and flavors in the Philippines," is co-authored by Dr. Salvador O. Catelo, Ceptryl S. Mina, and Teresita J. Ramirez.
Dr. Catelo is a professor at the Department of Agricultural and Applied Economics and the director of the Institute of Cooperatives and Bio-Enteprise Development (ICOPED); Mina is an assistant professor at ICOPED; while Ramirez is a retired university researcher at the National Institute of Molecular Biology and Biotechnology.
The book features production and processing of six natural food colorants and flavorants, namely: chili pepper (siling labuyo), turmeric (luyang dilaw), purple yam (ube), black pepper (paminta), garlic (bawang), and tamarind (sampalok).
It is dedicated to the Filipino farmers and market players who are looking for additional and alternative sources of income.
According to Mina, the book is an offshoot of the project "Production economics of selected natural food colorants and flavors in the Philippines" funded by the Department of Agriculture-Bureau of Agricultural Research (DA-BAR) in 2014.
She added that in transforming the project into a book, they expanded the results and updated the coefficients of the former to make them more relevant and timely. The DA-Philippine Agriculture and Fisheries Biotechnology (DA Biotech) Program supported the book's publication.
Publishers of the 2019 book are the UPLB College of Economics and Management, DA-BAR, and DA-Biotech Program.
This win makes UPLB the holder of two out of three awards in this year's outstanding book contest of NAST, the other being the "Science-based management and upland community development in the Philippines: The case of Mount Makiling Forest Reserve (MMFR)."
NAST is the country's highest recognition and advisory body on issues concerning science and technology. (Mark Jayson E. Gloria)