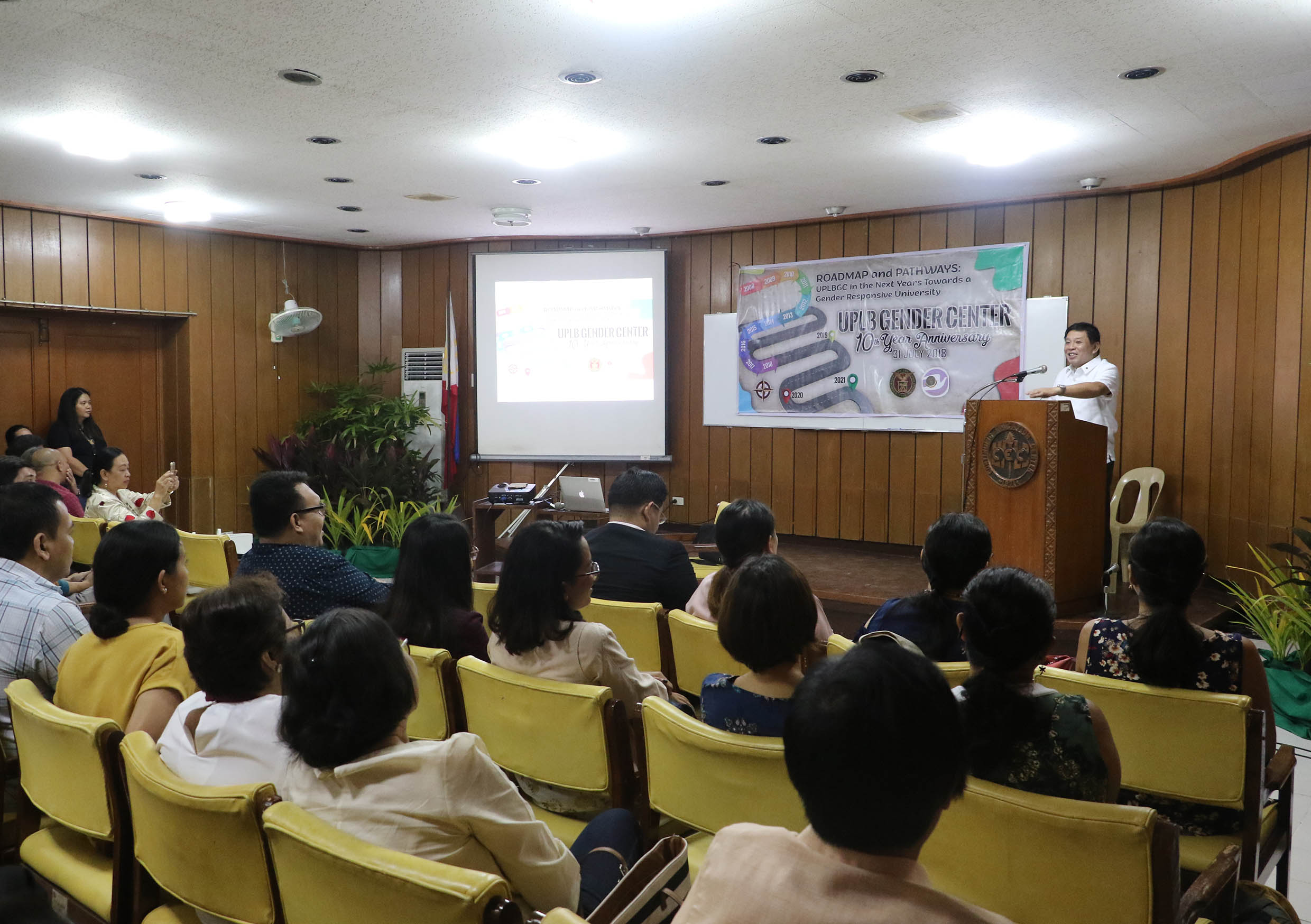 New director reveals plans for the UPLB Gender Center
The UPLB Gender Center (UPLBGC) will be at the forefront of gender policy issues, research, trainings, and public service as it turns 10.
This, its new director, Atty. Eric Paul D. Peralta, said in his message during the Center's culminating program of its anniversary celebration on July 31 at the Obdulia F. Sison Hall.
Atty. Peralta, a faculty member at the Department of Human and Family Development Studies of the College of Human Ecology, hopes that as UPLBGC further integrates gender concepts in the University's tripartite functions of instruction, research, and extension, UPLB will become a leading institution in gender mainstreaming.
He identified capacity building program and book writing as among the pioneering activities that UPLBGC shall undertake under his leadership.
Just a few days before the anniversary program, the Center spearheaded the Intensive Training-Workshop on Gender in Research for UPLB faculty members and research, extension, and professional staff on July 27-28 in Nasugbu, Batangas.
Chancellor Fernando C. Sanchez, Jr., in his inspirational message, expressed confidence that with a solid vision and strategic planning, UPLBGC will be successful in its plans.
"I am very keen to see the Center mobilize its plans because while we recognize the importance and role of gender in our society – it still is, sadly perhaps – the most overlooked aspect. And as our country's national university, UP must take the lead to change that," Chancellor Sanchez said.
The event served as venue for the oath of service and induction of officers of the Men Opposed to Violence against Women Everywhere (MOVE), a newly formed organization of selected UPLB personnel who shall lead in eliminating violence against women and ensuring that gender equality is practiced in the University.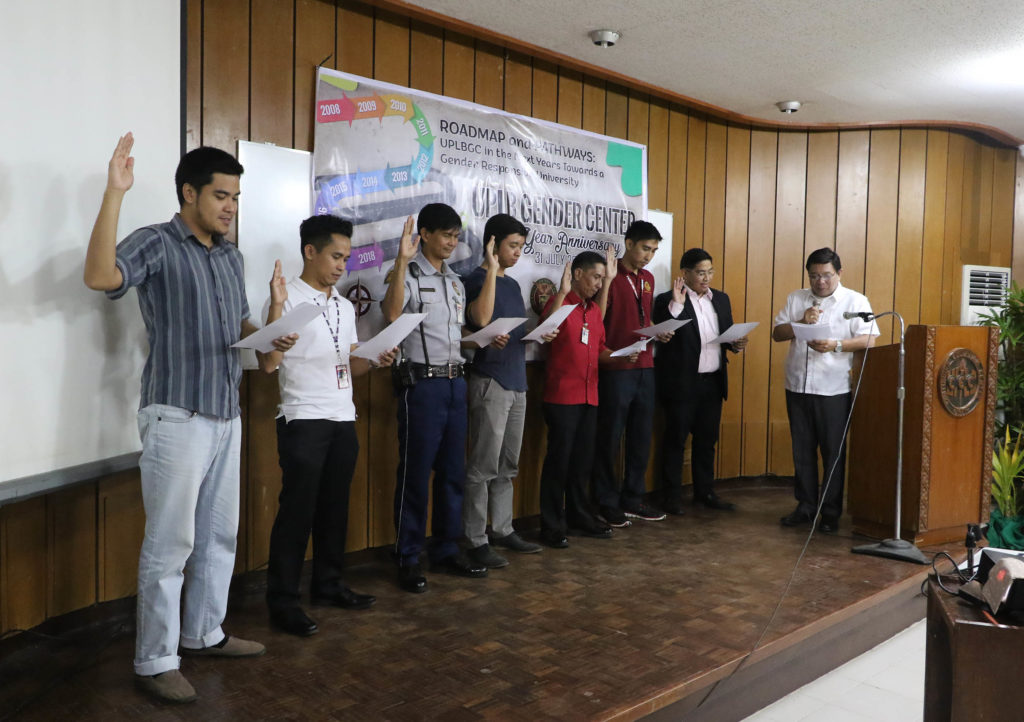 The MOVE officers are SOII Reigel Allan Sorra of the University Police Force (UPF), president; Vladimir Amatorio of the Human Resources Development Office, vice president; Gillian Consignado of the College of Human Ecology, secretary; Engr. Luther John R. Manuel of the College of Engineering and Agro-industrial Technology, treasurer; and SOII Jerry M. Pelegrina (UPF), PRO.
The Center also launched its new logo and presented the recipients of the UPLBGC Research and Thesis Grant Program during the said event.
Present during the anniversary program were Dr. Portia Lapitan, vice chancellor for academic affairs and chair of the Anti-Sexual Harassment Council of UPLB; Dr. Serlie Barroga-Jamias, vice chancellor for community affairs; Glenn Lubuguin, assistant to the vice chancellor for research and extension; and Dr. Bella Cruzana, former director of UPLBGC and current director of the University Publications Office.
Also present were Dr. Jose Camacho, Jr., dean of the Graduate School; Atty. Eleno Peralta, director of the Office of Student Affairs; Dr. Emilia Lastica-Ternura, director of the Office of Anti-Sexual Harassment; Dr. Teri-Marie Laude, coordinator of the UPLBGC Reproductive Health Office; and the UPLBGC staff.
Other activities for the Center's anniversary, with the theme "Roadmaps and pathways: UPLBGC in the next years towards a gender responsive university," were a courtesy call to Chancellor Sanchez on July 18 and a medical and dental mission at Paciano Rizal in Bay, Laguna on July 28. A blood-letting activity and HIV testing will also be held on August 20. (KEAraguas)