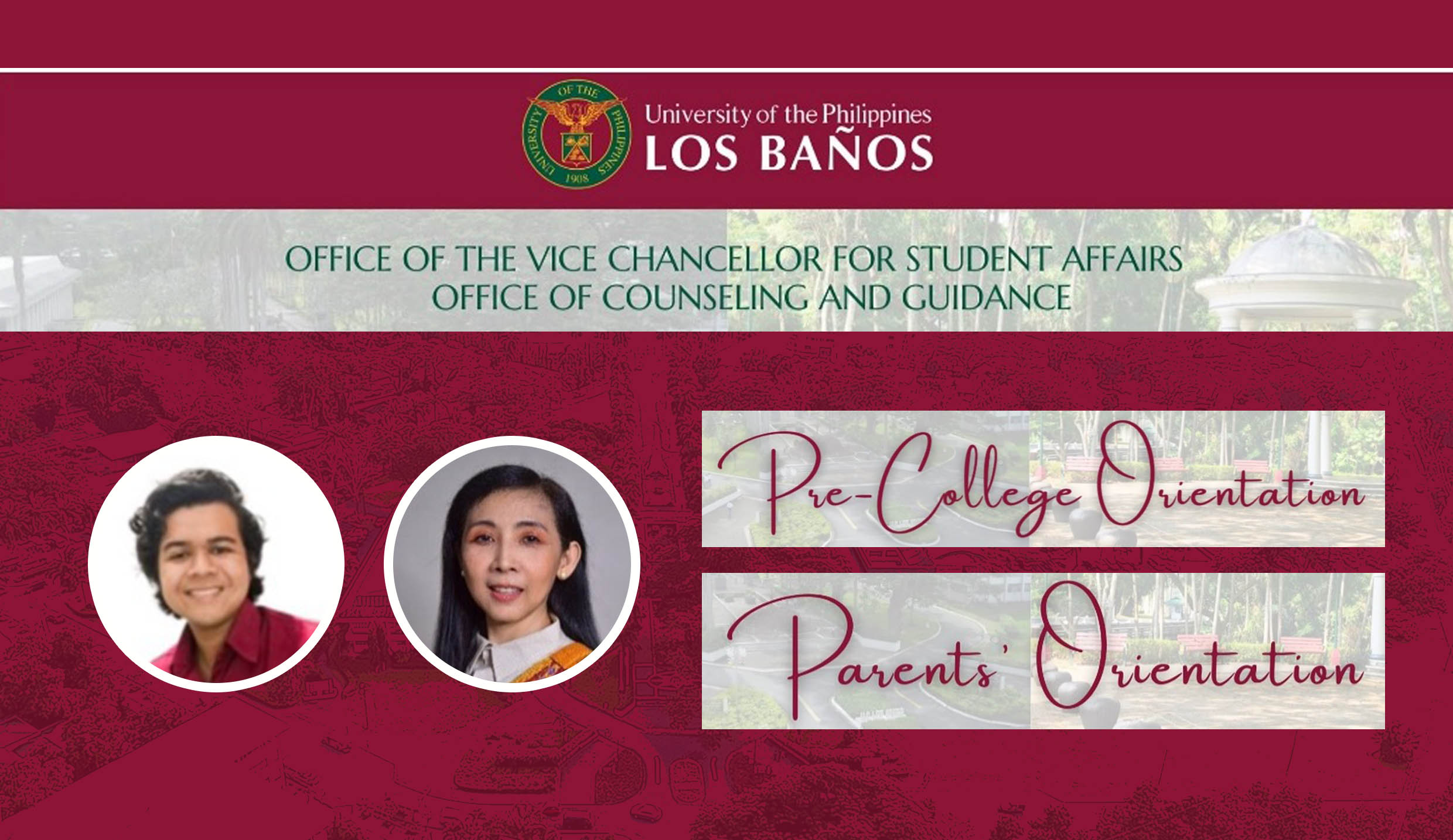 OCG holds orientation for new freshmen and their parents
The Office of Counseling and Guidance (OCG) under the Office of the Vice Chancellor for Student Affairs (OVCSA) welcomed the new freshmen for the first semester, AY. 2021-2022, and their parents and guardians by holding virtually the Pre-College Orientation at 10 AM on Sept. 7 and the Parents' Orientation at the same time the following day, Sept 11.
Aside from serving as a venue for OCG to present the services that they provide to the students, the orientation sessions also allowed the new students, parents, and guardians to clarify University policies and related concerns.
UPLB Chancellor Jose V. Camacho, Jr. officially welcomed and congratulated the parents and the new students for making it to UP, a historic milestone as the first batch to be accepted into the University under the new admission process.
Vice Chancellor Janette Malata-Silva advised that it is doubly needed for the parents and guardians to support and guide their children as remote learning is very different from the face-to-face class. She wished the new students success and ensured them that the OVCSA will support them in their new journey.
In the Pre-College Orientation, Siegfred Severino, chairperson of the University Student Council, povided remote learning tips to the new students during his talk, "Kanan, Kaliwa: Navigating Your Freshie Days."
The invited resource speaker in the Parents' Orientation, Dr. Marison Felicidad Dy, CHE college secretary and a registered psychologist, presented a heartfelt discussion on "Parenting Teens the Positive Way."
OCG Director, Dr. Jea Agnes T. Buera, said in her closing remarks that the past two years have been the most challenging, yet the most important time to be an educator, administrator, and a parent. "We all worked extra hard accordingly to all the changes and collectively to ensure that the students are best prepared for the future they will face," she added, by way of expressing solidarity with them amidst the challenges brought about by remote learning. (Wella Josel Mejia)