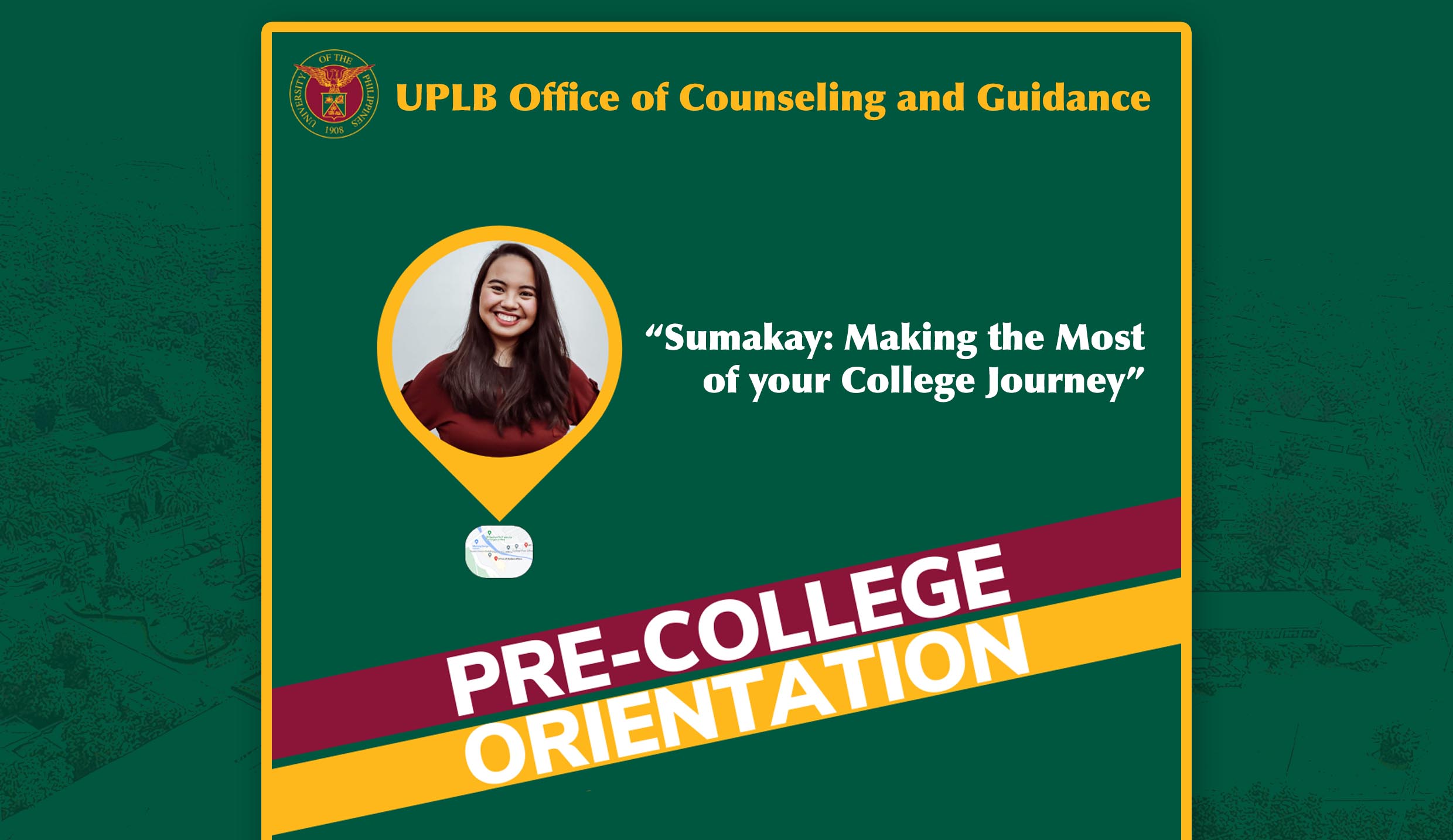 OCG holds pre-college orientation for new freshies
To introduce its programs and services, the UPLB Office of the Vice-Chancellor for Student Affairs (OVCSA), through the Office of Counseling and Guidance (OCG), held a pre-college orientation for new freshies on March 21 via video conference.
Dr. Janette H. Malata-Silva, vice chancellor for student affairs, opened the program with a warm welcome to the new freshies and an assurance that the OVCSA family is a support system that will help students ensure their psychosocial welfare. 
She said that the students can always reach out to them and that they will make sure to lend a hand.
Chancellor Jose V. Camacho, Jr. expressed his gratitude to OVCSA and student volunteers behind the orientation.
He also welcomed the new freshies and said that the Batch 2021 students made history by being the first to be accepted into the University under the data-driven and carefully analyzed admission process. 
He also said that the students can always count on OVCSA for various forms of assistance and that they will find ways to make college life easier, meaningful, and memorable.
Dr. Malata-Silva discussed the elevation of OSA to OVCSA and introduced the Executive Committee of the OVCSA, along with the units and their directors.
These units are Research, Communication, and Information Technology (RECOMMIT), International Student Relations (ISR), and Student Disciplinary Tribunal (SDT).
Video presentations were played to introduce the remaining offices and their services such as the Learning Resource Center (LRC), Office of Student Activities (OSA), Office of Student Housing (OSH), Office of Scholarships and Grants (OSG), and OCG.
A question and answer portion was conducted wherein scholarships and dormitories were discussed.
Patricia Lois A. Gregorio, BA Communication Arts student, shared to the freshies the ways in which to survive the University journey through her presentation entitled, "SUMAKAY: Making the Most of Your College Journey." 
She advised the freshies to start strong, to find their people and not be afraid to ask for help, to know their priorities, make time for themselves, serve the people, and create their own story.
Another question and answer portion was held that revolved around tips on how they can stay motivated and manage their time well.
In her closing remarks, Dr. Jea Agnes T. Buera, director of OCG, encouraged students to interact with their classmates in the virtual classrooms and in other activities.
She also expressed her hopes that the online setup will not be a hindrance for students to share their ideas, skills, talents, and dreams and take part in OVCSA programs.
OCG will be conducting the parents' orientation on March 26 at 9 AM. The resource speaker will be Janett A. Dolor, a registered guidance counselor, who will tackle parents as mental health first aiders.
The pre-college orientation can be viewed on the Facebook page of OCG. (Kyle Ramiel Dalangin)
Aligned with our commitment to: