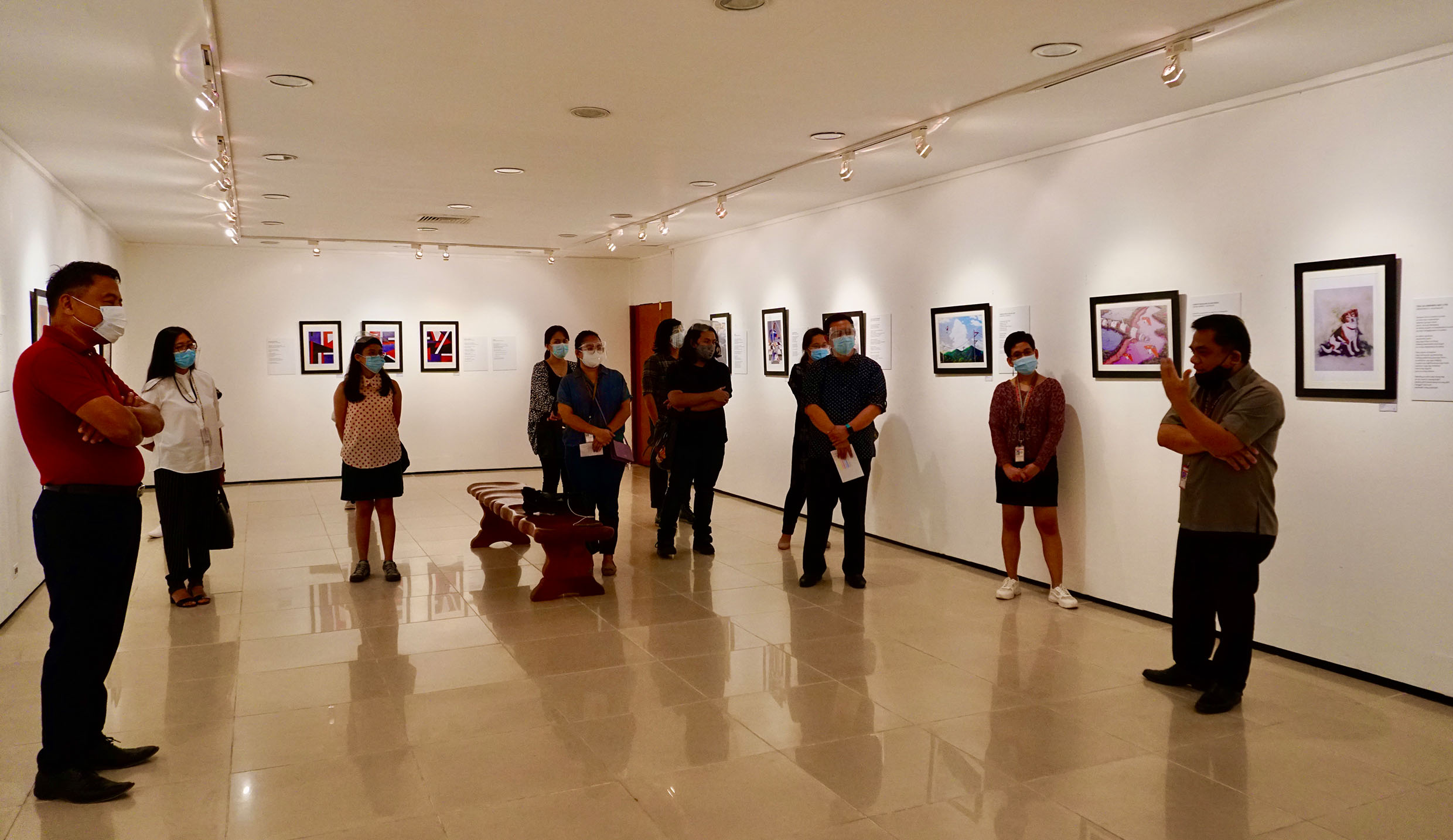 OICA opens the year with collab exhibit "Salungguhit"
"Art sustains us despite the world being reduced to VUCA. VUCA stands for volatile, uncertain, complex and ambiguous." Prof. Jerry Yapo, director of the Office for Initiatives in Culture and the Arts (OICA) said during the opening of Salungguhit, an arts and poetry exhibit that opened at the Sining Makiling Gallery on Feb. 2. "Therefore, OICA is non-VUCA." Prof. Yapo added.
Salungguhit is the collaboration of visual artists, Jualim A. Vela and Kevin Ray H. Valentino, who showcased their visual art works, and writers Dennis Andrew S. Aguinaldo and Genevieve S. Aguinaldo, who wrote the poems that were displayed side by side the visual art pieces. The said art works came to life due to the pandemic and during the start of the lockdown.
The exhibit featured art works done in watercolor, acrylic paint, as well as digital arts. Visual artist Valentino shared that he used the time spent in quarantine as inspiration to be productive and to come up with his illustrations. He also dedicated this exhibit to his mother who recently passed away.
Initially thinking Salungguhit exhibit opening will be done virtually, writer Genevieve Aguinaldo profusely thanked the attendees for attending the intimate in-person event.
Sharing her writing experience, she reflected on the intricate details of the art pieces and said that she had initial misgivings on whether she would be able to bring justice to them through the written word. She said that she hesitated at first but eventually gave free rein to her thoughts.
Chancellor Jose V. Camacho, Jr. who graced the opening program expressed his support to OICA for providing a breath of fresh air despite the on-going pandemic. He took the opportunity to share the plans of the university involving the arts as well as thanked the artists for their involvement in OICA's initiatives such as the exhibit.
The event was attended by Dr. Janette H. Malata-Silva, vice chancellor for student affairs; Dr. Merdelyn C. Lit, vice chancellor for research and extension; Dr. Leonora M. Fajutagana, chair of the Department of Humanities; and faculty members and students of the College of Arts and Sciences.
Salungguhit will run until March 5 at the Sining Makiling Gallery of the DL Umali Hall. Exhibit hours are from 8 AM to 6 PM, Monday to Friday. Interested parties may contact OICA through their Facebook Page: facebook.com/UPLBOICA2007. (KEAraguas)