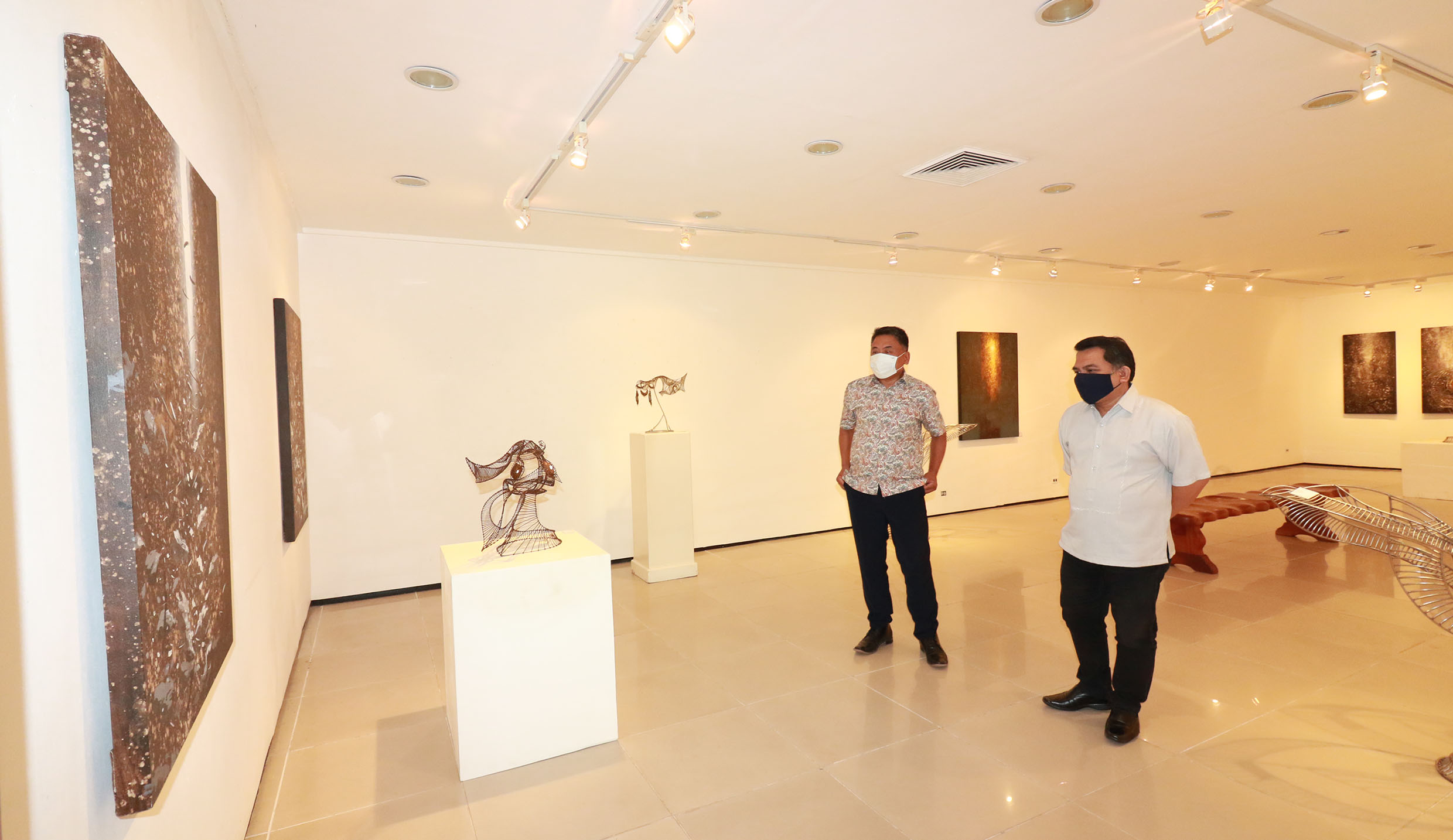 OICA welcomes new year with 'Filaments of Reverie'
It's a new year, a new exhibit, as the Office for Initiatives in Culture and the Arts (OICA) opens 2022 with new art masterpieces through the "Filaments of Reverie" exhibit.
Featuring art installations of steel brass and paintings on acrylic on canvas by artists Jualim Vela and Alfred Capiral, the exhibit formally opened to the public on Jan. 12.
"Filaments of Reverie" reflects the artists' musings during the challenging times in the sanctuary of their own creative spaces.
Their reflections were nurtured by the merging of their past and present that challenged their personal reflections from the mundane, to the consequential, and the profundities of time, chance, and existence.
Vela and Capiral honored their roots and bridged polarized ideologies through visual tensions and representations reflected in their artworks.
Vela's "Baroto: Navigating the Woven Channels" are stylized representations of weathered boats drawn from various forms of mostly fallen or dried leaves that he had observed and collected in the aftermath of a typhoon in his island province, Catanduanes, Bicol.
Baroto is a term for boats as told by Vela's grandparents and elders during his childhood.
The idea was inspired by Filipino beliefs on the utilitarian, symbolic, and ritualized practices related to it.
According to Vela, the boat is a medium, a bridge, and a channel or a conduit of a person's way of life and life after death.
Vela's installation artworks were created in kinetic forms, demonstrating motion and balance as simulated by the movement of a boat on the surface of a body of water.
Baroto's concept shows life navigation amidst challenges and the materials used in the installation art replicates the idea of knitted or interwoven fibers.
Capiral's "Terrafirma" is an invitation to step back momentarily from the overwhelming line graphs on the news.
A visual contemporary artist alumnus of the Philippine High School for the Arts and University of the Philippines College of Fine Arts, Capiral contemplated on the cycle of life through the lens of linear forms in the natural surroundings.
Through his artworks using acrylic on canvas, Capiral hopes that viewers will see the structures beyond the confines of the physical, welcome the thread of questions and string of thoughts that arise, and lead them to finding their bearings and appreciating impermanence while in the present.
"Filaments of Reverie is available both for online viewing and at the Sining Makiling Gallery at the DL Umali Hall until Feb. 4.
Visitors may view the exhibits from 8am to 6pm, weekdays, and are advised that public health protocols will be strictly followed at the facility. (KEAraguas with reports from the OICA Official Facebook Page).
Aligned with our commitment to: