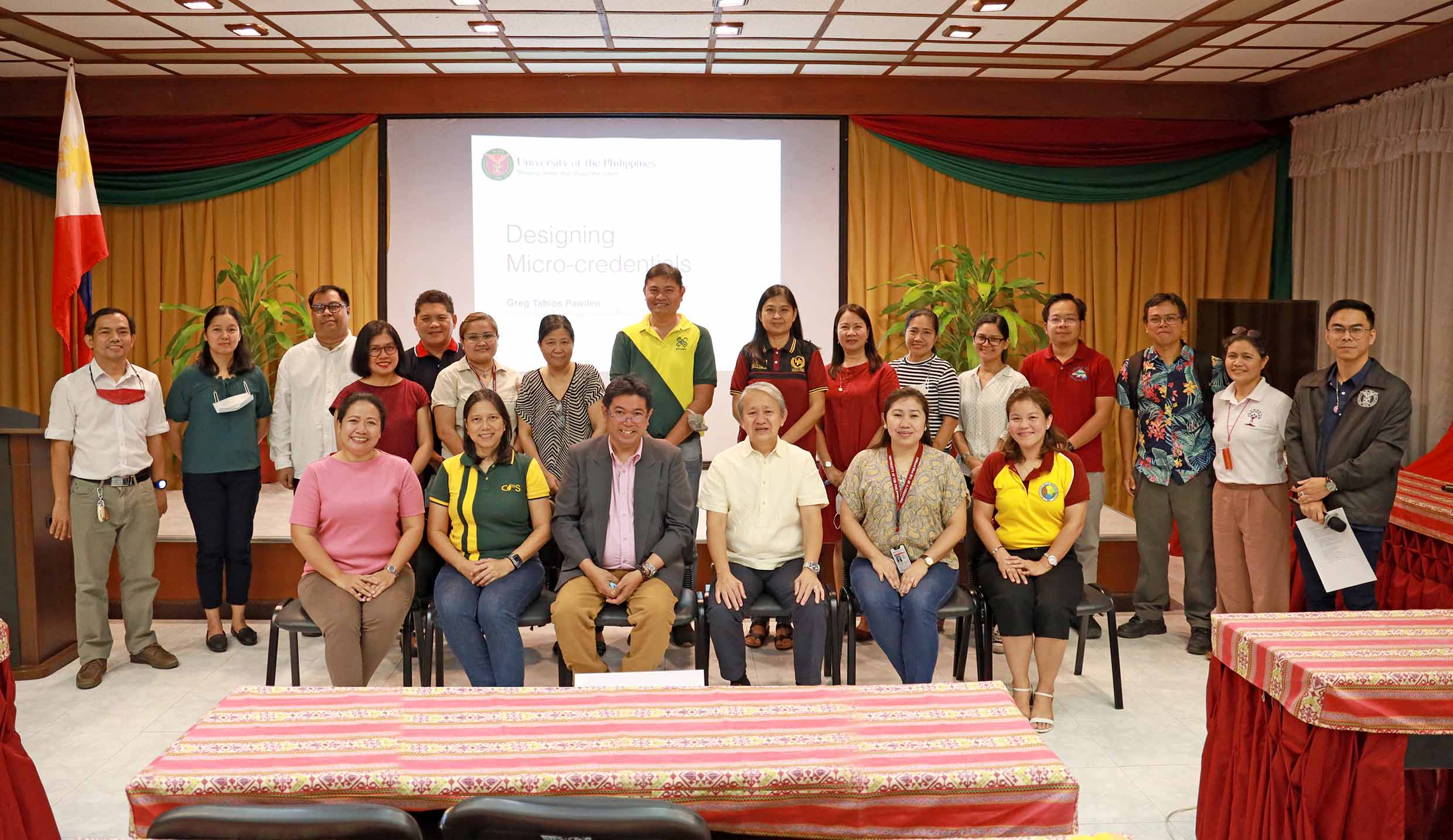 OIDHE trains colleges on creating micro-credentials at UPLB
The Office for Institutional Development in Higher Education (OIDHE) conducted the Training- Workshop on Designing Micro-credentials at the Training Center for Tropical Resources and Ecosystems Sustainability (TREES) in UPLB on May 8 and 9.
The workshop was attended by representatives from the College of Agriculture and Food Science (CAFS), College of Forestry and Natural Resources (CFNR), College of Arts and Sciences (CAS), College of Human Ecology, and the College of Public Affairs and Development (CPAf).
The workshop highlighted the role of UP in leading standards for micro-credentials, the potential of micro-credentials in making UP Education accessible to all and as a 21st or Fourth Industrial Revolution (4IR) design of education.
The 4IR is a period of rapid technological change transforming how people live, work, and learn. It is being driven by advances in artificial intelligence, robotics, big data, and other emerging technologies.
As a result of 4IR, the skills that are in demand are constantly changing. Employees need to be able to adapt to these changes and continuously upskill themselves in order to remain relevant in the workforce.
Micro-credentials can be a valuable tool for employees who want to stay ahead of the curve in the 4IR. They can help employees learn new skills, gain new knowledge, and advance their careers.
Vice Chancellor for Community Affairs Roberto P. Cereno welcomed the participants at the opening program on the first day of the training, while Vice Chancellor for Planning and Development Fernando O. Paras Jr. delivered the opening remarks for the second day.
OIDHE director Greg T. Pawilen gave a lecture on micro-credentials, discussing the different types of micro-credentials that can be offered by UPLB to provide opportunities for lifelong learning.
In the afternoon, the participants identified, designed, and presented courses for micro-credentials that could be offered by their colleges. They also presented the micro-credentials they have designed that have the potential to become certificate programs.
The training on designing micro-credentials is the first part of the training on micro-credentials conducted by OIDHE for UPLB constituents. (Rowena P. de Guzman)
Aligned with our commitment to: