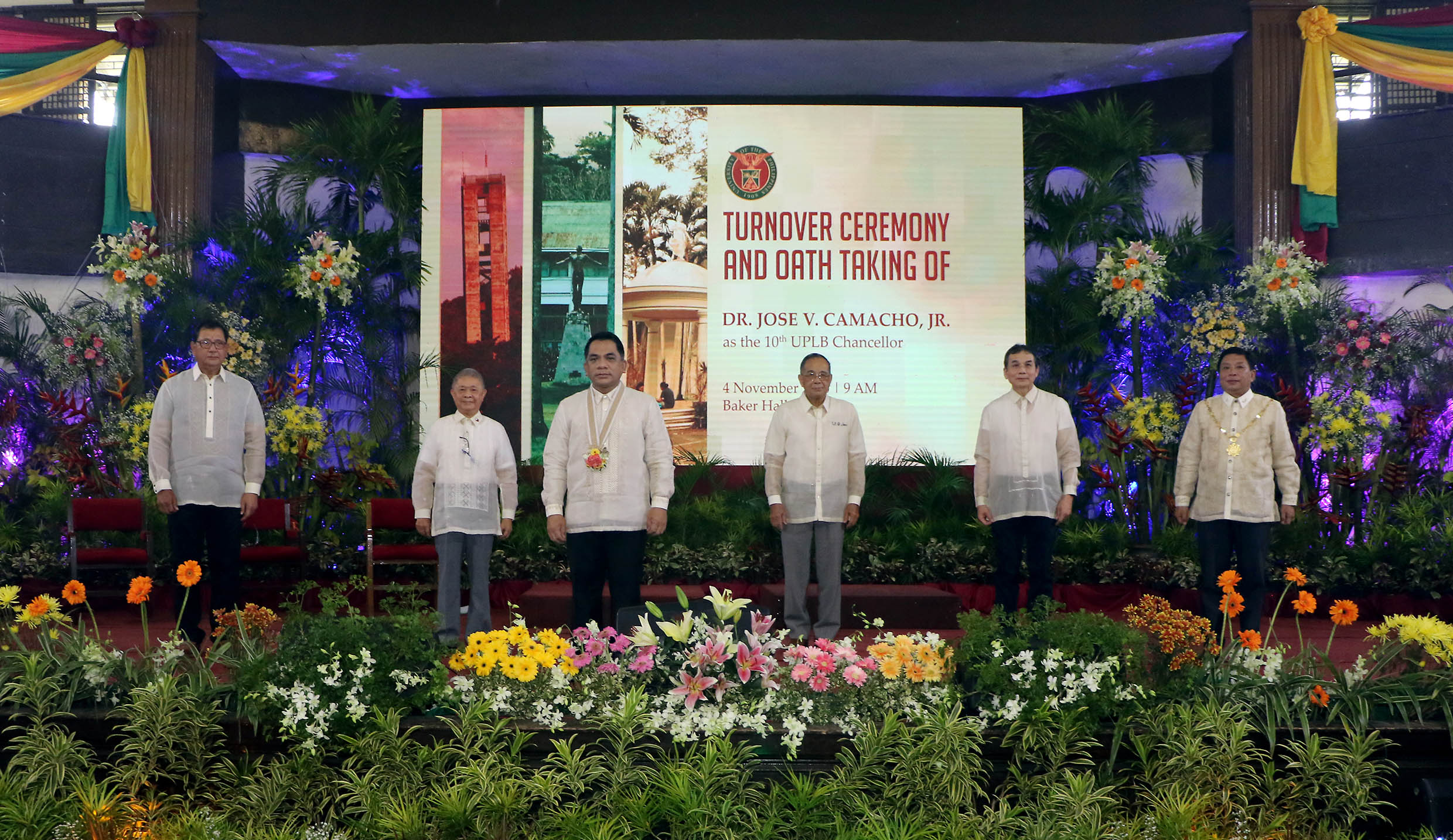 On wisdom from and roles played by former chancellors in the making of a compassionate leader
The turnover ceremony and oath-taking of Chancellor Jose V. Camacho as the 10th UPLB chancellor was, as most ceremonies of this kind go, part of traditions and protocols in UPLB that has seen the coming and going of UPLB leaders.
This one was unique though, for being the most participated in by former chancellors who each gave words of wisdom that experience had imbued in them.
It was also rich in symbolism in the roles these former chancellors played in the milestones of the life of the chancellor who took his oath of office.
While the ceremony symbolized smooth transition, which outgoing chancellor, Dr. Fernando C. Sanchez, Jr., had ensured in his UPLB Loyalty Day celebration speech on Oct. 10, it became even meaningful with the presence of UP President Danilo L. Concepcion.
President Concepcion said that he did his best to attend and personally witness the occasion because it symbolizes unity and solidarity toward progress for UPLB.
To the outgoing chancellor, President Concepcion expressed his thanks for the support the former gave to his administration; and to Chancellor Camacho, he offered his support as they work together in implementing new projects for the betterment of the university.
"Marami tayong nakalista na mga bagong proyekto na ating ipatutupad upang mas tumaas pa ang kakayahan ng ating mga guro at mag-aaral sa pakikihamok sa tagisan ng talino at husay hindi lamang sa ating rehiyon sa Asya kundi sa buong mundo," President Concepcion said.
("We have new projects to implement that will further equip our faculty and students in this battlefield of intelligence and skills, not only in Asia but also in the whole world.")
This signified a continuity, a smooth transition, an assurance to UPLB that even as leaders come and go, the endeavor to work for excellence continues.
Wisdom shared by past chancellors
National Scientist Emil Q. Javier, who was UPLB chancellor from 1979 to 1985 and UP President from 1993 to 1999, compared the life of the university to a relay race toward the achievement of its purposes. "The relay race is won both by the pace of the individual runners at the different stages, but in most cases and even more importantly, with the seamless transition in the relay of the baton from one leader to the next."
National Scientist Javier highlighted the importance of both the pace of the runner, the chancellors, and the smooth and seamless passing on of the baton without the university losing momentum or losing stride in the process.
Dr. Ruben L. Villareal, who served as chancellor from 1993 to 1999, shared to the new leadership his "eight nuggets of wisdom" highlighting respect for the wisdom of predecessors and for people in the organization, maintaining good communication and transparency, the importance of hard work and team work and of holding oneself firm to basic values.
For his part, Dr. Luis Rey I. Velasco, chancellor from 2005 to 2011, welcomed Chancellor Camacho and paid tribute to Dr. Sanchez for a job well done.
He expressed admiration for Chancellor Camacho for "taking on formidable challenges" and "seeing the challenges as opportunities instead of threats in running the university to better and effectively implement its mandates."
Dr. Velasco also said that Chancellor Camacho will bring with him a wealth of fresh ideas from the perspective of an agricultural economist being the first chancellor to have come from the College of Economics and Management.
Dr. Rex Victor O. Cruz, chancellor from 2011 to 2014, pointed out that while being chancellor is a difficult and sometimes a thankless task, it is satisfying; one that he can look back to and say that he enjoyed the pleasure of having been able to serve the university.
He proceeded to give Chancellor Camacho tips on the areas "where UPLB can position itself for the country to rise up." He said that these areas include not only the pandemic, but also on the challenges concerning the environment, natural resources degradation, and declining agricultural productivity, among many others.
While the former chancellors shared themselves by giving pieces of advice to Chancellor Camacho, they turned out to have been material to the milestones in the life of the latter, most definitely contributing to his rise to becoming the 10th UPLB chancellor.
This much Chancellor Camacho revealed in his acceptance speech where he also thanked each one of them for how they touched his life as a student and as a faculty member in UPLB.
Roles played by the former chancellors in the life of Chancellor Camacho
To National Scientist Javier, Chancellor Camacho was effusive in his gratitude for his creation of the Agricultural and Rural Development Scholarship (ARDS). He said that if it were not for the ARDS program, he would not have been able to study in UPLB. Chancellor Camacho pursued his college degree, BS Economics, in UPLB from 1986 to 1990.
Because he was a personal witness to how ARDS was able to help many students, Chancellor Camacho promised to revitalize the program under his watch by making it one that will fully support the best and brightest students in completing not only their bachelor's but also their master's and doctoral degrees.
Chancellor Camacho held close to his heart the guidance provided by Dr. Villareal when the latter was UPLB chancellor. It was during Dr. Villareal's administration when Chancellor Camacho first joined UPLB as instructor at the UP Rural High School (UPRHS).
He told of how Dr. Villareal asked him in an interview why he was not going back to his rural roots to which he replied by saying that since he would be teaching in the rural high school to help mold the minds of the young, it would be akin to going back to his rural origin.
Chancellor Camacho credits his UPRHS teaching experience for having developed and sharpened his skills as a teacher.
After finishing his PhD in 2007 from the Graduate School of Economics at Kyoto University in Japan, he struggled with a decision to leave or stay on in UPLB when he encountered difficulties with his promotion. Help came from the then chancellor, Dr. Velasco.
"If it were not for Dr. Velasco who fought for and defended my automatic promotion, I would have already left UPLB," Chancellor Camacho related to the audience at Baker Hall and the online audience during his oath-taking.
He also thanked Dr. Cruz for his trust and confidence as it was under the latter's administration when he became the dean of the Graduate School (GS) in February 2012.
As GS dean, Chancellor Camacho implemented innovative approaches in making UPLB graduate programs accessible to underserved areas and sectors in the country, and established partnerships that promote interdisciplinary collaboration and internationalization of UPLB graduate programs.
Compassionate leadership and service that brings hope
Now as UPLB chancellor, Dr. Camacho draws from the wellspring of wisdom and compassion that the former chancellors showed to him to create programs and initiatives that will be compassionate to its constituents during these difficult and challenging times that the country is facing.
It is on the bedrock of compassion, as well as on cooperation, collaboration, and consolidation that Chancellor Camacho says he intends to build his programs.
"Our programs will feature cooperation with UPLB's various colleges and units. We will manifest collaborations with institutions and organizations, both national and international. Our efforts will be consolidated and focused. Most importantly, all of our initiatives will be implemented with compassion and heart," he said in his oath-taking speech.
To begin, he will lead UPLB in a fund raising project for students "who are struggling during this time of enforced flexible remote learning." The project, "UPLB Connectivity Assistance for Remote Students" or UPLB CARES, aims to provide learning assistance packages to students according to their needs.
For its personnel and students, UPLB will also be launching the program called "Future-Proof UPLB." Chancellor Camacho said that this program will also be a platform for future-proofing initiatives with other state universities and colleges and the national and local government units.
By way of acknowledging that he cannot accomplish his plans alone, he enjoined UPLB constituents to serve the university and the country with him to the best of their ability, and in all their excellence, intelligence, and with all their heart.
For truly, these times demand a caring community that is hopeful and inspired in the beneficence of leadership and programs that are built on cooperation, collaboration, consolidation, and compassion. (JMBo)