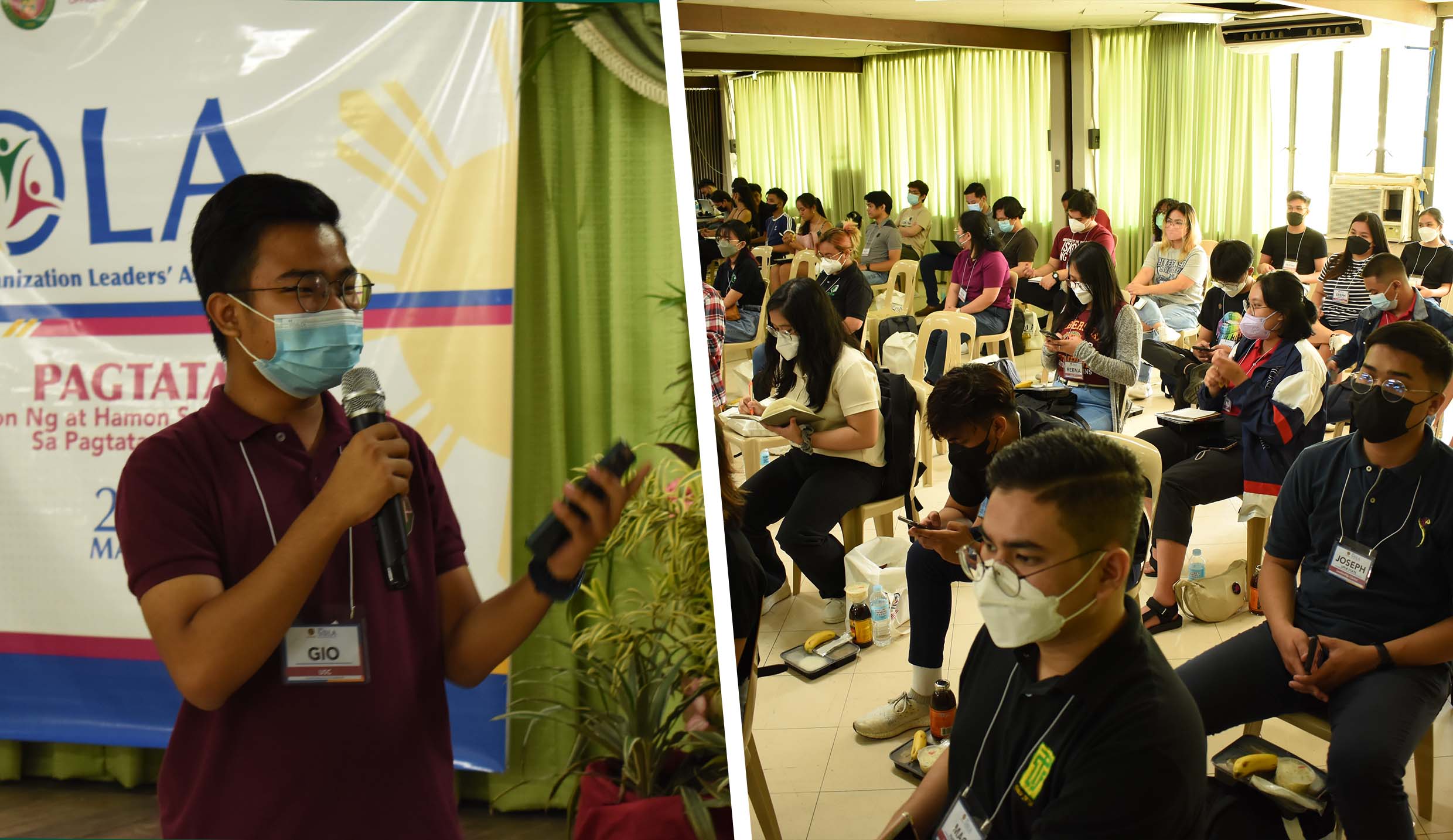 OSA convenes hybrid Student Organization Leaders' Assembly
UPLB student organization leaders gathered last May 27 at the Makiling Ballroom, Student Union Building for the first hybrid Student Organization Leaders' Assembly (SOLA).
Convened by the Office of Student Activities (OSA) under the Office of the Vice Chancellor for Student Affairs (OVCSA), this year's SOLA answered looming post-election challenges and tasks confronting the Iskolar ng Bayan.
With the theme "PAGTATASA: Tugon at Hamon sa Iskolar ng Bayan sa Pagtatapos ng Halalan," the SOLA aimed to assess the aftermath of the local and national elections.
In her welcoming remarks, Vice Chancellor for student affairs Janette H. Malata-Silva emphasized youth participation in society. She challenged UPLB student organization leaders to take stock of their skills and principles and contribute to nation-building.
Chancellor Jose V. Camacho likewise encouraged student leaders in his inspirational message to uphold the ideals of a just and equitable society and to be fair and proactive leaders starting within their organizations. Students also heard from special guest speakers who were former student leaders and are now leaders in their own fields.
Former Kabataan party-list representative Raymond V. Palatino urged the audience to learn from history and create history with a long-term perspective. UP Diliman vice chancellor for student affairs Louise Jashil R. Sonido also agreed on the importance of examining how things happened. She said that there are new arenas where public opinion is shaped and that leaders should strategize ways to reach the people they serve.
Leo XL Fuentes, former UPLB University Student Council (USC) chairperson and now regional coordinator for Mindanao of the farmer-led organization Magsasaka at Siyentipiko para sa Pag-unlad ng Agrikultura (MASIPAG), emphasized that exacting significant change is a long process and entails sacrifices from everyone.
UPLB Ugnayan ng Pahinungod director Jose Limbay Lahi O. Espaldon, for his part, discussed to the students how collaboration and playing to one's strengths can help them achieve their goals.
Finally, film director Rod Singh talked about the various ways of framing digital content creation which can be applied in any campaign or advocacy.
The afternoon session gave student organization leaders a chance to collaborate on activities with their clusters. Led by the new set of USC and College Student Council members, the clusters presented their outputs during the plenary session.
Before the end of the SOLA, OSA director Mawen Q. Inzon officially presented the nominees of the UPLB Natatanging Organisasyon and UPLB Natatanging Iskolar ng Bayan Awards.
For his closing remarks, Jickerson P. Lado, assistant to the vice chancellor for student affairs, reiterated the importance of the SOLA and the partnerships between OSA, OVCSA, and student organizations.
The SOLA was attended by 80 students representing 47 student organizations. (Marites E. Mojica)