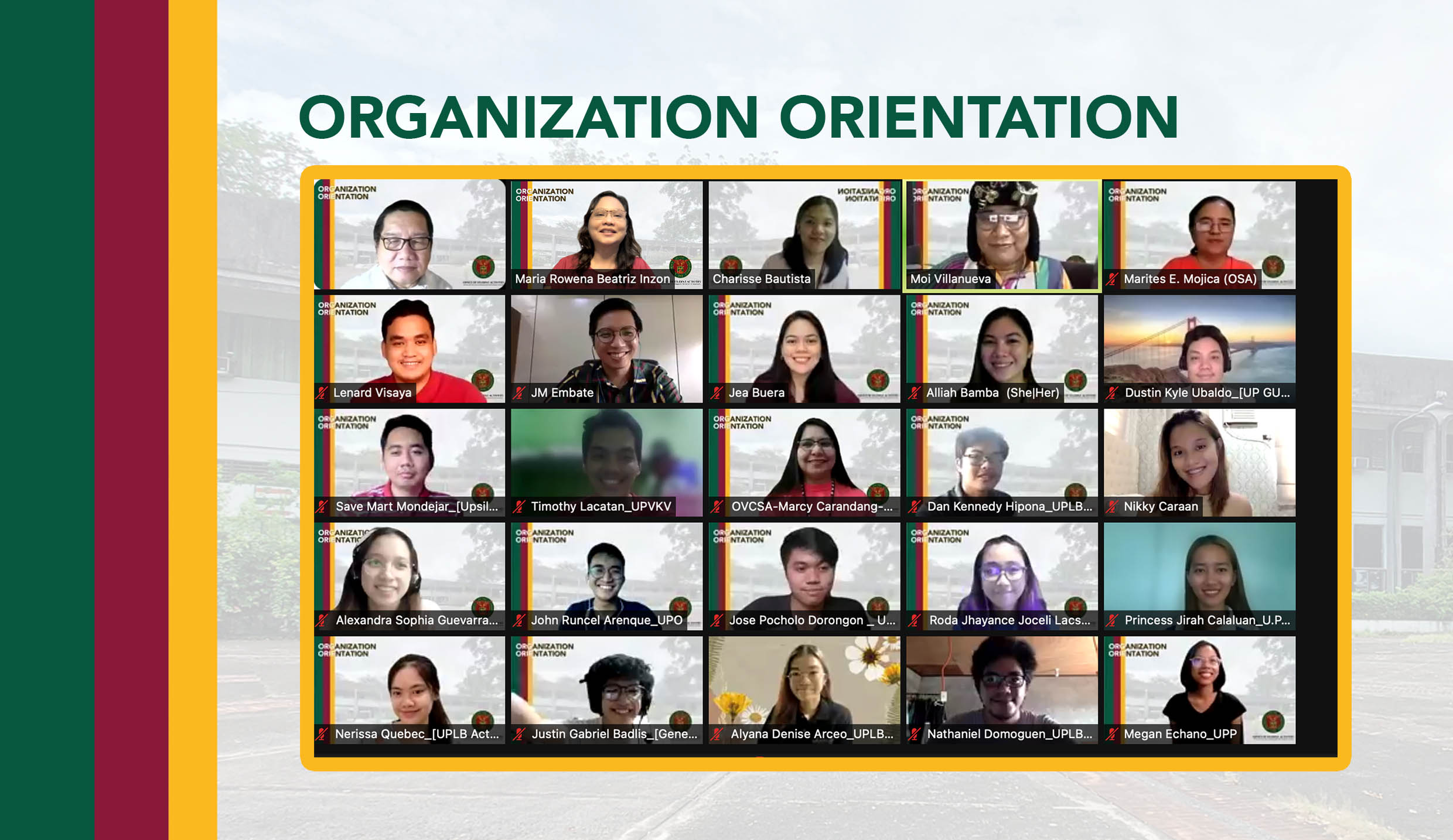 OSA holds orientation for student orgs
Student organizations are very much in the thick of things despite most students being not in the campus nowadays.
In fact, they may soon partner with the Office of Student Activities (OSA) in various activities that were presented to them at the Organization Orientation, an activity held via Zoom on Sept. 16.
OSA, led by Director Mawen Inzon, presented activities that it will be holding in collaboration with national agencies and non-government organizations.
One partnership is with Vote Pilipinas, the official information campaign office of the Commission on National Elections. Vote Pilipinas and OSA will conduct #MagparehistroKa Town Hall for students in preparation for the 2022 National Elections.
"Tambuli," a documentary-drama production about the student movement in UPLB from 1972 to 1986 will be held in collaboration with the National Commission for Culture and Arts and ARTIST, Inc.
Collaboration with other OVCSA units is also in store for the student organizations. The "Sandigan, Sandalan: Peer Mental Health Support Training Program" of the Office of Student Financial Assistance-OVPAA will have its roll out in UPLB through the Office of Counseling and Guidance.
On the other hand, the Office of Student Housing and OSA will put together "Open House: Easing Up on Life at Home" which will tackle issues and topics on feeling at home in UPLB without necessarily being in UPLB. This is a type of peer support program, which aims to develop a sense of community within a digital space.
Student-crafted activities were also presented by the various clusters formed from the Student Org Leaders' Assembly last May. Mr. John Emmanuel Apostol of KULAYAN UPLB presented "Siningskwela," which aims to create a platform for artists in UPLB, as the project of the Culture and Arts Cluster. It includes plans for art conventions, monthly art talks, cultural activity documentation and art space reinforcement.
The Leadership Cluster offered the Leadership Enhancement Program presented by Mr. Lenard Visaya of UP Calambeños. Tagged '#BINHI: Cultivating Effective Youth Leadership during the COVID-19 Crisis and Beyond," it aims to raise awareness in and motivate the student leaders and organizations to contribute to nation building amidst the pandemic.
AHON Isko't Iska" was presented by Ms. Alliah Karrien Bamba of the UP Varrons and UPLB KAPWA as representative of the Public Service Cluster. The project targets to facilitate centralize community service activities of UPLB student organizations.
A short talk on Republic Act 11053 or the Anti-Hazing Act of 2018 also ensued. Atty. Jorge S. Davide, Jr. of the Student Disciplinary Tribunal reminded the student organizations of the guidelines concerning hazing and its corresponding sanctions and penalties.
In closing the program, Ms. Inzon reiterated the importance of partnerships between OSA, OVCSA, and student organizations as mentioned by Vice Chancellor of Student Affairs Janette H. Malata-Silva in her welcoming remarks. She put forward several benefits of being a part of an organization and in gearing up for life outside the university.
The Organization Orientation was attended by 198 individuals representing 135 student organizations. (Charisse C. Bautista)