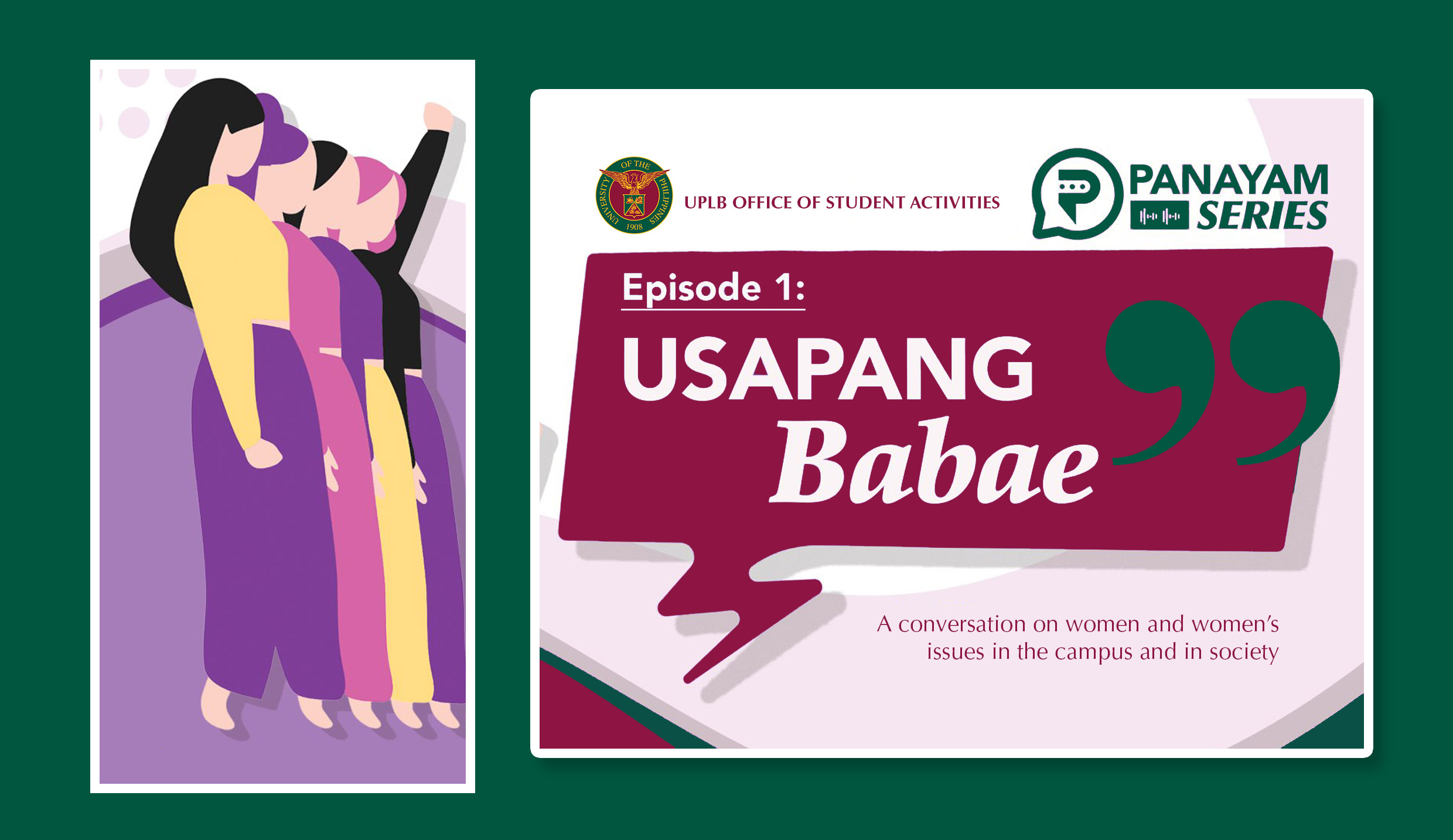 OSA, LRC cap off Women's Month celebration with Usapang Babae
To conclude the celebration of Women's Month, the Office of Student Activities (OSA) in partnership with the Learning Resource Center (LRC), launched the first episode of the Panayam Series, Usapang Babae on March 30 via virtual conferencing.
OSA and LRC are both units under the Office of the Vice Chancellor for Student Affairs.
The Panayam Series is a platform for discussing issues affecting UPLB students and the community. Its Usapang Babae episode highlighted issues on gender equality and women empowerment.
The speakers in the episode were Dr. Emilia Lastica-Ternura, coordinator of the Office of Anti-Sexual Harassment; Sairah Saipudin, a researcher at the Gender Center; Joselito Baril, officer-in-charge of UPLB Men Opposed to Violence Against Women Everywhere; Jisselle Villamin, guidance counselor at the Office of Counseling and Guidance; Mariyel Hiyas Liwanag, public relations officer of the All U.P. Academic Employees Union and faculty member at the Department of Humanities of the College of Arts and Sciences; and Ma. Shaira Lei Daludado, vice chairperson of the University Student Council.
Maria Rowena Inzon, OSA director and John Mervin Embate, LRC director, hosted the episode and gave a brief opening discussion about gender equality, the fifth of the 17 Sustainable Development Goals established by the United Nations in 2015.
In synthesizing the definition of and notions regarding women empowerment, Dr. Lastica-Ternura pointed out that "we (women) already have the power to change society, we just need to channel this power into changing the society."
The participants also discussed the provisions of the Magna Carta of Women, but expressed dismay over the slow push for gender equality and equity in the country.
Liwanag stressed that despite their negative portrayal in mass media, women have made significant changes in the society throughout history, as evidenced by women-leaders in spaces of union groups, culture and arts sector, NGOs, and civic movements.
Daludado reiterated at the end of the program that the clamor for gender equality and equity should not end with the Women's Month Celebration or the elections.
"The liberation of women relies on the response of the masses and the collective action to push for gender equality and equity," Daludado added.
The first episode of the Panayam Series was attended by 62 UPLB students and staff. (Charisse C. Bautista)