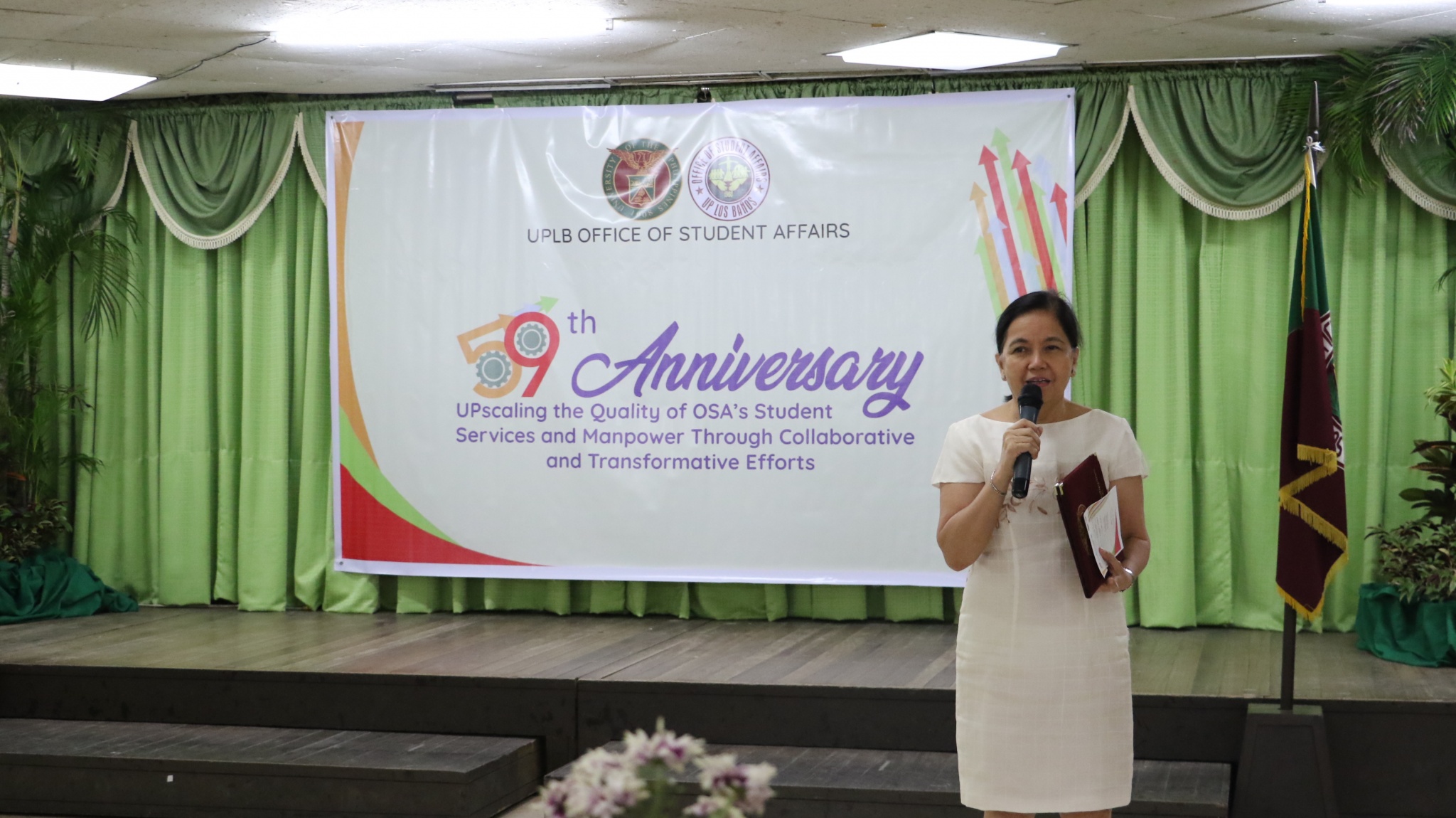 OSA's service awardees, SAs honored at 59th anniv
The month-long anniversary celebration of the Office of Student Affairs (OSA) is a nod to the last 59 years of OSA's existence and a call to further serve the students in the years to come.
"OSA is one of the university's units that play a crucial role towards the fulfillment of the enhanced and more enabling environment we envision for UPLB," said Dr. Portia G. Lapitan, vice chancellor for academic affairs.
Dr. Lapitan delivered the inspirational message of Chancellor Fernando C. Sanchez, Jr. during the culmination program of OSA's anniversary on June 26 at the Makiling Hall, SU building.
"While the task of training our students' academic skills belongs to our faculty members, there remain many things that cannot be provided in the classroom – and that is where units like OSA step in," Dr. Lapitan continued.
During the event, some of the people who have been part of OSA's success stories were recognized.
Among them were four student assistants (SAs) who did not only benefit from OSA's financial assistance program, but also contributed to the office's operations
Emerson M. Raralio, BS Agricultural and Biosystems Engineering, who worked at OSA for five semesters, was one of them. He expressed his gratefulness for the experiences that he gained and for the positive changes that led to the improvement of his social skills, decision-making abilities, and logical reasoning.
Eight employees were also recognized as service awardees for serving OSA for five, 10, 25, and 35 years.
Marites E. Mojica, administrative officer at the Student Organizations and Activities Division, who has been an OSA employee for 25 years, responded on behalf of the awardees and professed her passion for her job. "I love to serve the students," she said.
The OSA Outstanding Personnel Award was given to Dr. Erick Vernon Y. Dy, head of the International Students Division, while a special award was presented to Sheryl B. Posadas, administrative officer, for finishing her Masters in Development Management and Governance this year. (Lysette Nadine B. Sigua)