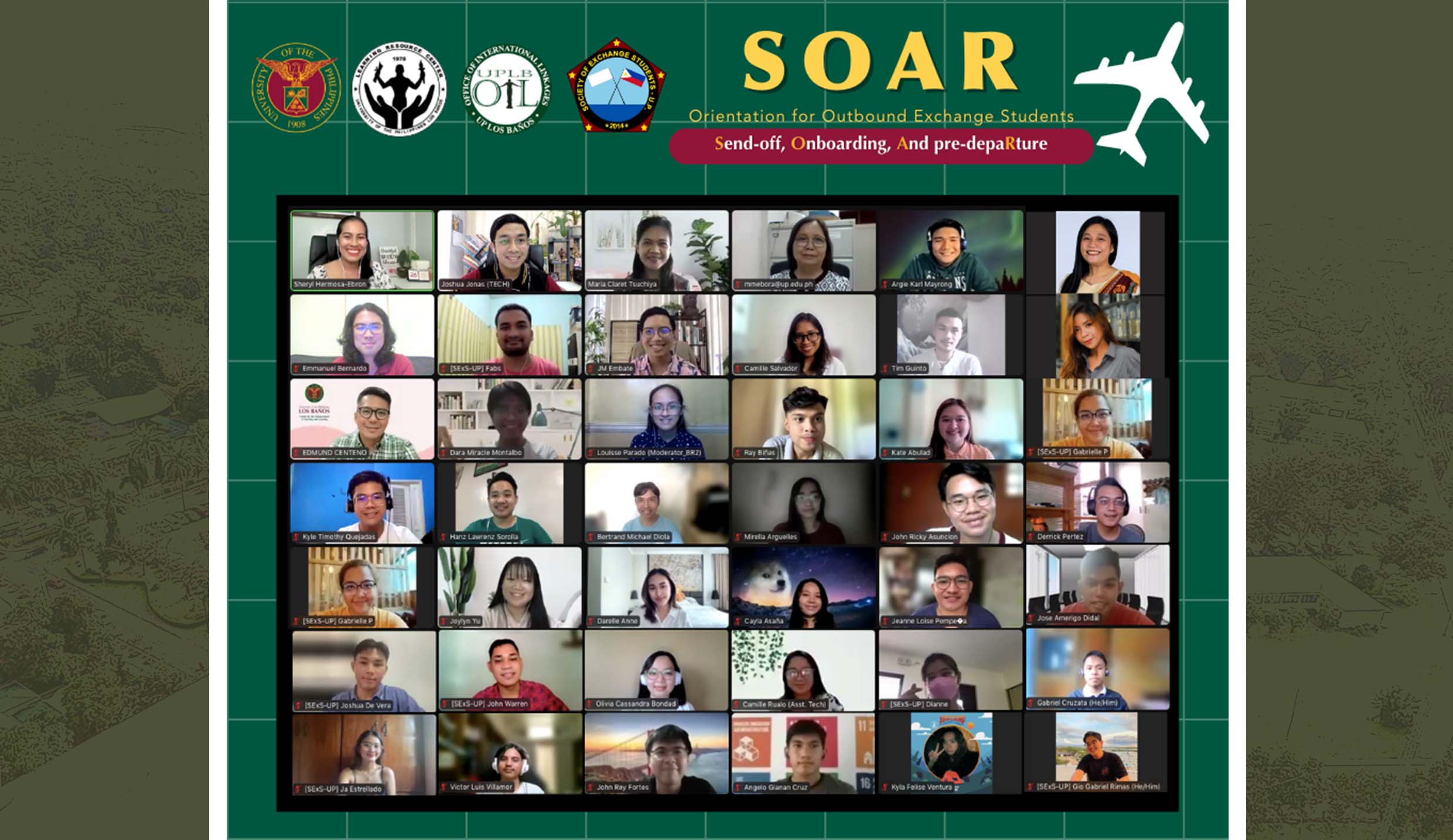 Outbound exchange students attend SOAR Orientation
The Learning Resource Center (LRC), Office of International Linkages (OIL), and the Society of Exchange Students-UP (SExS-UP) successfully held their first collaborative event entitled "S.O.A.R. (Send-off, Onboarding, And pre-depaRture) Orientation" for outbound exchange students.
Seventeen prospective exchange students slated to leave for different host universities participated in the orientation program.
It began with the opening remarks of OIL Director Anna Floresca F. Firmalino, who expressed her excitement for the students taking up the challenge of going to a foreign land to study.
In the first session entitled, "CHECKLIST: travel tips and getting settled," Dr. Maria Claret L. Tsuchiya, international relations officer of CAS, shared reminders about different countries' protocols in the middle of the pandemic. Besides discussing essential items that must be part of their luggage, Tsuchiya encouraged them to have an individual travel checklist.
In the second session, "CONNECT: preparing for your study abroad,"Emmanuel L. Bernardo, a PhD candidate at the University of Cambridge in the United Kingdom, discussed various ways of dealing with students from different cultures, money management tips, and how to surmount language barriers. His extensive experience as an exchange student since 2012 was apparent from his advice as he shared his insights during a brief question and answer session with Dr. Tsuchiya.
Camille Jane Salvador, a student taking up a Master's in Public Health at Keimyung University, South Korea, tackled the possible experiences of an exchange student before, during, and after the exchange student program.
Salvador also emphasized that people from countries they will be visiting will not be reminded of the name or the institution they are from, but the country they belong to, thus, the importance of being responsible during their stay.
Right before the last session, SExS-UP oriented the attendees about their cause. Patricia Angelica Cabrera, SExS-UP president, gave a message to the outbound exchange students, followed by the introduction of their organization by Angelo James Fababeir, secretary of SExS-UP.
The last part of the event, "CREATE: How to make meaningful memories out of your exchange program," divided the attendees into five breakout rooms. Former exchange students from UPLB were assigned to the breakout rooms to interact with the exchange students. UPLB faculty members who were once exchange students or continued their post-graduate studies abroad were also present to share their experiences.
Guided by a moderator for each breakout room, the students answered a few questions to get to know each other. The guest speakers then gave a presentation about the universities they attended and provided advice based on experience as they answered the student's queries.
These former UPLB students, faculty members and the universities they were affiliated with as exchange students or postgraduate students are Dr. Edmund Centeno, who finished his PhD at Kasetsart University; Kyle Timothy Quejadas, an exchange student for the Department of Animal Science at National Chung Hsing University; Joni Gabriel Cruzata, an exchange student at the University of British Columbia in Canada; Timothy Guinto who studied agriculture and biotechnology as an exchange student at Mendel University in Brno in the Czech Republic; and Argie Karl Mayrong, also an exchange student, who studied international economics and development economics at Michigan State University in the United States.
The event concluded with the closing remarks of LRC Director John Mervin Embate, who shared his takeaways from the program and wished the outbound exchange students a meaningful journey. (Dara Miracle Montalbo and Maria Louisse Angela H. Parado)