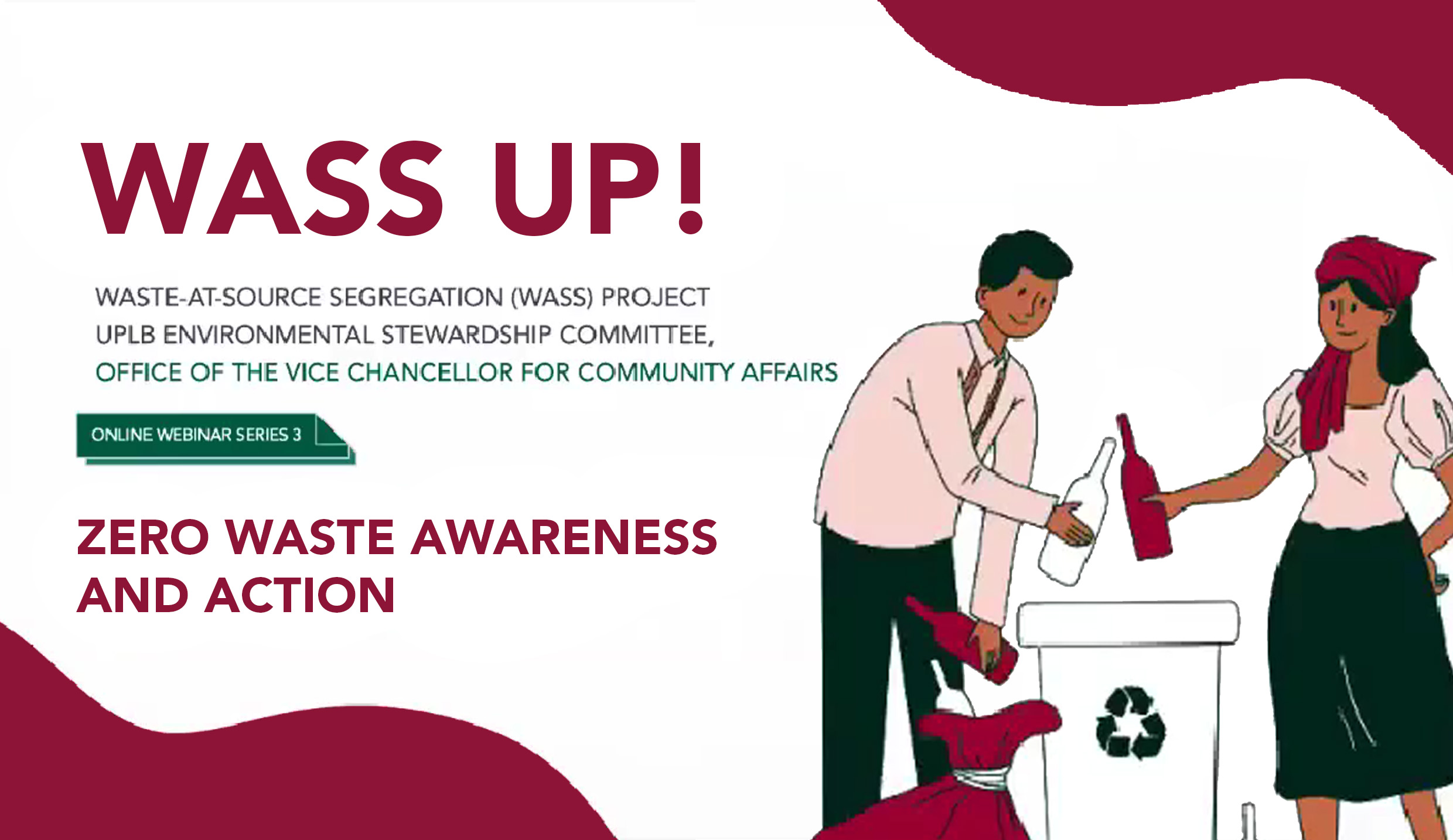 OVCCA holds "WASS UP, LB!" seminar on zero waste
The UPLB Environmental Stewardship Committee (ESC), under the Office of the Vice Chancellor for Community Affairs (OVCCA), organized "WASS UP, LB!," an online webinar series for Project Waste-At-Source Segregation (WASS) on Jan. 27.
The first episode in the "WASS UP, LB!" series focused on undertaking a zero-waste lifestyle, from the use of personal care products, cleaning, and tackling better approaches to waste management.
Vice Chancellor and chair of the UPLB ESC Roberto P. Cereno gave the opening remarks and also introduced Project WASS and its objectives.
The first speaker was Dr. Cybelle Concepcion Futalan, faculty member at the College of Human Ecology (CHE).
Dr. Futalan discussed zero waste management approaches and applications, and the various ways individuals and households can contribute to a zero-waste lifestyle.
The second speaker was Khristine Hope Pujanes-Porciuncula, a licensed environmental planner affiliated with the Angeles Sustainable Farm.
She discussed tips and life hacks in living a zero-waste lifestyle in the household.
The third and last speaker, Jia Rubio-Monserrat, is the founder of the Buhay Zero Waste group. Rubio-Monserrat discussed innovative ways to achieve a zero-waste lifestyle.
Dr. Benevienve Villanueva, assistant vice chancellor for community affairs, capped off the event with her closing remarks where she cited the importance of LGUs and household cooperation to properly address the problems in waste management.
"WASS UP, LB!" and future installments to the series can be accessed through the UPLB Community Affairs Facebook Page. (Kristel Hope Villafuerte)