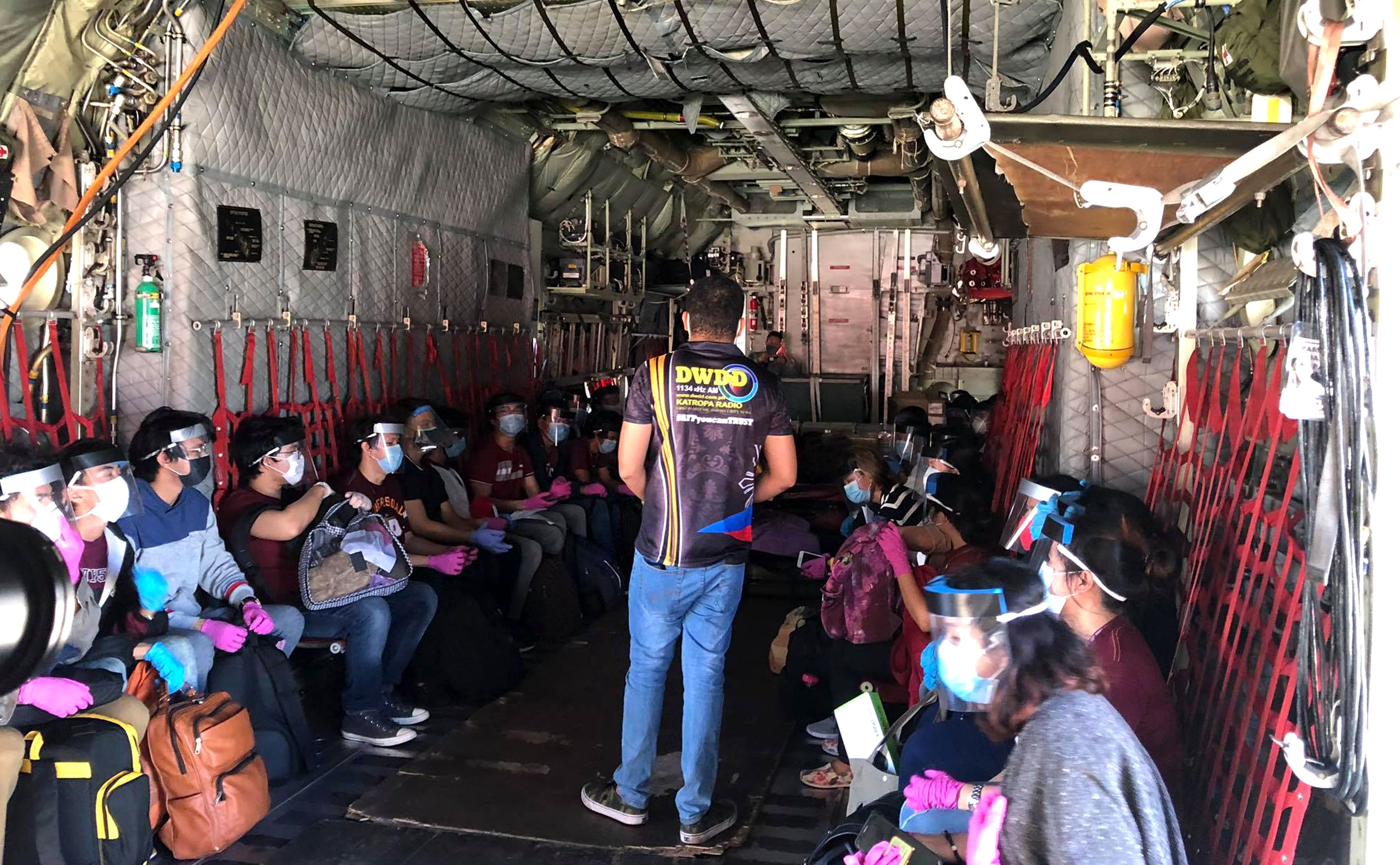 PAF flies stranded UPLB students home to Western Visayas
UPLB Oplan Hatid, a program under the Office of the Vice Chancellor for Student Affairs (OVCSA), partnered with the Armed Forces of the Philippines (AFP) and the Philippine Air Force (PAF) to fly home students who were stranded in the UPLB campus during the series of community quarantine implemented in Luzon from March 16 to date.
A total of 35 students were flown and ferried to their respective provinces in the Western Visayas on June 6 by PAF and AFP, respectively.
Chancellor Fernando C. Sanchez, Jr. who coordinated with alumni for their support for Oplan Hatid and personally sent off the students, expressed his gratitude to Defense Secretary Delfin Lorenzana and Armed Forces Chief of Staff Gen. Felimon Santos, Jr. for approving his request for the mercy flight to be made.
Leading Oplan Hatid is Rocky Marcelino, a faculty member at the Institute of Statistics who serves in the OVCSA as director of the Office of Student Activities and as concurrent assistant to the vice chancellor for student affairs.
This is the 41st trip made under Oplan Hatid since it was initiated on March 19 after Luzon was placed under enhanced community quarantine to contain COVID-19.
Serving as chaperones of the 35 students were two faculty members and a part-time student who were also bound for their home provinces in Western Visayas.
Twenty-three of the students were bound for Iloilo province, four were bound for the province of Aklan, four for Antique, three for Capiz, and one for Guimaras.
This was the first time for UPLB to collaborate with PAF in carrying out Oplan Hatid as previous flights to repatriate students to their homes in Visayas and Mindanao were carried out using commercial and sweeper flights arranged by LGUs.
However, as Marcelino explained, Oplan Hatid decided to seek the assistance of PAF because commercial flights were already unavailable to locally stranded individuals after these were restricted for the use of overseas Filipino workers who were sent home after losing their jobs.
Marcelino said that UPLB hopes to continue this partnership to help more of the 1,300 stranded students, especially the estimated 450 who want to go home.
"Hopefully, the PAF will be responsive and affirmative to assist the remaining students in future trips," Marcelino added. (Albert Geoffred B. Peralta)
Aligned with our commitment to: