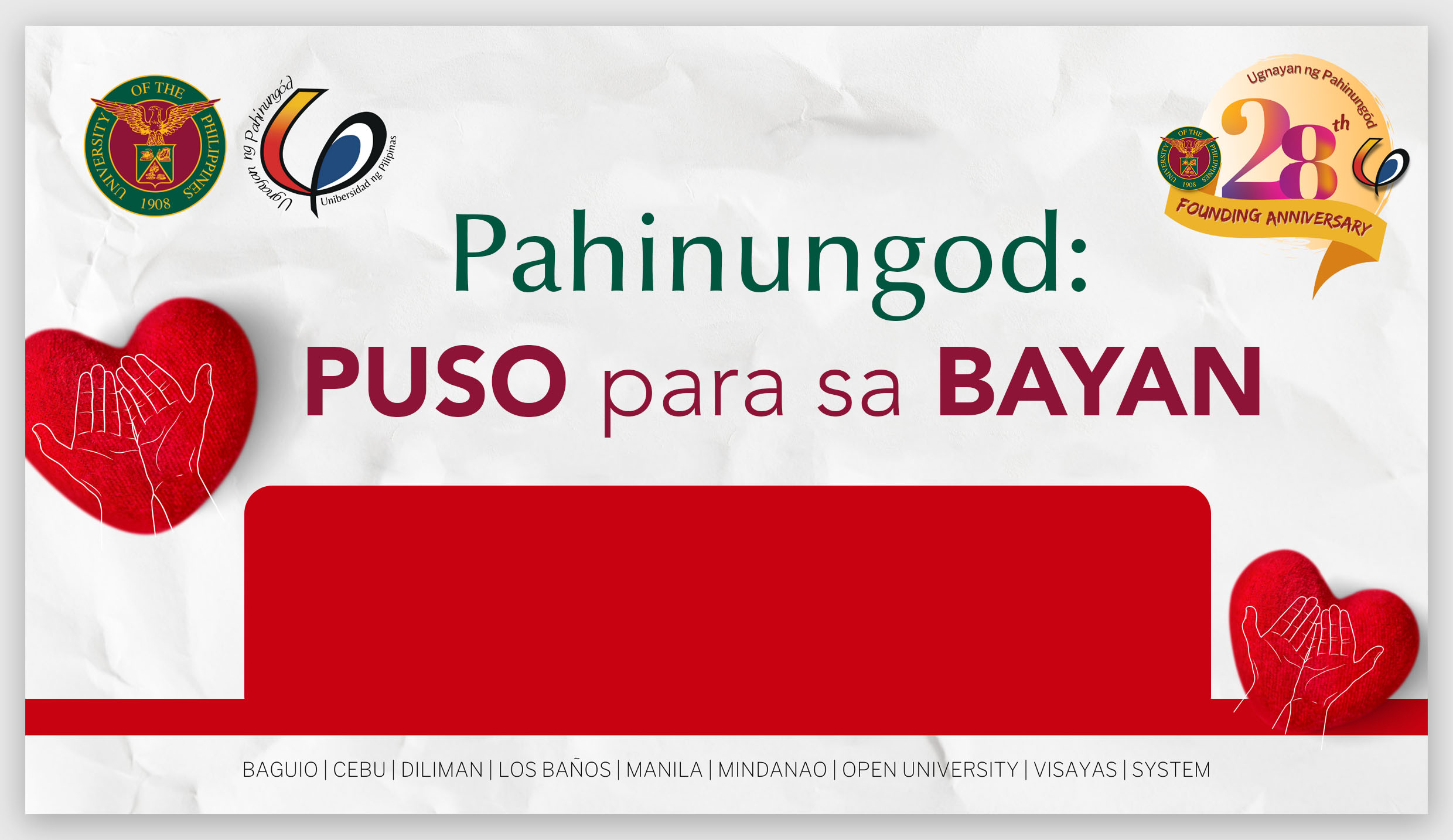 Pahinungod kicks off love for volunteerism activities on V-Day
Valentine's Day took on a new meaning on Feb. 14 as the UPLB Ugnayan ng Pahinungod held Volunteerism Day on the day reserved for love and hearts.
Pahinungod aptly entitled the webinar, "Pahinungod puso para sa Bayan," the first in a series of activities scheduled to celebrate its 28th anniversary.
The webinar highlighted other Pahinungod constituent units' community development programs, projects, and activities, featuring stories and experiences of volunteerism and testimonials of their partner organizations and communities.
Kathe Lyn Tamisin, head of community programs of Pahinungod, expressed in the opening remarks her hopes that through the webinar, volunteers will get a new perspective from the challenges and triumphs learned from community partners.
Volunteers from other UP constituent units and community partners took part in the webinar.
Davidson Oliveros, a faculty member at UP Diliman, discussed and answered the question "Is volunteering for everybody?"
He emphasized the importance of identifying one's strengths and weaknesses, and determining what one can give to improve the community.
Florabel K. Ambas, a Gurong Pahinungod from UP Visayas, shared her takeaways from her volunteering experience with communities.
She said that there are three stages of volunteering: the joy of teaching, giving, and sharing; the joy of realizing more gains in volunteering; and the joy of making a difference, which she said she is proud to be in.
Marianne Hazzale J. Bullos, a student of UP Mindanao, shared how she overcame the challenges of volunteering during the pandemic.
She talked about the realities of being a student volunteer and how she got through them with the guidance and support of her mentors.
Donna Teressa Oropel, a faculty member at UP Cebu, discussed what to her are the important traits of a volunteer, namely: courage, patience, creativity, initiative, passion, and the ability to work with teams.
Benjamin George Meamo III, a faculty member at UP Baguio, shared tips on how to make volunteering attractive to others, especially to the youth.
He explained the process of finding one's reason for volunteering, the value of experiences, and the use of social media for engagement.
Dr. Loredel Gecolao, principal of the Bay Central Elementary School, shared their experience as a community partner of UP Open University. She said that the school children benefited much from the reading programs conducted with UPOU.
Dr. Kristine Leonido, municipal health officer of Limasawa Island, Southern Leyte, shared their experiences as UP Manila's partner community.
Leonido said that their Rural Health Unit received solar power units that enabled them to continue providing medical services. They also received donations such as hygiene kits and other basic needs from the Pahinungod volunteers.
Quirino governor Dakila Carlo E. Cua, a Pahinungod Manila community partner, discussed his views on sustaining a 20-year partnership with Pahinungod.
Cua said that outreach programs like medical missions, teachers' development, student training immersions, tree planting, and gift-giving created an impact on their community.
He expressed his gratitude for these activities and said that he hopes to continue to conduct them and to explore other programs, as well.
A UPLB Pahinungod community partner, Zaldy B. Ybardolaza II of the Laguna Climate Change Adaptation Office, shared to the audience how a memorandum of understanding between the municipality and the UPLB Pahinungod led to significant changes, most especially in livelihood and climate change awareness.
Ybardolaza said that activities led by the Pahinungod such as their training course built the capacity of over a thousand volunteers from among women, farmers, and fisherfolk in addressing climate change.
The webinar also included an open forum where guests interacted with the resource persons on volunteerism. The event was also attended by Dr. Marie Therese A.P. Bustos, director of the UP Pahinungod System; Dr. Aurelio P. Vilbar, director of the Ugnayan ng Pahinungod of UP Cebu; and Dr. Ruben M. Gumala, director of the UP Pahinungod Visayas, who formally closed the event.
The webinar is one of several activities lined-up for the whole month of the Pahinungod's anniversary and can be viewed on the UPLB Ugnayan ng Pahinungod Page. (KEAraguas)